1 View
Wienen Wins ATVMX Finale and Fourth Straight Championship
March 16th, 2016 8:22 PM
Share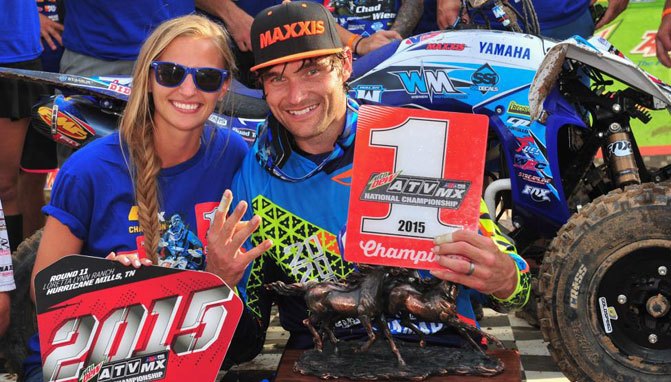 Hetrick narrowly misses out on first title
With a slim 15-point lead over Joel Hetrick heading into the season finale at Loretta Lynn's Ranch, Chad Wienen put his head down and took the overall win to secure his fourth straight Mtn. Dew ATV Motocross National Championship.
When the pros took to the track for the first moto, Hetrick (Hetrick Racing/Corrosion Specialties Honda) jumped out to his trademark fast start and grabbed the SSi Decals Holeshot Award for the 11th time. With his main challenger out front, Wienen (Wienen Motorsports/Maxxis/SSi Decals/Walsh Race Craft Yamaha) started to play damage control almost immediately, slotting into second ahead of Maxxis/H&M Motorsports Honda's David Haagsma Jr.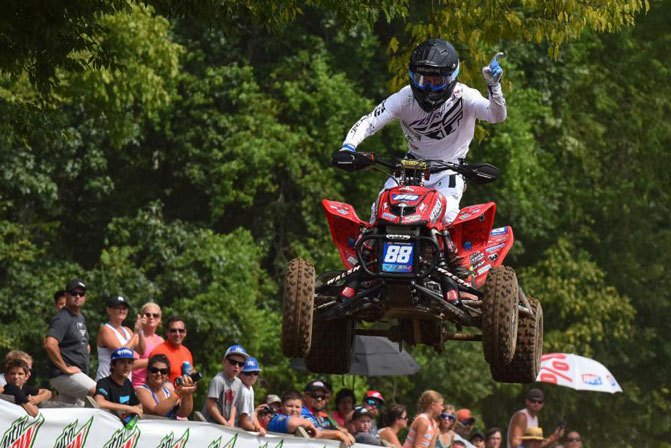 Joel Hetrick grabbed the holeshot and never looked back in the first moto to cut into Wienen's championship lead.
Despite his ability to position himself behind Hetrick, Wienen wasn't able to keep up with the pace of his rival and he soon settled into the runner-up spot and minimizing the amount of points lost. Behind the lead pair, Maxxis Yamaha, powered by Moto-Xperts rider Thomas Brown battled his way forward from a fifth-place start into podium position. Hetrick took his 11th moto win 5.591 seconds ahead of Wienen, with Brown a distant third, more than a half minute back.
Entering the final moto of 2015, just 12 points sat between Wienen and Hetrick, meaning Wienen needed to finish eighth or better if Hetrick went on to record a 1-1 sweep. Out of the gate Team BTF Honda's Joe Byrd grabbed the SSi Decals Holeshot Award, just ahead of Root River Racing Honda's Josh Upperman. Upperman assumed the top spot before the completion of the opening lap, with Wienen making a charge into second and Haagsma Jr. third. Hetrick had his work cut out for him, beginning the moto in fifth, which forced him to chase down Wienen.
Wienen put even more pressure on Hetrick by taking the top spot away from Upperman. Hetrick responded by moving up a position, but then experienced some misfortune and dropped to eighth. That incident all but ended Hetrick's title hopes, as Wienen continued to add to his advantage over the field. Brown was even more impressive in the second moto, overcoming a seventh-place start to eventually move into second just before the halfway point. A spot he would never relinquish.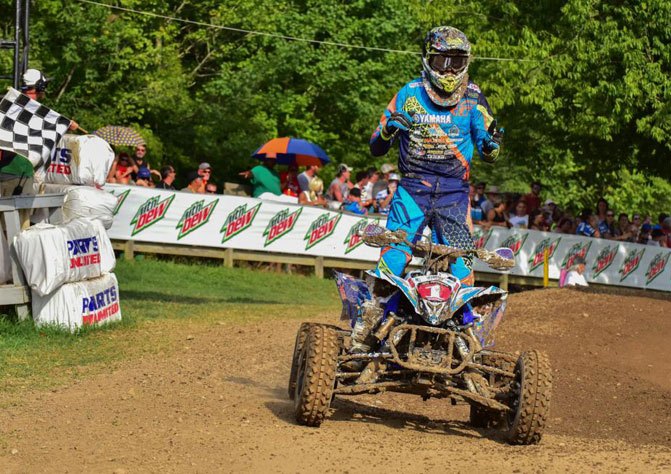 With a win in the second moto, Wienen secured his fourth straight ATVMX championship.
Wienen cruised to victory 8.983 seconds ahead of Brown, who came under fire in the closing laps from a hard-charging Hetrick, after the Honda rider impressively got back into podium contention.
Wienen's 2-1 moto results allowed him to edge out Hetrick (1-3) for the overall win on the afternoon and, in turn, the AMA Pro ATV Championship. Brown landed on the overall podium for the eighth time with a hard-fought third-place finish (3-2). Haagsma Jr. finished fourth (5-4) with Vechery Racing/Never Sleep Designs Honda's Ronnie Higgerson in fifth (4-5).
Wienen finished the 2015 season with a 17-point edge over Hetrick in the final standings, while Brown rounded out the top three championship finishers 56 back of Wienen. JB Racing/Can-Am/Liquid Wrench's Jeffrey Rastrelli ended the championship in fourth (-173), while Gennusa Racing Yamaha's Nick Gennusa (-183) edged out Upperman (-188) for fifth.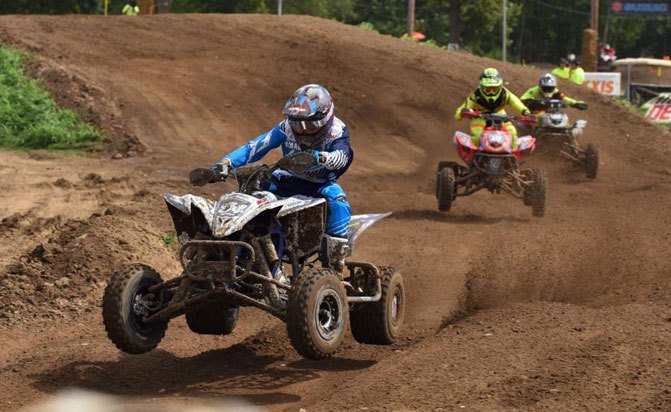 Thomas Brown finished third in the season finale and third overall on the season.
Wienen's championship triumph also meant that Yamaha outlasted Honda for the Manufacturers Cup.
With his fourth consecutive AMA Pro ATV crown, Wienen added to his already historic legacy by becoming just the second rider in ATVMX history to win that many championships in a row, joining icon Gary Denton. Additionally, Wienen becomes just the third four-time titleholder ever alongside Denton, who has eight championships, and Jeremiah Jones, with four.
In addition to the on-track action at Loretta Lynn's, the 88 Live to Ride annual fundraiser took place, raising a total of $26,208. A king-sized quilt made of event t-shirts sold for $5,000, while Root River Racing donated a 90cc pit bike. Many of the championship's participating riders also made donations to the cause, while a special dinner prior to the auction raised $1,628.
AMA Pro ATV Overall Results (Moto Results)
1. Chad Wienen, Galena, Ill., Yamaha (2-1)
2. Joel Hetrick, Seneca, Pa., Honda (1-3)
3. Thomas Brown, Sanger, Texas, Yamaha (3-2)
4. David Haagsma, Jr., Bakersfield, Calif., Honda (5-4)
5. Ronnie Higgerson, Cuter, Ill., Honda (4-5)
6. Jeffrey Rastrelli, Palm City, Fla., Can-Am (6-6)
7. Nicholas Gennusa, Wall Township, N.J., Yamaha (7-7)
8. Joe Byrd, Union City, Tenn., Honda (8-9)
9. Cody Janssen, Kaukauna, Wis., Honda (9-10)
10. Casey Martin, Frenchburg, Ky., Honda (10-11)
AMA Pro ATV Championship Standings
1. Chad Wienen, Galena, Ill., Yamaha – 479
2. Joel Hetrick, Seneca, Pa., Honda – 462
3. Thomas Brown, Sanger, Texas, Yamaha – 423
4. Jeffrey Rastrelli, Palm City, Fla., Can-Am – 309
5. Nick Gennusa, Wall, N.J., Yamaha – 296
6. Josh Upperman, Louisville, Ohio, Honda – 291
7. Ronnie Higgerson, Cutler, Ill., Can-Am – 281
8. Vital Cazenave, Union City, Tenn., Honda – 220
9. Brett Musick, Verdunville, W.Va., Yamaha – 192
10. Tyler Hamrick, Cortland, Ohio, Honda – 191
Published August 11th, 2015 10:49 AM
Top Brands
Popular Articles