42 Views
Yamaha YFZ450R Project: Budget MX Racer
June 18th, 2015 2:32 PM
Share
We're committed to finding, researching, and recommending the best products. We earn commissions from purchases you make using links in our articles. Learn more here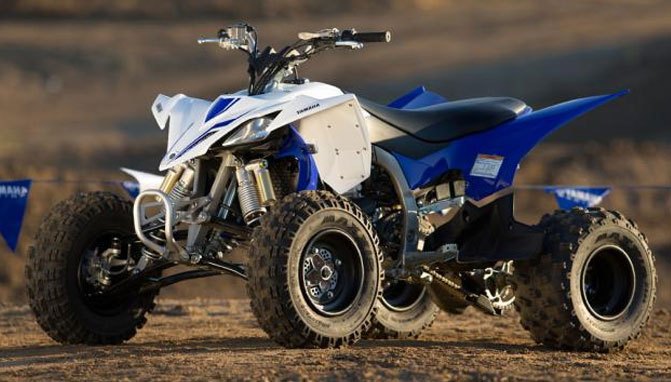 A dealer built race machine that will break the competition, not the bank
While it didn't build the first high-performance four-wheeler 30 years ago, no other manufacturer has shown the level of commitment to the Sport ATV market as Yamaha, offering as many or more Sport models than any other manufacturer since the late 1980s.
When four-wheeled ATV racing began, many participants went down to their local dealership, purchased a new machine, added a small handful of accessories from the parts department, went out and raced competitively. When the 250cc two strokes went away at the end of the 80s, innovation was handed solely to smaller aftermarket companies and the price of building a competitive machine skyrocketed.
The arrival of the high-performance four-strokes in 2003 and 2004 were supposed to drive down the price of racing. With a modest investment in a slip-on exhaust and new jets for the carburetor, the original YFZ450 produced nearly 50hp. Accustomed to spending big money to make their machines fast, many competitors couldn't accept that Yamaha had delivered a race ready engine from the factory. Excessive motor mods didn't make most racers faster. It did, however, make their engines less reliable and drove up the cost of competing.
Read our review of the 2014 Yamaha YFZ450R + Video
While their engines seemed focused for the rack, the new four-stroke ATVs' 46 in. width left them better suited for trail riding. Racers were forced to spend anywhere between $2,500 and $4,000 on chassis and suspension parts to widen their machines to the nearly 50 in. width considered ideal for motocross.
Enter the YFZ450R
The totally redesigned 2009 YFZ450R featured a motocross-appropriate width of 48.5 inches, in addition to long-travel, highly adjustable suspension, so Yamaha riders no longer needed to spend thousands of dollars to widen their machines. The YFZR's hybrid aluminum and steel chassis was designed to allow the engine to ride low, and hold up to the demands of racing, while remaining light. The brand new, fuel injected engine offered a broader, smoother, powerband with an emphasis on improved low end power. The new engine's lower end and cases were beefed up significantly to improve reliability under the extra demands of heavy modification.
The fuel injected 449cc engine is full of untapped power potential.
To keep manufacturing and importing prices in check, while supporting the U.S. economy, Yamaha moved assembly of the YFZ450R to its Newnan, Ga. plant for 2014. Yamaha also made a small number of significant changes to the machine, including opening up the cockpit by moving the front fenders forward and moving the rear fenders back and down. As well, part of the upper frame rails were coverd with bodywork, softening the area where some riders were impacting their knees on previous models.
New suspension settings for 2014 were focused on improving small bump absorption, without sacrificing bottoming resistance on the Kashima-coated KYB shocks. These shocks feature high and low speed compression, plus rebound adjustment. New Maxxis tires were designed specifically for the YFZR with a focus on improving ride quality, while improving the machine's cornering and sliding characteristics.
Kashima-coated KYB shocks offer high and low speed compression and rebound adjustability.
To further enhance the engine's low end hit and improve power across the board, Yamaha bumped the compression from 11.6 to 11.8:1, changed the cam profiles, and installed a new throttle valve. A new ECU equipped with a new fuel map complements the engine's hardware updates. In spite of Yamaha's valiant efforts to produce good power while meeting EPA restrictions, plenty of untapped potential remains in the engine, just a couple of bolt-on parts away.
A new A&S clutch uses a ramped design, forcing more pressure on the plates under acceleration, while using less springs for a 25% lighter pull. The clutch is designed to allow a level of slippage when the throttle is chopped, creating less engine braking for better suspension performance through braking bumps without pulling in the clutch.
Dealer-Built Racer
Our dealer-built YFZ450R is ready to be run through the ringer.
Having tested the 2014 YFZ450R, we can tell you that stock Sport ATV performance is at an all-time high, but is the YFZR good enough to go from the dealer on Saturday to the podium on Sunday? To find out we went to our local Yamaha dealership and picked up a brand new YFZ450R and requested that it install the parts to make it race ready. Our machine moved from the showroom to the service department where the necessary upgrades were installed to make our machine race legal and eliminate the EPA restrictions that hold back the engine's full potential in stock trim.
The Modifications
With Yamaha offering a full line of GYTR performance accessories, many Yamaha dealers stock the accessories needed get you racing without effecting the factory warranty.
To make our YFZ450R race legal, we added on a set of GYTR nerf bars.
The first thing our dealer did was make the machine race legal by installing a set of GYTR nerf bars and tether kill switch. Yamaha offers fancy nerf bars with adjustable height pegs and built-in heel guards, however the YFZR'S stock pegs are super wide and comfortable. With light factory heel guards already installed, we decided to go with GYTR's less expensive set of traditional style nerf bars. They cost less, fit well, and are all you need to go racing. The GYTR kill switch shuts the engine down should you become separated from the machine and simply plugs in with no need to cut and splice wires.
Read about our 2013 Yamaha Raptor 700 Project
Next, the restrictive stock exhaust was replaced with a GYTR slip-on pipe, which is designed to boost midrange and top-end power, while meeting the ATVA's 99db sound limit. We then had the dealer install a freer flowing intake and a Dynojet Power Commander V fuel system controller. The Power Commander allows you to richen up the fuel mixture to complement the intake and exhaust changes.
A GYTR exhaust, in combination with a Dynojet Power Commander V fuel system, boosted midrange and top-end power.
Track Test
After a couple of hours at the dealer, we loaded up our now race ready YFZ450R and took it to Haspin Acres in Laurel, Ind., a motocross and ride park that has been hosting ATV racing since the three-wheeler days. To truly evaluate the competitiveness of our lightly modified YFZ450R for racing, we acquired the help of Aaron Meyer, a racer with 14 years of experience who cut his teeth racing at Haspin Acres and went on to win multiple National Championships and raced up to the Pro-Am and Pro level.
Aaron Meyer put our dealer-built and YFZ450R through its paces to see if it is ready for the races.
Despite having taken some time off, Meyer was quickly picking up speed and putting in some fast laps on the YFZR. The machine's revised ergonomics, low 31.9 in. seat height, 1 1/8 in. handlebars, adjustable bar clamp, adjustable brake lever and massive footpegs provide a cockpit layout ideal for attacking the track.
With 9.8 in. of suspension travel up front and 11 inches out back, the YFZ450R offers the most wheel travel available in the 450cc class. At 165 pounds, Meyer backed the shocks low-speed compression damping adjusters out a couple of clicks front and rear, then pretty much left them alone. Bottoming resistance isn't an issue on the YFZR, making up for Meyer's occasional mistake, overshooting jumps. The shocks were equally at home pounding deep rollers and blitzing through two-foot deep whoops. In our 2010 450cc Motocross Shootout, the YFZ450R's suspension came out on top due to its superior all-around performance. The suspension updates of 2014 made the YFZR's ride plusher in the chop without sacrificing its big hit prowess.
Weighing in at 165 pounds, Meyer had no worries about bottoming out the YFZR.
Motocross machines have used 18 in. rear tires for decades. Meyer felt that the smoother rolling characteristics and slightly higher ground clearance provided by the YFZR's 20in Maxxis tires could make them a good choice for racing on sandy or deeply tilled tracks, which often become very choppy and can develop ruts in the turns. The YFZR's 48.8 in. width and low ride height allow you to drive the machine hard into and out of corners. Two-wheeling never seemed to be an issue on Haspin's hard packed, silty bermed turns. A 50 in. wheelbase and superb stock suspension keep the machine tracking straight on fast and rough sections.
Read about our 2009 Yamaha YFZ450R MX Project
The engine really comes alive on the YFZR with the slip-on GYTR exhaust and Power Commander V. With the airbox lid on, the machine ran flawlessly and enjoyed a healthy power increase over stock. Removing the airbox lid added significantly more midrange and top-end power, at the expense of the engine wanting to flare out when the throttle was chopped heading into turns. It turns out that the Power Commander V comes with a map designed to optimize power with the YFZ450R's stock exhaust and the airbox lid on.
Finding the proper map on the Power Commander V was key in getting the most out of our YFZ450R.
We uploaded a map from Dynojet's map dataset which comes with the Power Commander, written for the full GYTR exhaust and GYTR filter, which eliminated virtually all of the low-end hesitation. A little fine tuning with a lap top computer and Dynojet's included software and we should have it dialed in perfectly. With the GYTR map, the YFZR pulled hard in the lower rpm, in addition to providing the big gain in midrange and top-end we first noticed when we removed the airbox lid. Make sure you update to the correct map before you take your YFZ450R out for its first race and you will have a machine that will be easier to ride and fast enough to blow away a stock machine.
The brakes are phenomenal right out of the box, offering plenty of power for late braking into corners. Most riders won't need more power than the stock binders. Other details, such as grease fittings, easy to use eccentric chain adjustment system and no-tool quick release fastners for the body work makes maintenance quicker and easier for competitors.
The Bottom Line
Unless your local race happens to be the A, Pro-Am, or Pro class at an ATV National, TQRA, NEATV, Quad X Series, or other major regional motocross series, we believe the YFZ450R offers nearly all the machine most local racers need. Sure, you would benefit from a steering stabilizer or perhaps a different tire setup to meet the demands of a specific track. The Kashima coated KYB shocks offer very good component quality, and lots of adjustment. Like modern dirt bike suspension, the shocks could be made even better with custom springs and valving to suit a specific rider; however, if you simply take the time to adjust them for your weight and riding style, most riders could easily compete at the local level with the stock shocks.
When you are starting with a machine as strong as the Yamaha YFZ450R, you don't have to add thousands of dollars in aftermarket accessories to be competitive on the racetrack.
With the GYTR exhaust and Power Commander V installed, the engine will shred berms, attack jumps out of turns, clear most any jump most riders will have the courage to attempt, and lay the smack down on slower or easily intimidated competitors.
ATV racing is still one of the most affordable forms of motorsports you can get involved in. For under $10,000 Meyer felt that our dealer-built YFZ450R racer provided all the performance needed to be competitive at most local tracks.
Yamaha YFZ450R Budget Racer Project Costs
2014 YFZ450R: $8,799
GYTR Slip-on Exhaust:
$363.95
Dynojet Power Commander V:
$368.95
GYTR Nerf Bars:
$233,44
GYTR Kill Switch:
$41.49
Price as Tested: $9806.83 Published September 26th, 2014 12:09 PM
Top Brands
Popular Articles