1 View
5 Ways Can-Am Puts Riders First
August 28th, 2018 11:05 AM
Share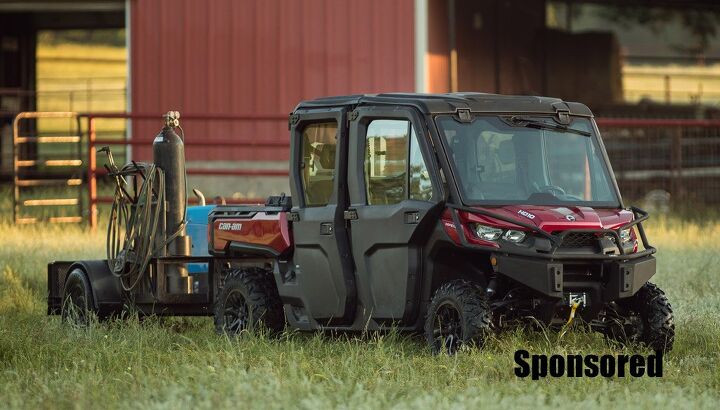 When designing and manufacturing its lineup of ATVs and SSVs, it's clear that Can-Am puts riders first. It's about much more than power and performance.
If you look closely at any of the current Can-Am vehicles, you'll see that Can-Am has the unique ability to design its vehicles around the driver AND passengers, and it's this connectivity that separates the brand from others. Whether you are a trail adventurer or a ranch hand, you can get a product from Can-Am that will suit your needs. If you love to be competitive and run down the competition or just simply ride fast with your friends, there is always a machine for you in the Can-Am stable. Here are just a few of the ways we find that Can-Am puts riders first.
Defender Lifestyle
It is very clear when you look at the Can-Am Defender that this machine is very focused on the working man or woman. This machine gives the hard-working owner the ability to do any job with minimal effort when using this rig. From the available power ranges to the controllable throttle switching, you have every option to make it a great day on the farm or ranch. If you are a hunter you also get a seat here and whether you are dragging a food plot or hauling a large whitetail deer back from the woods, the Defender puts your needs first. The sleek short nose of this rig allows a clear view of the obstacles in front of you and beyond.
Maverick Mayhem
This one needs no explanation as it is built for the guy or gal who just loves to go fast and conquer all comers. Using the Can-Am Maverick X3 SSV vehicle family as an example, you can see that the race-inspired suspension with massive amounts of travel simply accentuate the incredibly powerful high horsepower output of the Rotax engine. It is no secret that this machine was built for the performance owner who wants the best their money could buy. Can-Am wanted to be sure the consumer got more than they bargained for here and it's very evident with the X3 how Can-Am puts riders first.
Power Steering
Taking on the Tri-Mode Power steering offered by Can-Am is something we know all other manufacturers are considering. Who else in the industry gives you that many choices in steering assist? Not only do you get three ways to not only enjoy your ride, but you can change the level of assist at a whim using the digital dash.
Passenger Comfort
Look at the cab of any of Can-Am's SSV offerings and you will see that you were in its heart at the time of design. Can-Am built a confidence-inspiring and safe environment for the driver as well as passenger to feel at ease when enjoying the machine. When looking at the MAX line of ATVs and Side-by-Sides, it's about the ride not the worry and Can-Am knows this and is just one of many ways Can-Am puts riders first.
Security
Do you think Can-Am is worried about the possibility that someone might want to take your pride and joy from you? It's clear to us with the advent of the DESS security key system that the minds at Can-Am know it is a possibility. This little feature goes unnoticed to many, but if you have ever lost a key you know just how tough it is to get things rolling again. Would-be thieves can't take off with your pride and joy without the programmed key or a trip to the dealer to verify who owns the machine. This in itself reveals the care Can-Am has for its consumers.
Published August 28th, 2018 11:05 AM
Top Brands
Popular Articles