1 View
5 Ways Can-Am Refined the Riding Experience
July 23rd, 2018 1:10 PM
Share
We're committed to finding, researching, and recommending the best products. We earn commissions from purchases you make using links in our articles. Learn more here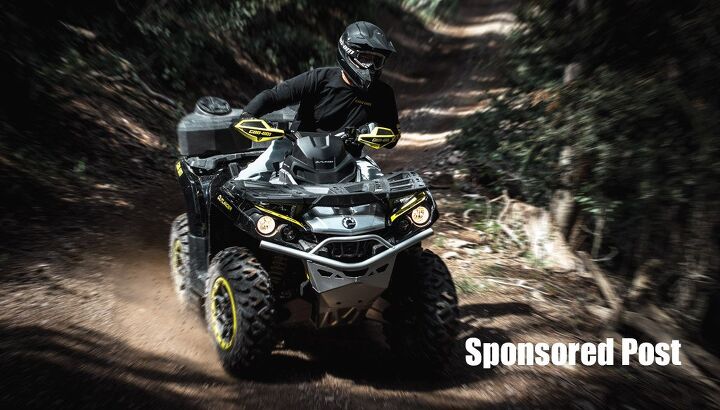 The engineers and designers at BRP think outside the box when it comes to finding ways to refine and improve the off-road riding experience.
Can-Am always finds ways of making the off-road riding experience even more enjoyable as the years pass. Whether it is a new machine or innovations to be added to existing rides, the company out of Valcourt, Quebec, Canada seems to be able to find that little something to encompass the off-road spirit for each of us.
Learn more about Can-Am ATVs and SSVs here.
Taking a look at the history of Can-Am off-road and the roots from which they have developed such a grand following, it was clear at least to us, that there were a few things that just seemed to redefine the riding experience. Here are five of these items that, at the time of their release and even still today, really redefined how we would enjoy ourselves while riding off-road.
Power Steering
This has to be first as it really steps out in our minds as the one thing that we would never want to be on the trail without. Can-Am's DPS, or Dynamic Power Steering, has given us not only something to relieve fatigue on those long trails when we just cannot get enough of the incredible outdoors, but it helps us when we lose sight of trail side obstacles. Not only this, but the Tri-Mode DPS gives us a choice, three to be exact, on how much assist we actually want. This one feature alone is always worth the money and once you experience it you will never want to go without it.
Factory Air Suspension
This is one that really found its way into the world of the Can-Am Outlander when the two-up market began to broaden. It was then used to adjust the height of the machine for the mud racing world and was afforded to those who purchased the Can-Am Outlander X MR. Having and onboard air compressor and FOX air shocks, the machine could adjust for passengers or go from trail ride height to mud racing depth finder levels. There was even an air hose under the seat of select LE models to fill tires if needed.
Fighter Jet Cockpit
Being down inside a Can-Am Side-by-Side, whether it is the Maverick or the Commander, you immediately find the feeling of oneness. The center console comes up under your elbow and the shift mechanism is easily thrown with a flick of your wrist. The high back encapsulated feel of the fully bolstered seats gives you an inspiration to just rocket out into the wild woods. This cabin is and has been one of the favorites among many off road drivers in the outdoors. It is well laid out and provides confidence to anyone seated inside the protective structure. It doesn't show up in the spec sheet, but this really does improve the riding experience.
Rotax Power
Getting a good handling machine is a challenge, but the next task may be just how to power the beast into its domain. The Rotax engine in its V-Twin form not only gave enthusiasts something to brag to their friends about, but to win championships with. This massive torque-producing engine came in three displacements in generation one, allowing those who wanted reliable power as well as those who wanted arm-stretching power plenty of room to play. The smooth power delivery along with a well-balanced engine lowered vibrations and twisted the throttle on adventure. Lastly, the newest Rotax makes 172+ HP!
DESS Security
This may not be exactly redefining the riding experience, but to keep Can-Am owners' machines from being stolen, the Canadian company devised the DESS technology. The DESS, or Digital Encoded Security System, uses proprietary technology to keep any key but your own from starting your machine. This doesn't sound ground breaking, but here's the catch; inside the ECU and other components the key that is registered/programmed to the machine is the only one that will work. If that component is not there, then nothing else will function. It's pretty cool tech like this that redefines how the enthusiast builds confidence in a brand. Published July 16th, 2018 10:15 AM
Top Brands
Popular Articles