2 Views
Long Range Rifle Shooting With the Honda Pioneer
August 8th, 2018 1:08 PM
Share
We're committed to finding, researching, and recommending the best products. We earn commissions from purchases you make using links in our articles. Learn more here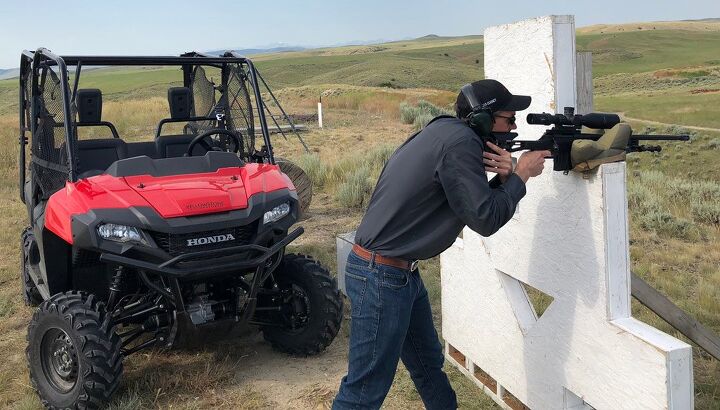 We had a chance to do some long range rifle shooting in Montana and made use of a Honda Pioneer to help move people and set up targets.
Though I spend the vast majority of my work week pecking away on a laptop, there are some undeniable perks to being the editor of ATV.com. Chief among them is getting invited to cool places to ride off-road vehicles and do fun things. So when Honda sent out an invitation to fly out to Montana to ride the Honda Pioneer and play with some firearms, I jumped at the opportunity.
It's views like this that make me want to visit Montana again and again.
Montana is one of my favorite places to visit, as it is filled with fantastic views and teeming with wildlife and open spaces – things I don't get to experience nearly often enough. I flew into Bozeman and made a short drive to our home base of McAllister where we met up with representatives from Honda, Crimson Trace, Thompson/Center, Mossberg and Noreen Firearms, along with several other editors.
Early the next morning we made our way to a local gun range to do some shooting. Before we got started, we loaded up a new steel target and stand in the back of the Honda Pioneer and set it up 1000 yards away. This is where a UTV comes in awfully handy, as a truck would have had a heck of a time getting here without doing some damage to itself. The Pioneer had no such issues and it gave some of the outdoor editors with minimal UTV experience a chance to get comfortable behind the wheel.
A UTV like the Honda Pioneer is ideal for moving equipment around when roads are nowhere to be found.
The Pioneer, of course, has no trouble following a narrow path or just making its own in this kind of country if the need arises. It would seem to me that any big outdoor gun range like this would do well to keep a machine like the Honda Pioneer on hand for moving things around far more easily than a truck ever could. With the ability to carry 1000 pounds in the back and tow another 2000 pounds behind, it can make short work of some big jobs.
Once the target was set up, we made our way back to the staging area to do some shooting. I started off with the Thompson/Center Performance Center T/C Long Range Rifle chambered in 6.5 Creedmoor. It features a 20 MOA picatinny-style rail, threaded barrel with muzzle break, 2.5 to 3.5-pound adjustable trigger, adjustable cheek piece, and adjustable butt plate. At 11.5 pounds it is on the heavy side, but that heft helps absorb the vast majority of kickback after the shot. After getting comfortable at 100 yards, I stretched myself out to 600 to send some 6.5 Creedmoor splattering against some steel. This was not unpleasant.
Next I made my way to the Mossberg station to shoot at some clays with some Mossberg 590 Shockwave models, including the new magazine-fed Shockwave 590M. I'd like to tell you I was smashing the clay targets to bits, but the only thing that got destroyed was my ego. Still, a magazine-fed Shockwave is ridiculously fun to play with – even with my poor marksmanship.
Before we headed back to the hotel, I took the Pioneer to the Noreen Firearms station where an interesting and stripped down looking .50 BMG rifle was sitting on a table and pointing towards that target we set up at 1000 yards. The Noreen ULR is a single shot, bolt-action rifle that is beautifully simple in design. It comes outfitted with stock springs and a Noreen-designed muzzle break that keep quite a bit of the .50's bite from the shooter's shoulder.
If I could afford the ammunition, this is a rifle I could spend a lot of time shooting at far away steel. I was also impressed with the light trigger pull, which can be set between two and four pounds. The good news is the Noreen ULR is way more accurate than I am and I was able to plink the steel plate numerous times. If I can hit a target at 1000 yards with this rifle, I suspect just about anybody can. And while the ammunition is spendy, the $2,050 price tag on the Noreen ULR is surprisingly affordable.
Not all of the shots at 1000 yards hit the intended target. We were impressed that the target stand was still able to support the heavy steel target after this.
When the sun started to set, we made our way to another property where we had a chance to spend some more quality time the Honda Pioneer 1000-5 LE and the Honda Pioneer 700-4. We've written about both of these models before, but it's always fun to take newer riders on an off-road adventure.
We saw mule deer and climbed up high enough to make our ears pop as we explored the property. As always, the suspension really impresses on the Honda Pioneer 1000-5 LE. It's tough to find a smoother ride in the Utility UTV segment.
I did get to spend some quality time in the back seat of a Pioneer for the first time. While I'd always rather be behind the wheel, the back seats give you a chance to enjoy the view, and Montana has more great views than you can imagine. I will say that a little more room for my long legs would be welcome in the back, but this is a fairly compact machine and I give the Pioneer big points for being able to fold down the rear seats when you need more cargo room.
After darkness started to set in, we spent the rest of the evening shooting Thompson/Center and Smith & Wesson pistols outfitted with Crimson Trace laser sights and generally having a great time soaking up the great outdoors and making things go boom before our brief trip to Montana came to an end. Lucas Cooney
I have been working exclusively in digital media since 1997. I started out with TSN.ca, spending nearly nine years creating and editing content on Canada's leading sports website. I left to join VerticalScope, Inc., one of the world's largest online publishers, to start a number of powersports publications. While at VerticalScope, I've helped create and oversee content for a wide variety of different publications, including ATV.com, Off-Road.com, ArcheryTalk.com, Tractor.com, RVGuide.com, and many more.
More by Lucas Cooney
Published August 8th, 2018 1:08 PM
Top Brands
Popular Articles