4 Views
July 25th, 2016 9:46 PM
Share
We're committed to finding, researching, and recommending the best products. We earn commissions from purchases you make using links in our articles. Learn more here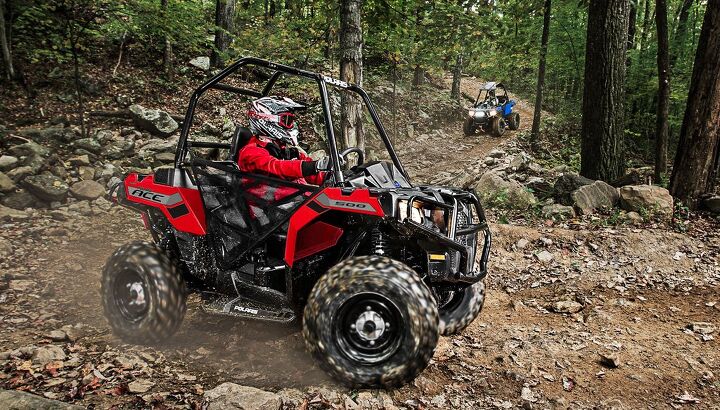 More powerful entry level ACE 500 among 2017 highlights
Polaris ACE has been redefining the off-road experience with a sit-in chassis that combines the nimble handling and center-seating position of an ATV with the security of a side-by-side. Built specifically for those who want the security and ease-of-use of a side-by-side but do not want or need a second seat, the lineup offers customers the freedom of controlling their own riding experience along with the ability to enjoy the biggest off-road adventures.
For Model Year 2017, the ACE family takes a big step forward as Polaris is delivering everything customers have asked for and more with comfort improvements across the entire line, a more powerful and affordable entry-level model, and the performance and ride quality of dual a-arms on a 48-in. (121.9-cm) chassis. And, for the customers who want big power and suspension, Polaris is introducing the all new, 78-horsepower, 59-in. (149.9-cm) wide, long-travel suspension Polaris ACE 900 XC.
For customers looking for the perfect blend of performance and value, the 2017 ACE lineup offers two great models. The new ACE 500 has more than 50-percent more displacement and more torque than its 325cc predecessor for just $6,999 U.S, $500 less than the previous entry-level model. The vehicle keeps the MacPherson struts up front but adds a new, 32-horsepower ProStar 500cc Electronic Fuel Injected (EFI) engine making it the perfect entry-level, single-seat vehicle. For customers who want more power, the ACE 570 remains in the line at just $8,499 and has the proven 45-horsepower ProStar 570 EFI engine and larger 25-in. (63.50-cm) tires. Both vehicles have the same rider-centric design with low center of gravity, easy controls, and all-new front stabilizer bar for a confidence-inspiring ride. The 48-in. (121.9-cm) trail-capable width also makes them easy to fit in the back of most pick-up trucks for easier hauling. Both vehicles will feature new comfort improvements that will be found across the ACE lineup including a redesigned cab for easier entry and exit; more legroom; and convenient new dual dash storage trays along with nearly 3 gal. (11.36 L) of front, dry storage under the front rack. The ACE 500 is available in Indy Red and the ACE 570 in VooDoo Blue.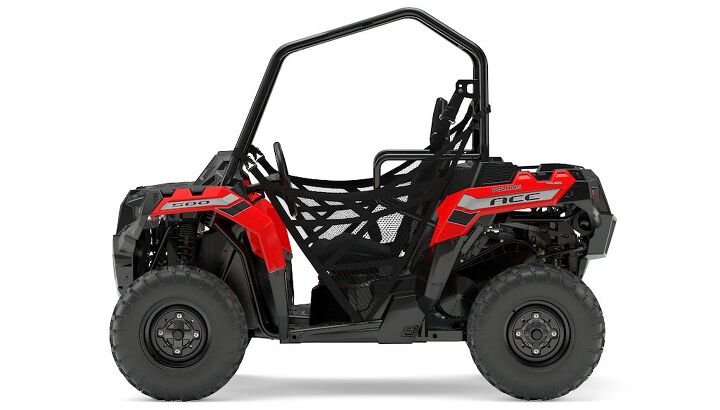 For customers looking for even more performance but want to maintain a narrow 48-in. (121.9-cm) width, dual a-arm performance and ride quality comes to the ACE 570 SP at the same price as the 2016 model: $9,999 U.S. The new front suspension offers 9 in. (22.9 cm) of travel and nearly 20-percent tighter turn radius and quicker steering response. When paired with standard EPS it provides a much nimbler, more responsive and smoother ride. The vehicle also will receive the new comfort improvements Polaris is adding throughout the lineup. The ACE 570 SP is available in Titanium Matte Metallic and includes factory-installed doors, premium cast wheels, and custom graphics.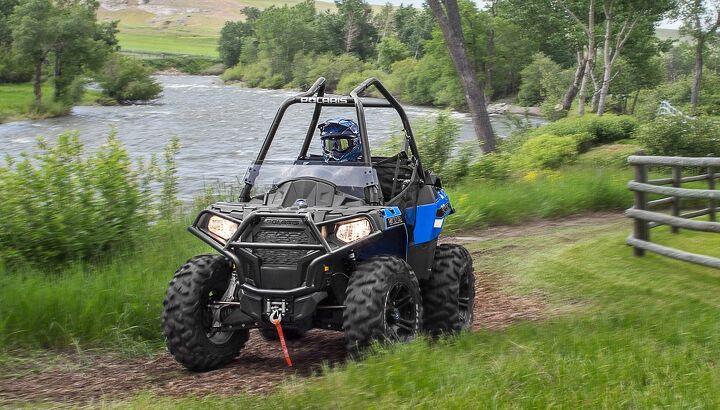 For consumers who want big power and suspension, the ACE 900 XC has a 78-horsepower ProStar 900 engine featuring EFI and Electronic Throttle Control (ETC) to bring the ACE experience to performance-minded customers. The liquid-cooled, twin-cylinder ProStar 900 EFI engine delivers smooth power throughout the RPM range, thanks to its dual overhead cam design, 180-degree crank firing order, and counter balancer. The ETC ensures smooth, predictable power at all speeds. To get that power to the ground, the ACE 900 XC has a durable drivetrain built to handle the unit's higher horsepower for the ultimate big bore experience.
More power needs more suspension and the ACE 900 XC delivers in spades with a new premium, 12.3-in (31.24-cm) long-travel, dual a-arm, front suspension and 12.6-in. (32-cm) long-travel, Independent Rear Suspension (IRS). The ACE 900 XC is 11 in. (27.9 cm) wider than previous models with a 59-in. (149.9-cm) width and a 6-in. (15.2-cm) longer wheelbase. For a near-bottomless feel, the ACE 900 XC boasts premium Walker Evans Position Sensitive Anti-Bottoming Needle Shocks on all four corners. The shocks feature piggyback reservoirs up front and remote reservoirs in the rear that are preload adjustable and have 16 positions of compression adjustability. These 1.75-in. (4.4-cm) diameter needle shocks are extreme performance shocks from one of the best in the business. Capable of handling high speeds and extremely rough terrain, the internal needles interact with specifically-positioned chambers, allowing progressively more dampening deep into shock travel to improve ride performance and increase bottoming resistance. The shocks are paired on all four corners with dual spring coil-overs to provide a comfortable ride in all terrains. For optimal control, the front and rear stabilizer bars improve handling and provide a confidence-inspiring ride.
The ACE 900 XC has the same rider-centric design unique to all Polaris ACE vehicles. The design places all the major components, including the driver, centralized between the four wheels for a low center of gravity and an incredibly confident ride. The sit-in design of ACE provides a ROPS cage for added protection and intuitive automotive-style controls for a familiar experience to newer riders. For added comfort, the adjustable, bolstered bucket seat ensures the operator remains planted in the middle of the vehicle while the massive 13 in. (33.02 cm) of ground clearance provides ample amount of room to get over gnarly trail obstacles.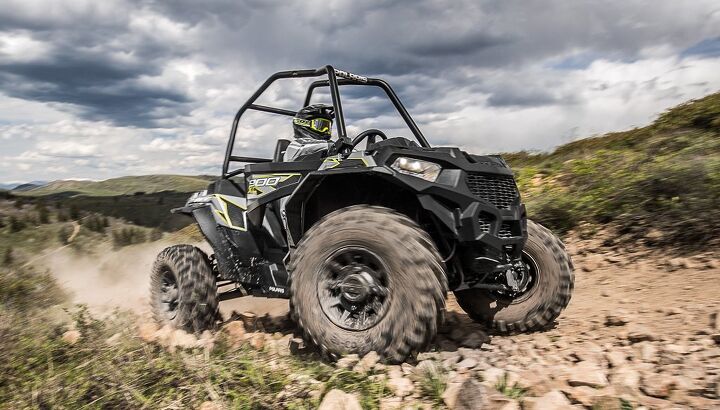 The ACE 900 XC also has an aggressive trail package with sportier styling including factory-installed doors, and next generation headlights and LED taillights. A new high-performance, high-flow exhaust silencer provides great tone and reduces overall noise level. For the ultimate in traction, Polaris' High Performance Close Ratio, On-Demand All-Wheel Drive (AWD) system keeps the front wheels pulling stronger and longer maximizing power delivery to the ground in every condition. To complement the system, the vehicle's puncture-resistant, 8-ply, 27-in. (68.6-cm) Dirt Commander tires on 12-in. (30.5-cm) cast aluminum wheels provided optimal performance on any type of terrain; while the standard Electronic Power Steering (EPS) ensures the vehicle takes the brunt of what the trail has to offer. Increased power also needs stronger stopping power and the ACE 900 XC's new high-performance brakes ensure instant response when needed. The ACE 900 XC is available in Matte Silver Pearl.
Polaris Engineered Accessories have a full line of accessories for Polaris ACE vehicles including doors, winches, cabs and storage. More information about Polaris Off-Road Vehicles and Polaris Engineered Accessories can be found online at www.Polaris.com. Published July 25th, 2016 9:46 PM
Top Brands
Popular Articles