58 Views
2021 Polaris Sportsman 570 Ultimate Trail LE Review
September 14th, 2020 1:15 PM
Share
We're committed to finding, researching, and recommending the best products. We earn commissions from purchases you make using links in our articles. Learn more here
Fast Facts
MSRP: $9,499
Towing Capacity: 1500 LBS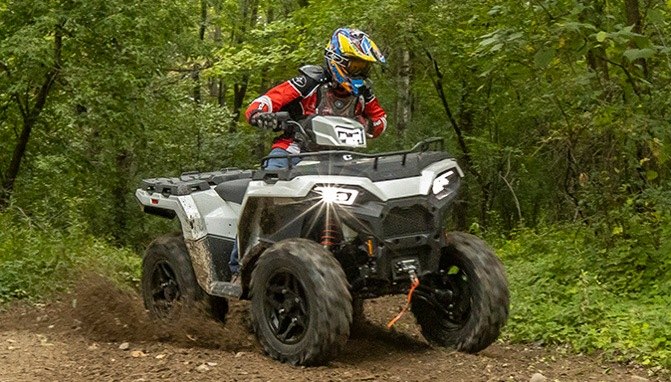 A middleweight ATV with some heavyweight features and technology
We had a chance to test out the new 2021 Polaris Sportsman 570 with the Ultimate Trail LE package at Polaris' test facility in Minnesota. Check out our full review below.
In an off-road world flooded with Side-by-Side vehicles, it is really nice to get back to my roots on an ATV. Polaris has been in the ATV market since 1985 and in model year 2021 they have come a long way in their ride comfort and product performance development. During my brief visit to the Wyoming, Minnesota facility recently I had the opportunity to ride the 2021 Polaris Sportsman 570 loaded with new features. Polaris calls this Sportsman 570 the Ultimate Trail Limited Edition. This little package is not only fun, but surprisingly fast and more powerful than I remember.
The very first thing you will notice about the 2021 Polaris Sportsman 570 Ultimate Trail Limited Edition is the curb appeal. This little beast has taken on some of its larger bore siblings facial features with a more aggressive styling and I simply fell in love with it. The LED center lighting pod has been resized to be shorter from top to bottom and a little wider from side to side. I think this center bar mounted light is one of the more versatile light designs because it points in the direction of travel so you can see things in the dark a little faster. This sleek light pod is not only for lighting though as it houses the digital dash cluster and a couple of really cool new extras from Polaris. On the "Ultimate Trail package you also get LED head lights.
Just under the digital dash there are a pair of 12-volt inputs. One allows you to plug in for 12-volt supply power to any accessory and the other allows direct charging capability to the brand new much larger battery on board. If you have experienced the battery accessibility in the previous Polaris Sportsman 570 you know it was a bit of a challenge to service. For model year 2021 Polaris not only increased the size and cold cranking amps of the battery, but put it in the cargo space right under the front rack for very easy access. Just like I mentioned before, you can plug your charging cord right into the dash pod for those days when the new machine needs to be stored. It really is the small things that do get us excited.
When it comes to hauling anything, you can mount on the molded racks and rack extenders to keep things secure on the ride. These rack extenders come on the front of the base Sportsman 570, but when you step into the EPS or higher dressed versions of this machine they are on both front and rear from the factory. The racks even have Lock-n-Ride capability now, so Polaris has made it even more simple to put its accessories on these machines. Personally, I think that makes these higher priced models even more of a value for the money you spend on them.
The Ride
One of the greatest freedoms you can experience in the off-road and outdoors is zipping through the trees at a good clip on a nimble, well handling ATV. The 2021 Polaris Sportsman 570 engines have 44hp across the board no matter if you get the base or the premium models you get that same punchy power in all of them. The trails where we were riding these new Sportsman ATVs on was actually the testing grounds for Polaris vehicles. There were many long straights, winding and very tight tree-lined sections, as well as some slight hills with rocky bottoms. Not to mention there were a few mud holes that seemed to get deeper as the laps around the property continued.
I was pleasantly surprised at how fun and powerful this mid-bore engine was. As we formed our lines in the trees, there was a lot of mid to full throttle fun for about an hour of riding. The throttle response is quick and the way the 2021 Polaris Sportsman 570 handles is so refreshing. Being a narrow, 48-inch wide rig, the Sportsman 570 slips into most all of the tight spots with ease – even with the larger Duro Power Grip tires and 14-inch rims. The 50.5-inch wheelbase makes it a very easy handling ride as well.
I'd have to say that even as a larger rider (6ft- 265lbs) the ATV had no issue letting me know it was willing to go the distance with me on its back. I keep the throttle squeezed as much as possible and the grin was very evident, I'm sure.
The comfort in the seat is also a notable feature for any rider, especially the larger rider, and it's not intrusive or too bulky. It keeps you a little lower in the captain's chair and that lower center of gravity seemed to help this guy handle the machine when the trees began to creep in. Even though I did not sit much, when I was able to relax the 2021 Polaris Sportsman 570 had plenty of cushion in the saddle and leg room in the full floorboards. If it were possible on our ride day, I would have had the handlebars adjusted just a tad bit more forward for my long arms, but in the heat of the moment the ride was so fun that I wasn't being too picky.
Polaris has had its ADC (or active decent control) on its ATVs for years and as we were riding a predetermined loop across some massive, steep uphill and downhill concrete tunnel sections, you can really get a feel for that feature and how it works. This is, in laymen's terms, an engine braking system that helps you maintain control in steep terrain. As we slipped off the downhill side of these steep concrete tunnels it was apparent that there is a good amount of engine braking available when you simply let off the throttle and let the 2021 Polaris Sportsman 570 EPS roll at idle.
Polaris has also become popular for its True On-demand AWD, which it claims is a set it and forget it system. Just flip the AWD switch forward and when the machine determines you need extra help in sticky situations it will engage the wheel that is getting traction and move the machine on forward down the trail. Climbing through rocky sections of trail as well as through some slightly muddy terrain gave us a brief yet evident indicator that the system works as described. We hope to get more seat time on this feature very soon to refresh our minds while digging into some more difficult terrain.
During our briefing on the Sportsman line, we were informed that the suspension of the 2021 Polaris Sportsman 570 has gotten a different type of bushing at the pick-up points. According to Polaris, this rubber-style mount is going to help with wear and I personally think it might help eliminate some squeaks as the Sportsman begins to be ridden more and more. In terms of suspension components, Polaris is still using the proven strut front suspension on the 570, but if you get an Ultimate Trail LE package or Premium Polaris Sportsman 570 you can get the dual A-arm suspension.
Unlike the Ultimate Trail LE package we tested with a dual A-arm setup, this Sportsman 570 relies on strut-style front suspension.
Keeping a good maintenance routine on your machine will absolutely make it last longer and keep the wear items surviving longer, but it is refreshing to see Polaris doing all it can to help. In terms of maintenance, Polaris claims it has also extended the suggested service intervals on items like the clutch, belt, battery, transmission fluids and brake pads, which translates to me as more trail time and less worry. The last thing anyone wants to do is maintenance instead of riding and it sounds like Polaris is building its machines to handle a little more abuse before that list of chores comes around.
Something we really hope to try for a more in depth, long term ride is the Polaris Ride Control Technology. This feature on the 2021 Polaris Sportsman 570 Ultimate Trail LE includes a three-mode throttle control, a speed limiter as well as a feature called Geo-Fencing. The throttle management gives the rider a choice in power delivery and in certain situations I can see this being a great benefit.
We did have the opportunity to test the Polaris Sportsman 570 Ultimate Trail LE that was set up with a Geo-Fence in the field behind the display during our short time at the Polaris testing facility. Squeezing the throttle brought the ATV up to 6 mph and once I reached the edge of the fenced area the machine then ramped up to 25 mph. This, in my humble opinion, is a must have feature for new riders or learning riders. I love the fact that I can control speed for a rider who is trying to get used to the machine. If you mark a fence around your property you can adjust max speed in that zone. How cool and reassuring is it to know that your family can learn the ride instead of being intimidated by the power or speed of a machine.
There are many really advance features packed into the 2021 Polaris Sportsman 570 Ultimate Trail Limited Edition ATV, including a factory installed 2500-pound Polaris branded HD winch. There are even plow mount plates installed in case you live in the colder sections of the world. Overall, I think the entire package is not only a sharp eye catcher, but it seems to have just enough extra technology for those looking to start their own Ultimate Adventure. Published September 14th, 2020 1:10 PM
Top Brands
Popular Articles