139 Views
2007 Arctic Cat 700 EFI Review
June 17th, 2015 4:23 PM
Share
We're committed to finding, researching, and recommending the best products. We earn commissions from purchases you make using links in our articles. Learn more here
This cat will hunt, and then some
Arctic Cat designs its sport-utility ATVs with hunters in mind—it's just that simple. The affinity is a natural one, because the company's design center is located in rural northwestern Minnesota, and they often test their vehicles in the wild and scenic Beltrami Island State Forest. The team at Cat will steal the hearts of many sportsmen with the tremendous hunting capability built into its 700 EFI 4×4. Using this vehicle as a platform, I constructed a concept hunting-quad showcasing some of the best Arctic Cat iron, while also adding a handful of non-Arctic Cat hunting accessories.
Under the seat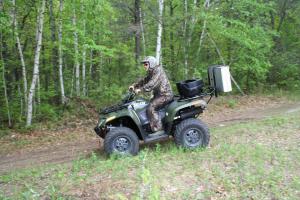 Cat's Suzuki-built 700 single cylinder, liquid-cooled four-stroke delivers loads of smooth power for hauling gear or game. The torquey motor's operation gives the impression that it is never being stressed too hard, meaning the Cat technicians tuned the package conservatively rather than pushing it to the limits of its performance. This should make the engine last longer. The conservative tuning is reflective of their emphasis on hunting and utility applications, compared to some other brands in this class that have a sportier bent. Fuel injection eliminates the need for a choke and lets the engine compensate for different altitudes. The engine occasionally stumbled during cold starts, but in operation the mill was absolutely bulletproof. Arctic Cat incorporates a starting clutch into its rubber-belt CVT, and the clutching is good. Earlier Cats had a problem with a 'blown belt' switch that gave false alarms and put the ATV into limp-home mode. That problem, thankfully, is no more.
The 700 is equipped with a switch-operated four-wheel drive system that engages an electric actuator in the front housing. This system, by itself, does not provide 100% power to both front tires. To achieve true posi-traction, the bike also has a lever-operated front 'locker.' Like other ATVs, the four-wheel-drive does not shift on the fly, so the quad must be brought to a stop for engagement. Both the electric actuator and the mechanical locker operate predictably and reliably when ridden in the mud. Nothing beats the feeling of full power to all four wheels when the terrain turns nasty. With the front diff locked, steering effort is multiplied so this feature would only be used for extreme mud conquering. The front diff can be easily unlocked for easier steering in other trail situations.
The 700 EFI has true independent suspension at all four corners. There is no sway bar. Double A-Arms transport the 25-inch tires through a luxurious 10 inches of suspension travel. I upgraded the stock suspension to an air spring package, but more about that later. The stock skins lean toward mud and utility usage rather than pure trail comfort, but are more than adequate. Cornering in tight corners could be improved somewhat. The front end dives a little too much. The front springs are adjustable, but I was not able to perfect the handling with this alone. On the trail, the 700 growls with power. This is not a big air bike, it is a mud warrior that doesn't back down from any challenge. The gearing is notably low, giving this Cat a distinctly different personality from Yamaha's Grizzly and Suzuki's King Quad.
Cats are well known for being dominant at mud run competitions, in part because they can be modified (or left in stock trim) to run in them so easily. The fenders are tall and wide, providing excellent protection from mud spray and allowing for an upgrade to larger tires. Twelve inches of stock ground clearance allows a rider to run right over the top of many obstacles. Arctic Cat's patented body plastic does not require a secondary fender to be riveted or screwed on; the company simply made the basic plastic bigger and embedded a textured surface into the area of the body plastic where other manufacturers bolt on their fenders. Disk brakes put the slow-down to both the front and rear ends.
Amenities
The gas tank holds six and a half gallons, which means less time between fuel stops. There is a handy storage area in front of the rider that is perfect for putting a wallet, sunglasses, map or a beverage container. The combination analog/digital speedometer provides sufficient information. Front and rear CV joint guards; excellent mud spray protection and a 2-inch receiver hitch are all standard.
The 700 EFI is one serious hunting vehicle. Arctic Cat has been very diligent in developing accessories for hunting, fishing and other outdoor activities. Exclusive Speedrack and Speedpoint systems offer riders the opportunity to customize their rig with a number of options.
Following are some of what's available:
Rear carrier
Arctic Cat's Speedrack rear carrier, should make it easy to lug a portable stand or bow case into the bush. It adjusts for varying heights and has rubber sleeves to reduce the pinch on the item being carried. It also installs and uninstalls to the ATV literally in seconds. If you are a deer hunter who uses a lot of portable stands, you'll like this upgrade.
Three-point hitch
Many deer hunters take their hunting to the next level by establishing food plots to assist deer in growing trophy antlers. Cat's Speedpoint accessories can perform almost any kind of food plot work. Start by installing the Speedpoint three-point hitch, with a price tag of US$749. The hitch has a built-in electric actuator that is controlled with a handlebar-mounted switch. The actuator can be adjusted upward or downward to vary the pressure and depth at which the implement is pressed into the soil. Downward pressure of as much as 600 lbs can be achieved with the unit. Other Speedpoint tools can be installed to this hitch in seconds. One of them is Arctic's moldboard plow, a three-part system with a coulter in the front to cut sod, a hardened-steel plow and a gauge wheel in the back to help monitor the pressure and depth. The moldboard plow rings up at US$499. Arctic has a 'single disk,' with eight notched, hardened-steel disks that are carried within zero-maintenance sealed bearings. This type of tool, at US$459, is good for maintaining ground that has already been broken up. A 'tandem disk' assembly, priced at US$849, features 16 notched, hardened disks—perfect for breaking up fallow ground. A cultivator, at US$399, has individually replaceable tines for custom-cultivating everything from crops to trees, and the tines self-clean and can be removed for cultivating individual rows.
PowerLoader
Solo hunters are often looking for a better way to extract harvested game. Even if an ATV or UTV is available, lifting the deer or bear onto it can be next to impossible. The PowerLoader offers a unique solution that will handle all but the largest critters, using winch power to lift harvested big game. The weight rating is 350 lbs and it can also hold your trophy in place for the ride out.
High-performance suspension
TeamFAST has 30 years of experience in designing high-performance suspensions, and the company's Airwave is an adjustable air-spring suspension. With the touch of a button, the Airwave's on-board compressor can soften the air springs for extremely smooth trail riding or stiffen them for heavy-duty hauling. The Airwave installed on the 700 EFI had a fairly wide range of adjustment and notably improved the already-plush ride quality. The system is available for most ATV and UTV makes and models. http://www.teamfast.com/
Gun transport
The Kolpin Gun Transport 5.0 is designed to transport rifles with up to 50mm objectives and most standard barrel lengths. It has a hard shell and a removable soft inner liner to provide a cushioned ride for you rifle or shotgun. Best of all, it has decades of Kolpin experience built into its design. I used the Gun Transport multiple times when hunting bears in rugged Minnesota wilderness. It always kept my gun securely and the scope was never knocked off of center. The uses of this gun scabbard don't end when the trail does. The 5.0 is also legal for airline transportation. http://www.kolpinpowersports.com/
Bucket hugger
If you use your ATV to access hunting areas, the odds are you have had to haul five-gallon buckets that skate around on the rack—especially when a rough trail is making your ATV buck like a bronco. The Kolpin bucket hugger part number 91710 provides a solution to this scenario. It securely holds two five-gallon buckets plus miscellaneous tools. In my experience, the Bucket Hugger held the buckets in place even when bouncing over the ruts of a plowed field. Kolpin offers other great accessories for hunters, too. http://www.kolpinpowersports.com/ .
Tire balls
Riders in rocky areas face the threat of sharp rocks puncturing tires as a daily occurrence. Murphy's law can strike anyone, and usually at the worst possible time. Tire Balls are a great way to avoid flats and to improve the ride quality of your quad. The balls are stuffed around the inside of the tires, making it possible for several balls to be punctured before the overall ride even begins to be affected. Tires are one of the most underrated elements in ride comfort. The balls are also designed to absorb and isolate trail bumps from the rider better than stock tires can. Nearly every top GNCC racer uses Tire Balls to ensure they don't get left behind. http://www.tireballs.com/
Winch
A sudden rainstorm or flash flood can turn what is normally a simple low spot into an un-crossable quagmire. The new Warn RT30 winch will pull you through even if the trails turn bad. The new offering from Warn has a .9 HP motor with improved efficiency for reduced current draw and an all-metal gear train for improved durability. Every component in this kit including the contactor and the control switches are designed to be fully sealed. It is critical for both safety and durability that winch cable is fed in and out in a straight line. The winch accessory kit (sold separately) includes items like a snatch block and heavy straps to help you operate your winch correctly, even if the anchor points are off to the side. http://www.warn.com/
Helmets for hunters
Raider Powersports offers hunters a range of ATV helmets in camouflage, black and other colors. The helmets are DOT certified and available at big-box retailers. http://www.raiderpowersports.com/
Releated reading:
2008 Thundercat 1000 Published November 23rd, 2006 4:28 PM
Top Brands
Popular Articles