47 Views
2010 Bobcat 3200 2×4 Utility Vehicle Review
June 19th, 2015 2:04 PM
Share
We're committed to finding, researching, and recommending the best products. We earn commissions from purchases you make using links in our articles. Learn more here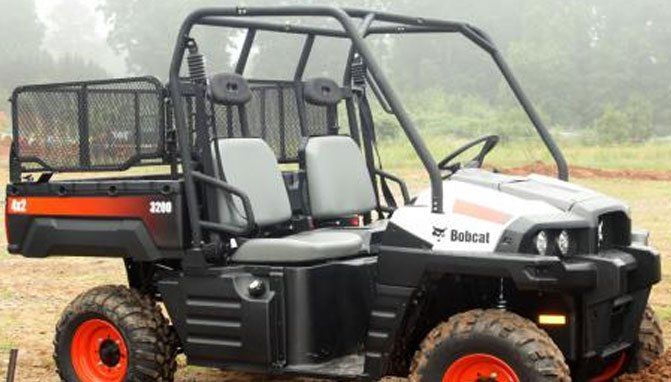 Smallest Bobcat packs a big punch
After getting invited to the 2010 Bobcat Media Event in Atlanta, Ga. I was admittedly a little nervous. I'd been a fan of Bobcat's agricultural products for quite some time, but I had no personal experience with any of its utility vehicles and I really didn't know what to expect. Regardless, I was looking forward to see what Bobcat had to offer and learning more about its new utility vehicles.
Bobcat arranged for very informative presentations on each of its new products followed by plenty of hands-on time so we could test out all of the products on display.
One of Bobcat's main goals is to make sure its vehicles stand up to years of use and abuse. This is accomplished by making maintenance areas easy to access as well as by protecting critical areas of the machine. Bobcat uses radiator guards to protect the radiator from damage, CV guards to protect the half-shaft grease from damaging debris, skid plates to protect the undercarriage, engine and transmission, and sealed CVT covers to protect the drive belt.
3200 4×2
After getting the rundown of each machine in Bobcat's presentation it was time to get to work testing out its four new UTV models – 3200 4×2, 3400 4×4, 3400XL 4×4, and 3450 4×4. For this article we'll focus on the 3200 4×2.
The 3200 4×2 is the smallest of the new Bobcat UTVs and it was the only gas-powered unit on display. Despite being the baby of the Bobcat UTV family, this model has ample power to accomplish all kinds of tasks around personal acreage or even larger farms or job sites.
The tilting cargo bed can carry an impressive 1,100 pounds.
On this machine, Bobcat focused on its ability to haul, tow and transport. With the bed designed for hauling, you can carry more than on a typical UTV, yet you can go places you could not go with a truck. The cargo bed (36.5 in x 54 in) can carry 1,100 pounds, which is more than twice the load capacity of most similar-sized UTVs like Honda's Big Red (500 pounds) or Polaris' Ranger 400 (500 pounds).
To help with towing duties, the 3200 4×2 comes equipped with a 2-inch receiver hitch and an impressive towing capacity of 1,500 pounds, which is 200-300 pounds more than other UTVs in this class.
After spending time on the 3200 4×2 it would seem to be a solid addition for a job site where you need to transport passengers or packages from one place to another. The four-wheel independent suspension allows for comfort and stability over any kind of terrain. The front suspension has independent systems for the right and left side using MacPherson Struts with six inches of total travel. The rear suspension has Independent Dual A-arm suspension, also with six inches of travel.
While not a world beater on the trails, the 3200 4×2 provides a comfortable and fun way to go for an off-road cruise.
But the 3200 4×2 is not strictly a work machine – it would make a good crossover vehicle for those who want to work and play on the same vehicle. It doesn't have the same speed and fun factor of more recreational focused vehicles like the Polaris Ranger RZR and the Kawasaki Teryx, but you can still have some fun playing around the trails.
In my opinion, the Honda Big Red is the closest comparable side-by-side I have reviewed to the Bobcat 3200 4×2. Both geared a bit more toward work than trail and both are great for hauling and towing. Also, both have tilting cargo beds, automatic transmissions and suspension systems designed for more comfort after hours of use.
Some of the differences between the two machines include the turning radius, towing and hauling capabilities as well as where they fall in line in terms of other machines made by the same company. For example, the Honda Big Red is the workaholic of the Honda recreational vehicles, while the Bobcat 3200 is the recreational vehicle of the typically workaholic Bobcats. The Bobcat can haul more and tow more, but surprisingly it also has a smaller turning radius (10.2 feet compared to 13.8 feet for the Big Red) that is better for working in heavily wooded or tighter trail areas.
Summary
The 3200 4×2 tested better than I expected on the recreational obstacle course that Bobcat set up, which included hill climbs, a rock crawling area, mud holes and ruts. With its 455cc, 29 horsepower, liquid cooled engine, the littlest Bobcat conquered each obstacle without hesitation. I would certainly take this vehicle on most of the easier and some of the intermediate OHV trails I have traveled. As far as the work side of it, I cannot imagine many areas on a farm or job site where this machine would not exceed expectations – especially when you consider its low base price of about $8,000.
With a base price around $8,000, the Bobcat offers outstanding value.
With a maximum speed limit of 15 mph in low range and 30 mph in high range it probably won't win too many off-road races, but when you combine its capabilities and price it's a tough machine to beat.
For more information about the 3200 4×2 or any of Bobcat's other UTVs, visit the official website. These machines are definitely worth checking out for work and play.
Specifications
Dimensions:
• Overall Length: 113 inches
• Overall Width: 60 inches
• Over Height: 75 inches
• Operating Weight: 1375 lb
• Travel Speed, High: 30 mph
• Travel Speed, Low: 15 mph
• Wheel Base: 76 inches
• Tread Width (Front/Rear): 48 inches, 49 inches
• Ground Clearance: 9.5 inches
• Turning Radius: 122 inches
Engine
• Fuel: Gas
• Horsepower: 29 HP
• Displacement: 455 cc
• Injection: Carburetor
• Cooling: Liquid
• Fuel Tank Capacity: 9 Gallon
Cargo Box Capacity:
• Cargo Box Length: 36.5 inches
• Cargo Box Width: 54 inches
• Cargo Box Height: 11.5 inches
• Cargo Box Load Height: 31 inches
• Cargo Box Load (Maximum): 1100 lb
Vehicle Capacity:
• Vehicle Rated Capacity (all inclusive): 1600 lb
• Towing Capacity: 1500 lb
Vehicle Features (Standard):
• Steel Frame
• Lockable Rear Differential
• Gear Selector, R-N-L-H
• Front Suspension, MacPherson Strut
• Rear Suspension, Double A-Arm
• Sealed CVT Cover
• 2-inch Rear Receiver
• Headlights
• Tail/Brake Lights
Vehicle Features (Optional):
• Brush Guard
• Cargo Box with Power Lift Assist
• Work Lights/Strobe Lights
• Turn Signals
Operator Area Features (Standard):
• Headrests
• Park Brake
• Beverage Holders
• Storage Compartment with Door
• Dash Mounted Hour Meter
• 3-point Seat Belt with Comfort Strap
• 4-Point ROPS (rollover protective structure)
• Gear Position Indicator Light
• Park Brake Indicator Light
Operator Area Features (Optional):
• Radio & Speakers
Related Reading
2010 Polaris Ranger 400 Review
2009 Honda Big Red Review
2008 Yamaha Rhino 450 4×4 Review Published July 14th, 2010 10:43 AM
Top Brands
Popular Articles