1 View
2008 Club Car XRT 1550 Preview
June 19th, 2015 2:24 PM
Share
Putting the U back in UTV
While the UTV market is expanding with sportier, leisure oriented vehicles like the Polaris Ranger RZR and Kawasaki Teryx, utility is still the backbone of the segment.
Club Car Inc. of Augusta, Ga. produces the XRT line of vehicles and the flagship XRT 1550 is utility to the core. For Club Car, the idea behind the XRT 1550 was to build a tough, rugged, easy to use vehicle and it is backed up by a 24-month/2,000-hour limited warranty.
Powering the XRT 1550 is a Kawasaki 23 horsepower, air cooled, 675 cc twin cylinder engine. An optional 20 horsepower, 3-cylinder , liquid cooled, 719 cc diesel engine from Kubota is also available as an option.
"You've got two different choices, both very high quality engines, both industrial strength engines and you're really going to get a lot out of both of those engines," says Club Car regional manager Noel Phillips.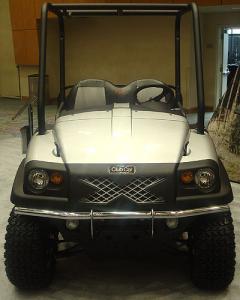 The XRT 1550 is all about utility.
Wanting to make the vehicle as easy to drive as possible, both engines feature a continuously variable transmission. Also, to avoid having to switch from low to high gear, the XRT 1550 comes with what Club Car calls IntelliTrak.
"The XRT 1550 is an all-time, automatic, all-wheel drive system, so that means that there is not a lot of shifting that you have to do. The car will basically drive itself," says Phillips. ìOnce you shift it into forward, it will go into one, two, three or four wheel drive as needed. It will lock and unlock the differential as needed, and it will send you into high, mid or low range gear when you're driving it, so you don't have to worry about driving the car."
IntelliTrak allows the driver to go from running along a fire trail at top speed to inching across a rocky ditch without ever having to flick a switch or pull a lever. It's completely automatic.
With the motor and transmission located under the seat, they are centered between the two axles. That ensures that the user doesn't have to lift the bed to be able access the motor for repairs and maintenance.
A generous 6.5-gallon fuel tank should provide plenty of work and play time between fill-ups. Play, however, is limited as far as all-out speed is concerned since the vehicle has a governed top speed of 25 mph.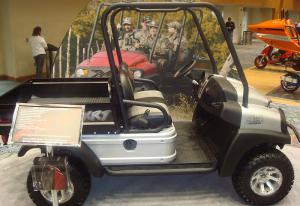 The roll cage has been certified to five different international standards.
According to Club Car, the XRT 1550 boasts the only aluminum frame in the industry. Though the 6061 aluminum frame is more costly than steel, its weight savings and longevity make it an attractive alternative.
"It's a lighter material than steel, it's stronger than steel and of course it's going to last a lot longer than steel as well," says Phillips. ìIt's a non-corrosive, rust-resistant material, so it's going to do really well for you there."
Driver and passenger are protected by a roll cage that Club Car says features true roll over protection and is certified to five different international standards. It is powder coated instead of painted, features an anti-slip finish and the grab handle is over the passenger's head instead of up front.
Whatever weight was saved on the aluminum frame looks to have gone into the suspension. Instead of a MacPherson strut upper shock, the vehicle features solid steel-cast independent double A-arms up front, which can weigh more than 10 times the competition.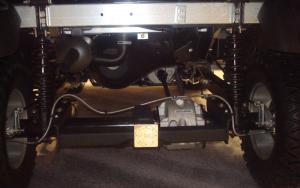 The heavy rear suspension provides plenty of stability on the trails.
"It's fully independent up front," says Phillips. ìIn the rear we have a solid axle with a swing arm suspension. We've got a lot of stability in the back. It's a very heavy rear suspension, so it's going to hold you in a very steady format in the back if you're on rugged terrain."
Thanks to the beefy back end, the manual tilt bed has a standard payload capacity of 800 pounds. Phillips says that with a heavy duty shock suspension you can increase the load capacity to over 1,000 pounds.
"That's when an electric lift comes in handy," Phillips says about the XRT 1550's optional bed lift. ìWe have a toggle switch on the dashboard so you can automatically press a button and lift up and dump out whatever you have in the cargo box area.
For those that don't want an electric lift, the manual lift has a fairly simple to use design. By squeezing a single handle on the driver side, the bed is released on both sides. The powder coated, lightweight aluminum floor, which is replaceable should the need arise, makes it easier to raise the bed.
Not even the tailgate was neglected on this vehicle. Featuring a slam latch, the tailgate locks into place automatically when slammed shut, which means no latches or clamps to close before you get back in and drive away. Club Car says the slam latch also means the tailgate won't rattle when driving around on bumpy terrain.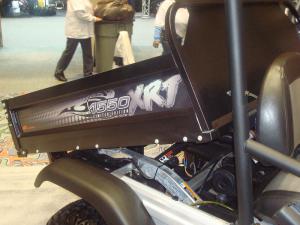 The tilt bed can hold 800 pounds and an electric bed lift is available as an option.
To keep the vehicle powered, Club Car has outfitted the XRT 1550 with a full-size automotive battery, rather than a smaller ATV battery. Not only does this provide longer battery life and improve cold cranking amps, but it also means you can just drop by the closest automotive store for a replacement instead of heading to the dealer.
Even the floorboards were a consideration for Club Car's engineers. Instead of an uncovered steel floor, which can rust, the XRT 1550 features aluminum floorboards with rubber floor mats on top. This helps cut down on sound and vibration and provides ample protection from stray sticks poking up through the floor.
For those long days behind the wheel, driver comfort was addressed with an adjustable steering wheel and a 13-position adjustable seat. Also, there is plenty of space to stretch out your legs completely.
In addition to the two engine choices, Club Car has also recently come out with a limited model of the XRT 1550.
"Everybody's always looking for something a little bit different out in the field – my car has to look a little bit different than your car," says Phillips. "We've used a couple different paint schemes to dress up the exterior of the car. We've also gone to some chrome rims and a chrome front bumper."
Other changes to for the LE include a sporty shifter knob and some cosmetic changes with the decals.
"We've taken the car to a new level with that, just to bring a little more attraction to the car for the owner's sake," says Phillips.
Club Car's XRT 1500 has an MSRP of $9,899 for the gas engine and $11,399 for the diesel engine. The LE model retails for $10,990.
IntelliTrak All-Wheel-Drive
High-Low Range Engagement
Automatic
Torque Converter
CVT
Tilt Steering Wheel
Standard
Front Suspension
Independent double A-arms w/ coil-over shocks
Rear suspension
Swing arm with coil-over shocks
Brakes
4-wheel, hydraulic disc
Park Brake
Foot-operated
Frame Chasis
Rust-proof non-corrosive,aircraft-grade 6061 aluminum frame
Tires
Mud, 25 x 11-12, 4-ply, (optional all-terrain tires)
Instrumentation
Electronic fuel gauge/hour meter, low oil warning light (speedometer optional)
Cargo Box Size
48 x 49.8 x 10.9 in (121.9 cm x126.5 cm x 27.7 cm)
Bed Height
33 in (83.8 cm) 33 in (83.8 cm)
Bed Capacity
800 lb (362.9 kg) 1,050 lb. 476.3 kg available)
Overall Length
124.6 in (316.5 cm)
Overall Width
60 in (152.4 cm)
Overall Height
78.6 in (199.6 cm)
Wheelbase
81.5 in (207 cm)
Ground Clearance
7.4 in (18.8 cm)
Fuel Tank Capacity
6.5 gal (24.6 L)
Dry Weight Less Batteries
1,559 lb (707.2 kg)
1,430 lb (648.6 kg)
Vehicle Warranty
2-year/2,000-hour, limited
Published April 10th, 2008 1:38 PM
Top Brands
Popular Articles