1 View
Cub Cadet Goes Recreational
November 6th, 2007 1:30 PM
Share
We're committed to finding, researching, and recommending the best products. We earn commissions from purchases you make using links in our articles. Learn more here
Service vehicle manufacturer targets UTV market
Cub Cadet, a company known for making equipment for farmers, hunters and agriculturalists, has come up with a new vehicle that combines practicality with a little fun.
The Cleveland, Ohio manufacturer came up with the idea for its new UTV, the four-by-four EFI Volunteer, after attending a UTV rally in Moab, Utah.
"We took one of our vehicles out there and we modified it and we made it go faster," Cub Cadet product marketing manager Aaron Hanlon told ATV.com. "We did really well. We were able to climb all the rocks as well as the Rhinos, the Arctic Cats and the Polaris Rangers.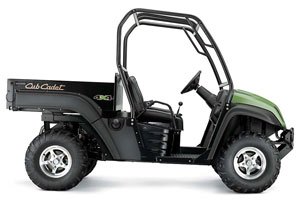 "We participated in the tug of war and we beat the Polaris 6X6 and some of the really souped up vehicles out there, and that's where we really started to think that maybe we need to go down this alley."
Since most of Cub Cadet's retailers are farm-related, the company wasn't sure a recreational vehicle would meet their needs. To find out, the company went straight to its clients and asked them if they would be interested in such a product. Turns out they needed a vehicle with a higher top speed—for the cows.
"They clocked cows at 29 miles per hour and our vehicle only went 25 miles per hour at the time," says Hanlon. "Some guys use their utility vehicles around the farm and they said 'you know…it would be nice if we could go faster than the cows.'"
Cub Cadet responded with the Volunteer, which has a 748cc liquid-cooled engine and a top speed of 32 mph—plenty fast enough to keep up with the quickest of cows. The fact that its owners can have a little fun is all the better.
Though a big focus was on increased speed, it did not come at the sacrifice of utility and hauling capacity. Cub Cadet beefed up its new baby with the ability to tow 1,400 pounds. The bed payload has also been increased to 1,000 pounds
"Although it would appear that we are going towards the recreational market, what we are actually doing is we are first addressing clients' needs. It just so happen that those needs mean a faster, bigger engine at this time," says Hanlon.
That's not to say that Cub Cadet wouldn't consider a purely recreational UTV.
"If it proves successful we are always open. We are very flexible about things," says Hanlon. "If we see a market grow, I don't think anything will hold us back in terms of developing something more recreational. I guess you could say that this is a stepping stone in that direction."
The Cub Cadet Volunteer will be available in February 2008 and will have an MSRP of US$9,699 Published November 6th, 2007 1:30 PM
Top Brands
Popular Articles