1 View
Best Polaris RZR Exhaust Systems
May 25th, 2021 12:10 PM
Share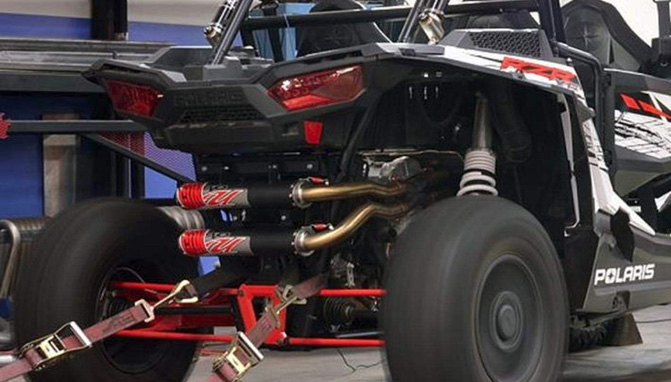 Add a custom look and a performance boost to your RZR
The internal combustion engine is really quite simple when you break it all down. It is basically just a mixture of fuel, compression, spark and air forced in one way and out the other. Getting more horsepower out of it is a matter of increasing things from one direction to the other and there are many ways to do so. One of those ways, and a popular one for the Polaris RZR at that, is by bolting on a different RZR exhaust system.
Bolting on a new exhaust opens up the airflow of your RZR and adds a custom look and sound, so you get a cosmetic as well as performance boost. With so many different exhaust systems available, it can be hard to select the right one, but we're here to help. Here are the best Polaris RZR exhaust systems available from the aftermarket today.
1. Editor's Choice: HMF Racing Performance Series Dual Exhaust System
One of the biggest names in four-stroke exhaust is HMF racing. HMF makes performance systems for many ATVs and side-by-sides. Its Performance Dual System for the RZR adds, on average, 9-11 horsepower and up to 7 lbs-ft of torque at the rear wheel. Being aluminum, the silencers add a significant weight savings over the steel stock exhaust, but you need to keep in mind that you're also looking at a 6-8 decibel increase in sound output, too. You can lower the decibel level increase with HMF's Quiet Core add-ons. The system includes USFS-approved spark arrestors. You'll need to retune the fuel system to match the exhaust system, too.
2. Trinity Racing Stage 5 Dual Exhaust System
Trinity Racing has been in the business of making things faster for decades, and business is good. Its Stage 5 exhaust mates dual aluminum mufflers to 304 stainless pipes with the O2 sensor bung welded on. The system carries a five-year warranty and has USFS-approved spark arrestors built in. With this system, you're going to gain some loudness, but the horsepower and torque gains are significant according to Trinity. Each exhaust is perfectly matched to your specific machine model, so fit will be flawless, making this one of the best RZR exhaust systems you can find.
3. Gibson Black Ceramic Exhaust System
Gibson is well known for its automotive exhaust systems for cars, trucks and SUVs. It makes a sweet bolt-on exhaust system for your Polaris RZR, too. Available in a couple of finish options, the black ceramic system looks sweet and adds a custom look along with performance. You get up to four additional horses and as much as five foot-pounds of torque. That'll translate to a few additional miles per hour. The best part is the system meets the 96dB threshold for sound. Unlike some systems, the muffler has no packing, so the sound and performance levels stay consistent.
4. Starting Line Products Black Ceramic Performance Muffler
Starting Line Products has been making Polaris accessories for ATVs, UTVs and snowmobiles for years now – including a variety of RZR exhaust options. This particular exhaust is ceramic coated, which is designed to speed the exhaust gas flow. That means more power and SLP also promises better throttle response than the stock exhaust. Add in stainless steel construction and you get the benefit of improved durability and strength.
5. Best Value: Big Gun ECO ES Slip-On Exhaust
When you need to make some power, you bring out the Big Gun. Big Gun makes premium four-stroke RZR exhaust systems, but the best value is the brand's ECO ES slip-on. This particular pipe is made for the RZR 570 and is a fraction the cost of the other full systems we've talked about. It is built of 0.049″ stainless steel tubing which is wrapped around by 6061 brushed aluminum. The result is a little more fire under the go pedal and a better overall sound, which still meets 98DB regulations. A stock spark arrestor will also keep local wardens happy.
It is worth noting that you may have to remove the stock sway bar on 2017-18 RZR 570 models to install this slip-on exhaust.
6. Bonus: Dobeck Fuel Injection Programmer
If you add an aftermarket exhaust to your Polaris RZR, you need to use a programmer to get your fuel injection system properly tuned so you can get the most out of your upgrade. The Dobeck Performance EJK (electronic jet kit) is a simple plug and play system designed for exhaust upgrades. It is designed to be dead simple to use and offers on-the-fly adjustability. And because driving off-road is not exactly easy on equipment, the EJK is water resistant and is backed by a two-year warranty.
Recent Updates
April 12, 2021: Added the Big Gun ECO ES and the Dobeck EJK.
We are committed to finding, researching, and recommending the best products. We earn commissions from purchases you make using the retail links in our product reviews. Learn more about how this works.
How much power increase will I get from a RZR exhaust system?
On average, most will see a boost of 3-4 horsepower over stock on most Polaris RZR models, depending, of course, on the engine size and other variables. Torque gets a little more boost and is closer to something that the average driver will feel over the horsepower increase. You will find more power is created with adding the exhaust and doing a fuel management upgrade with a mapping device, something that is recommended by most exhaust manufacturers out there.
What should I be aware of before I change to an aftermarket exhaust on my RZR?
When you add one of these Polaris RZR exhaust systems, you need to know that you're making a modification that will alter the sound output of your machine. In most cases, it is going to be louder, and in some cases, significantly louder. That can make your machine illegal to use in some riding areas that have noise limits, like National Forests. Also know that if you have added a stereo system, another popular add-on, that you're going to be competing against yourself for noise levels.
Who makes the best Polaris RZR exhaust system?
The best RZR exhaust is the one that you can afford and will work for your riding area and machine. Check the different systems and see which one will fit your machine specifically, and one that matches any future plans you have. No sense buying an exhaust that won't work well with a future modification plan for a build. Each product on this list has a solid reputation, too, something that can't be overlooked when planning a build.
Published June 25th, 2020 3:47 PM
Top Brands
Popular Articles