69 Views
May 25th, 2021 12:02 PM
Share
We're committed to finding, researching, and recommending the best products. We earn commissions from purchases you make using links in our articles. Learn more here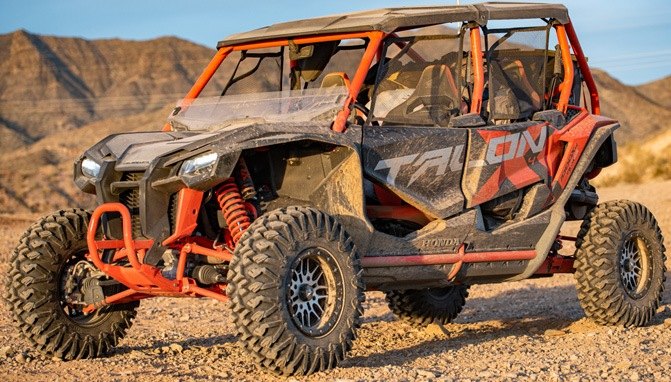 We put the MotoClaw to the test on our Honda Talon 1000X-4
We added a set of four EFX MotoClaw tires to our Honda Talon 1000X-4 and took them on a multi-day, 700-mile trip through the Arizona desert. Here is our long-term review.
Odds are you're going to put new tires on your UTV before adding other accessories. UTV tires are usually the first thing to wear out, but there is a debate as to what route you take when you put new tires on your rig. Do you replace the stockers with the same tires that the factory used, or do you go with an aftermarket set of UTV tires?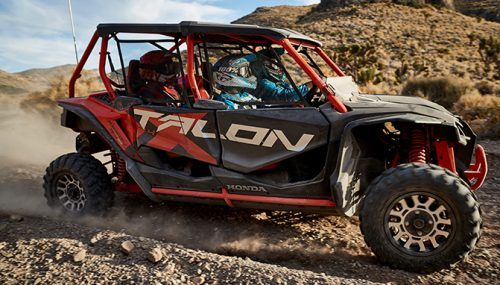 2020 Honda Talon 1000X-4 Review: Family Adventure Ride
In the case of the Honda Talon 1000X-4, which is a top notch family UTV, the stock tires are great if you want a slide-happy vehicle, but forward traction is limited with these particular meats. After many miles behind the wheel with the stock tires, we wanted to see if this family 4-seater's handling could be even better if you put on a bit of a larger tire with more sidewall and taller lugs for more overall traction.
As it turns out, finding a set of tires that fit this particular vehicle is a bit tough. 32" diameter tires are a bit large for the Talon and its stock gearing, but that size of tire is the easiest to find with a 15" wheel diameter. Based on previous testing, we wanted to keep the test tire at or under 31" in an effort to keep everything in good working order and to get the highest level of performance out of the Talon. The 32s are just a bit large and make the Talon work harder than it needs to. Plus, for a family vehicle, 31" tires just make more sense for trail riding – not too big and not too small. This size will still even out the bumps, provide great rollover when the trail gets rooted or rocky, and keep all of your driveline safe from potential failures. With all of this in mind, I found that it's pretty rare to find a 31" tire with a 15" wheel size.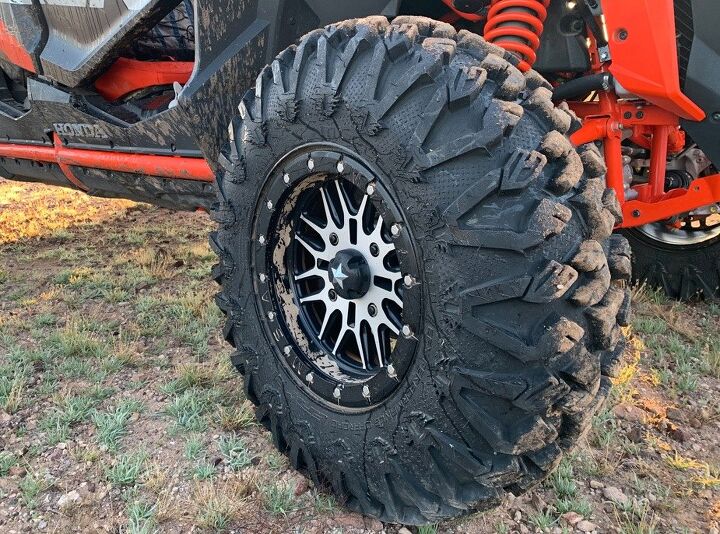 Luckily, EFX has just the tire size we were searching for, specifically with its EFX MotoClaw tire. For a vehicle like the Talon 4-seater, you want an all-around, 8-ply, radial tire that has the chops to handle well on open fire roads, tight and twisty trails, mud holes, snow, and everything in between. Based on the tread pattern and specs, the EFX MotoClaw has the ability to do well in all of these environments. Paired with the MSA M37 Brute beadlock wheel, this setup sure looks striking at first glance, but it also looks tough. With deep lugs that measure 21mm on brand new tires, these MotoClaws are some of the most tread-heavy tires that you can find with this tall of a lug pattern. With all of this tread, this tire and wheel setup is also a bit on the heavy side at 61 pounds full of air and ready to be mounted up. The counter to all of this is the EFX MotoClaw should be a long lasting tire if the lugs aren't spaced too much. The question is – how do they perform in the real world?!
For starters, we didn't just perform a run-of-the-mill test on these tires; we put them through the ringer! Over 700 miles of a ringer, that is. Yes, we took our Honda Talon 4-seater on a 700-mile adventure through western Arizona, and the terrain consisted of wide open graded roads, tight and very technical rocky trails, sand washes, two track desert trails, snow-laden switchbacks in the mountains (yes, there are mountains and snow in Arizona!), and just about everything in between. Needless to say, these tires were tested…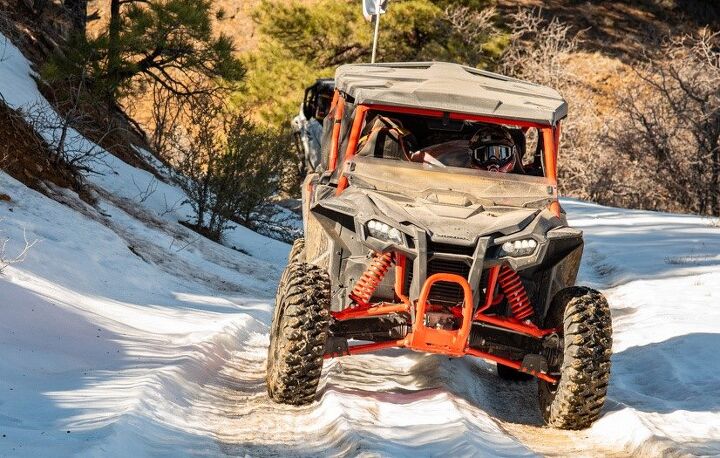 For starters, this tire & wheel setup looks fantastic on the Talon 4-seater – rugged, tough, and with just the right amount of bling without being overly flashy. The 31's clear the fender wheels without any rubbing, even at full compression of the shocks. The wider offset of these wheels (10mm is the only offset you can buy) also gives you a bit more overall width, expanding the stock vehicle to a bit over 64" now. With the 4×137 bolt pattern, the MSA M37 Brute beadlock wheels mount right up, but you do need to use the supplied lug nuts to be able to securely attach them. Just remember to keep the wheel lock in the vehicle with you!! And, when upgrading to 31's, you should highly consider buying a spare so if something does happen, you're prepared out on the trail.
When we got out to the trailhead, the EFX MotoClaw tires proved impressive right from the start. You would think that the wider spacing on the lugs would result in great forward bite and overall traction, and this is completely true in a variety of terrains. Whether we were on flat graded roads with loose dirt on top, or in sandy washes, the EFX MotoClaw tires just have so much traction! Undoubtedly, this was one of the our favorite parts of the MotoClaw tires compared to the stockers. They just bite and get you rolling so much better. I never found myself wanting more grip with the MotoClaws, even when crossing streams with a mud-laden bottom. The lugs didn't fill with sand or mud in these situations, so we always had plenty of traction. Confidence behind the wheel is high when you have these tires, no doubt about it. If you're in Louisiana or other southern states, this tire would be good for most of that tacky mud, but the deeper stuff would probably still fill up the tread.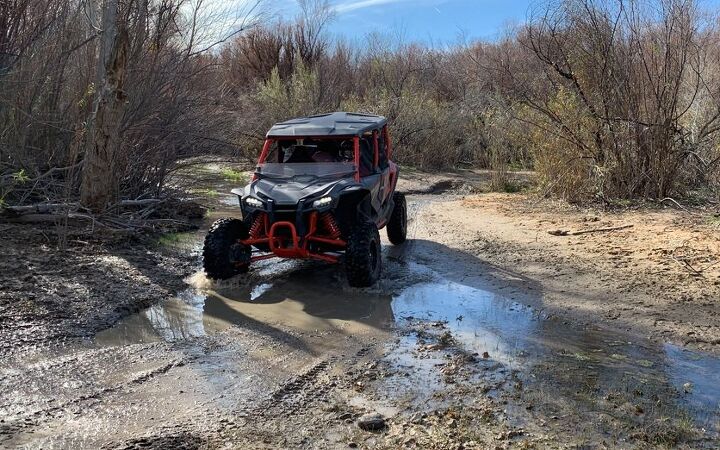 With increased ground clearance from the larger overall tire size, the Honda Talon is much better in the rocks with this set of EFX MotoClaw tires. I was thoroughly impressed by how I could put the Talon in Low and just crawl up any 2-3' rock face with ease. EFX did a great job spacing these tire lugs just far enough apart for ideal traction, yet not too far apart that you're ripping them up with every sharp rock. The Talon already has superb clutch engagement from the 6-speed DCT transmission, and the combination of this Low range transfer case coupled with larger tires allow this family UTV to just eat up the rock walls as they come at you. The larger tire truly does just roll over everything.
If I was getting really picky about this review, which we always do, the one negative that I found with the EFX MotoClaw is that it almost has too much traction. Hear me out… The Honda Talon 4-seat chassis is an extremely fun chassis to drive. It floats around corners and can be hung out at leisure with the upmost in predictability. These traits are, again, all with the stock tires, which don't have the forward bite I'm looking for in a tire. These MotoClaw tires definitely provide the vehicle with so much more traction, no doubt about that, and I love that about these tires. The Talon lineup needs this in stock form. However, they almost have too much traction because the stock Talon 4-seater now has to be pushed pretty hard to get the backend to pop out and slide around for a bit of fun. It's still doable with the MotoClaw tire, it's just a bit harder to have a slide-happy good time behind the wheel. I say all of this and then I have to remind myself that having traction is never a bad thing. At the end of the day, you just need to think about your driving style and understand what you're looking for in a tire.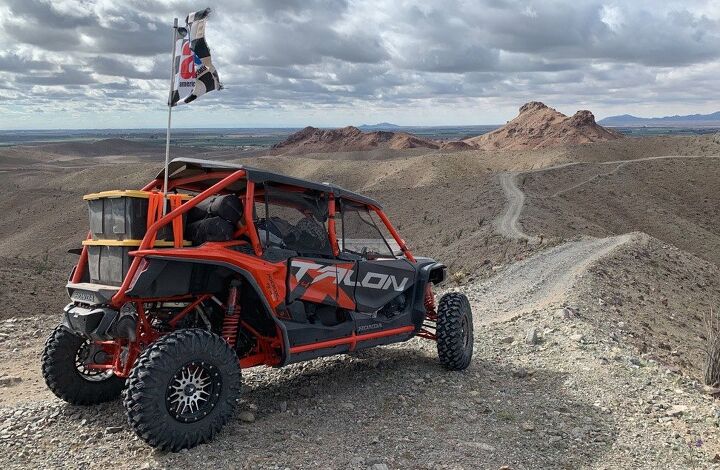 Since we went over 700 miles with these tires, we put the term "tire longevity" to the ultimate test. Remember, these tires have 21mm of tread depth from the factory. When we returned, the back tires were obviously a bit more worn than the fronts (you should rotate your tires about every 750 miles, or less, anyways), but they still have an average of 16 mm of tread depth after all of that hard driving (15mm on the rear tires and 17mm on the fronts). After how many tires I have put to the test in the past, I was very impressed with how these stayed together over the long haul. The tread isn't chunked in any way after all of the rock climbing we did (if you've been to Arizona, then you've seen the sharp-edged and pointed rocks that are out here). The tires didn't lose any air pressure (we ran them at 15psi for the entire trip). And, best of all, I just rotated them to put more miles and try them out in some deeper rock climbs. They are ready to rock for more abuse, literally!
Shop For MSA M37 Beadlock Wheels
A bit of unsolicited advise… One thing to keep in mind if you do purchase this tire and wheel setup is to make sure you torque the beadlock wheels to specification. I had a difficult time finding the torque specs for these wheels, so I ended up torquing them to my standard 20 lb-ft. I haven't had any issues with them and we came back with all of the bolts almost at that torque level, so we're going to keep it that way. Make sure you torque the beadlocks when you first get the wheels (before installation on the vehicle), and at the 200-mile mark. Then, you should regularly check them thereafter.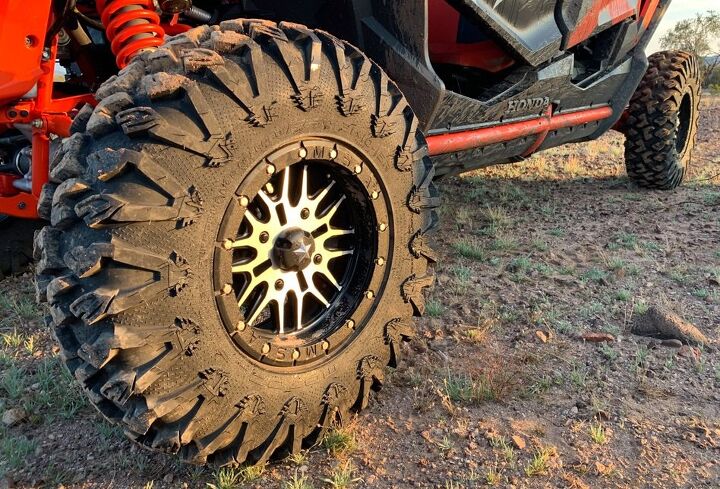 At the end of the day, I would highly recommend this EFX MotoClaw tire and MSA M37 Brute beadlock wheel setup to anyone looking for a fantastic all-around UTV tire. The grip offered by the EFX MotoClaw is downright incredible, and the longevity is extremely impressive as well, even with the wider tread design. After our 700+ mile test, these tires are ready to rock down the next trail, and we can't wait to load up the family in the Talon and get going.
I keep wondering – would the Jackson Racing Turbo kit for the Talon give you that thrill of a slide-happy good time, even with all of this EFX MotoClaw traction? Maybe we'll get the opportunity to see one day…
As always, be safe out there, and we'll see you on the trail!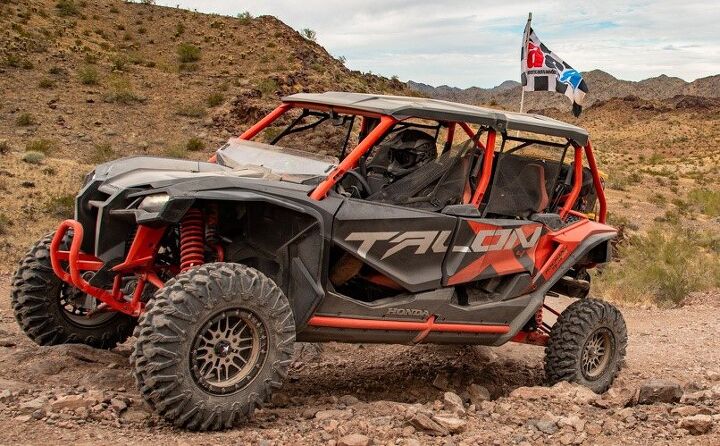 We are committed to finding, researching, and recommending the best products. We earn commissions from purchases you make using the retail links in our product reviews. Learn more about how this works. Published January 29th, 2020 3:16 PM
Top Brands
Popular Articles