30 Views
Must Have Towing Accessories for Your ATV or UTV
September 12th, 2022 2:00 PM
Share
We're committed to finding, researching, and recommending the best products. We earn commissions from purchases you make using links in our articles. Learn more here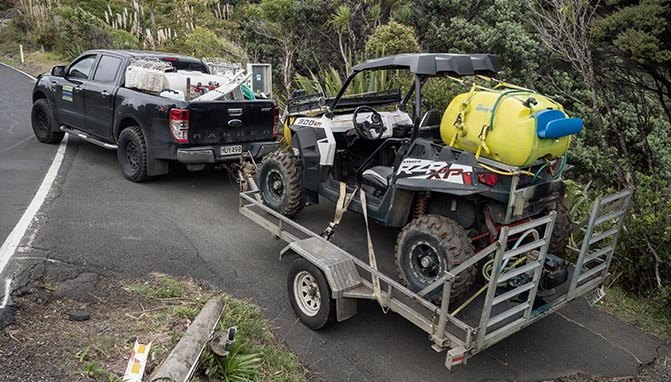 These are the tools to handle all of your towing needs
To ensure your machine safely arrives at your favorite ride spot, you'll need some quality towing accessories to get the job done.
When you think of towing, at least towing relating to your ATV or UTV, there's two worlds that come to mind. The good side of towing, meaning you're towing your ride to some sweet place to hit the trails, or perhaps towing something with your machine, like doing some work around the farm. Then there is the bad side of towing, meaning you either have to haul a buddy's machine – or worse, your own – off the trail due to a mechanical issue or the embarrassing "stuck in the muck." Any way you slice it, there's a few towing essentials everyone should have with them.
lead photo courtesy emagnetic/shutterstock
Table of Contents
1. Editor's Choice: Tie Downs
The most important towing accessories you need when hauling your ATV or UTV are tie downs. Do yourself a favor and get decent tie downs, too. Those dollar store bargains are ok for your wallet, but when they rust or, lock up and break, well it wasn't such a great deal. This ratchet tie-down kit from Mac's Custom Tie Downs is great because it comes with everything you need in one convenient package at an affordable price. This kit includes the following items:
(4) Heavy Duty 1" x 6' ratchet tie downs that feature rubber coated S-hooks, and 2,800 lb maximum breaking strength per strap.
(4) Soft loop tie down extensions.
Zippered duffle bag to stow all of your straps when not in use.
Another great way to secure an ATV or UTV to your trailer is by using a wheel chock tie down kit. The straps are very similar to traditional tie downs, but instead of utilizing S-hooks to secure the strap to the frame, you have to mount special E-track that the straps will securely anchor to. These straps go over the tires of your machine and prevent any movement or loose straps that you'll find with traditional kits as result of the suspension give during transport.
Finally, tie downs are much like zip ties and duct tape – you can do a lot more with them than they were originally intended for.While good tie downs are normally used to secure a ride to a trailer, they've also been used as tow straps, and even to secure a trailer to a truck when a part broke. I don't want to tell you why I know that. Just know I know and trust me. Get some good tie downs.
2. Tie Down Extentions / Soft Hooks
Ever have a problem finding a good place to attach a tie down hook? One of my frustrations with ATV and UTV manufacturing is that there never seem to be good anchor points on the frame and that is where tie down extensions, also known as soft hooks, come into play. Whether you need an anchor point on your truck, trailer or even your machine, these nylon webbing extensions come in various lengths and are extremely strong to help secure your load. A great benefit of using a soft hook on the frame of your machine is you don't need to worry about paint or chrome getting damaged during transportation because of their soft construction.
Even more than helping to provide a great mounting point, they also work for towing a machine back in a pinch, anchoring a winch cable and more, so be sure to keep a few sets on hand.
While we've focused on towing accessories to get your machine to and from your favorite riding locations, it doesn't mean other types of tow straps belong on our list. No matter what you're doing, a good, solid tow strap is a must-have tool. They are worth every penny if you need to be towed, or need to tow a friend. They also come in handy for other uses, even uses no one ever imagined.
Years ago, a buddy had a tow strap that had his name embroidered onto it. He said it was so no one could walk off with his tow strap. It's not surprising that on the next big group ride, his machine broke down. Not only did his fancy tow strap come in handy, it provided ammunition for the constant ribbing he gets from the rest of us that continues to this day. So get a good tow strap, just don't get your name embroidered onto it. You'll never, ever live it down.
Having a hitch on your machine does a couple of things. One, it lets you tow a trailer should that be part of your ATV/UTV usage. It also serves as a tow point should you need to tow someone out, or should you need to be pulled out yourself. Find the right kind of hitch for your ride and either leave it mounted, or have it somewhere close at hand should the need arise.
Regardless of the type of towing you're doing, you've got to protect your hands. A good pair of gloves will not only help keep your hands safe, but also provide you with a little extra grip on things. You especially want gloves on when handling cables, like from a winch. If a shard of winch cable comes in contact with your hand, you're going to end up bleeding. At least that's what seems to happen with me.
Additional Resources
Become an ATV insider. Get the latest news first by subscribing to our newsletter here.
We are committed to finding, researching, and recommending the best products. We earn commissions from purchases you make using the retail links in our product reviews. Learn more about how this works. Derrek Sigler
Derrek's love for all things ATV started when he was a mere 11 years old, growing up on his family farm. His mom gave him and his sister a choice - get a horse, or a three-wheeler. The sister wanted the horse, and Derrek wanted the ATV. Luckily he won out, and was soon burning up the trails on a Yamaha Tri-Moto 200. By the time he was 14, he had saved enough of his own money by working on the farm and in his folks restaurant to buy a new 4-wheeler. That happened the day he and his mom were driving past the dealership and saw 1987 Banshee. His mom had no idea what he was buying, and he never looked back. He's been riding ever since, and been writing professionally for many years. He has ridden all over North America and been behind the controls of just about every machine out there. And yes, he still has his 1987 Yamaha Banshee.
More by Derrek Sigler
Published March 16th, 2022 6:54 PM
Top Brands
Popular Articles