2 Views
Scott Prospect Goggles - Everything You Need To Know
May 25th, 2021 11:57 AM
Share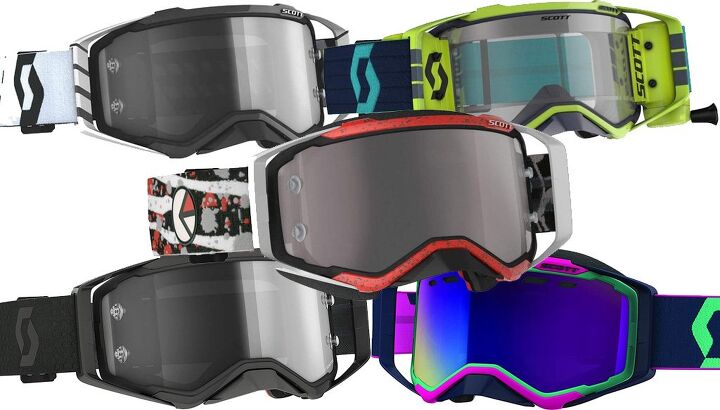 We take a deep dive into Scott's premium off-road goggles
We take a look at the key features, design options, user reviews, and alternatives to the Scott Prospect goggles in our "Everything You Need To Know" series.
Riding without proper eye protection is flirting with disaster, and goggles come second only to your helmet in terms of the most important powersports safety gear you'll ever own. The trail is full of materials just waiting to become airborne projectiles – sticks, dirt, sand, mud, and rocks – that are just itching to get at your eyeballs and cause serious injury. Of course, it's not enough to just grab the cheapest pair of powersports goggles you can find and hope for the best; some goggles are better than others in terms of visibility, comfort, and quality of construction.
So where do you turn for reliable shopping advice? Enter our "Everything You Need To Know" series, which looks at myriad different products on the market, breaking down all the most pertinent information so that you can make an informed purchase. Here, we'll take a look at the Scott Prospect goggles, examining their features, designs, real user reviews, and possible alternatives.
Table of Contents
1. Scott Prospect Goggles Features
The Prospect is Scott's flagship powersports goggle, with one of the widest fields of vision in the industry and the pro-level features to back up its lofty status. Scott Prospect goggles feature an innovative, patented Lens Lock system that makes it easy to change out lenses in a pinch – perfect for adapting to changing lighting conditions or swapping out lenses in the event of a scratch or chip. The lenses, which come from Scott's optically advanced "TruView" Works line, are affixed by a pair of bars that simply snap into place, and can be undone with a bit of finger pressure.
If you can't be bothered to change out lenses as the sun makes its way across the sky, the Scott Prospect is available with light-sensitive lenses that change tint depending on the ambient lighting conditions. Or, if coating your lens in a thick layer of mud is more of a concern where you ride, a Works Film System (WFS) model is available with a 50mm film canister and two rolls of film. Any time your lens gets too cloudy for comfort, you can turn a crank on the canister to expose a fresh length of film.
All Scott Prospect goggles feature big, articulated outriggers that maintain perfectly even pressure across your brow, and help accommodate helmets of all shapes and sizes. Those outriggers tie into an extra-wide silicone strap that grips onto your head or helmet and resists slippage. A "NoSweat" 3-layer molded face foam ensures a snug, comfortable fit and proper ventilation so your face doesn't get drenched with sweat out on the trail, and an anti-fog treatment on the lens keeps fogging to a minimum. Those who ride for long stretches with few breaks will want to make note of Scott's Prospect Enduro models, which feature double-lenses with air vents for even more moisture- and fog-fighting capability.
All Scott Prospect goggles ship with a protective microfiber goggle carrying bag, and a noseguard for a bit of extra face protection.
2. Scott Prospect Goggle Designs
The Scott Prospect goggles line is extensive, with a total of 20 designs spanning sevem different models. Those designs incorporate myriad different frame and strap color combinations with a variety of lens tint colors, and the standard Prospect model has the most action by far, with no fewer than 11 available combinations.
If you care about form as much as function, the standard Scott Prospect model is where it's at, with 10 different sleek, stylish colorways to choose from. These range from subdued – like a black frame with a silver chrome Works lens and a camo grey strap – to bombastic – like a bright yellow-and-red frame with matching strap, and an orange chrome Works lens. The available combos are as follows:
Red-and-white strap and frame, orange chrome Works lens, with black ink-splatter pattern on the outriggers
Black-and-white strap and frame, green chrome Works lens, with angled broken stripes on the strap and outriggers
Black-and-orange strap and frame, orange chrome Works lens, with angled broken stripes on the strap and outriggers
Red-and-blue strap and frame, orange chrome Works lens, with contrasting hexagonal pattern on the strap and outriggers
Black-and-gold strap and frame, yellow chrome Works lens
Blue-and-white frame, retro psychedelic blue-green-white strap, green chrome Works lens
Pink-and-black strap and frame, pink chrome Works lens
Yellow-and-red strap and frame, orange chrome Works lens
Navy-and-red strap and frame, blue chrome Works lens
Simple black frame, camo gray strap, silver chrome Works lens
The Ethika Prospect is a special design born out of a collaboration with undergarments brand Ethika, with an appearance distinguished by a flowing black-and-white strap pattern with random, chaotic splotches of red and gray. That color scheme extends to the frame – red-and-black with a gray ink-splatter pattern – and white outriggers. It features a silver chrome Works lens, and the strap wears Ethika's distinctive red-white-black logo.
Two Prospect Light Sensitive designs are available: one subtle, with a simple black frame, black strap, and light-sensitive gray Works lens, and one a bit louder, with a sharp teal-and-yellow frame and strap, and the same light-sensitive gray Works lens.
Scott Prospect goggles with the Works Film System are available in four different colorways, each with 50mm film canisters and clear lenses. The colorways rehash some of the greatest hits from Scott's other Prospect goggle lines, with black-and-white, navy-and-red, and black-and-gold patterns borrowed from the standard goggle line, and a teal-and-yellow pattern borrowed from the Light Sensitive model.
Scott's Prospect Enduro is available with just one colorway: the same black-and-orange striped pattern as the standard goggle, but with a clear, vented double-lens in place of the standard goggle's orange chrome Works lens.
Prospect Enduro Light Sensitive
The Scott Prospect Enduro Light Sensitive goggle blends the features of the Light Sensitive and Enduro models, with one available colorway using a simple black frame and camo gray strap taken from the standard Prospect model line. It comes with a breathable, vented light-sensitive gray lens.
Prospect Sand Dust Light Sensitive
The Sand Dust Light Sensitive model in the Scott Prospect goggles line features the same black frame and camo gray strap as the Enduro Light Sensitive, with a non-vented light-sensitive gray lens. It's also the only model in the lineup to feature Scott's "Dust Catcher" foam, which helps reject sand and dust when you're out riding the dunes.
Scott Prospect goggles shoppers might also consider the Fox Vue Stray. It's a bit more expensive, and it offers fewer color combinations and special-purpose models than the Prospect, but it boasts a similar three-layer face foam and a simple lens-changing system. It also offers pre-curved lenses for superior optical quality, an anti-fog treatment, enhanced ventilation for reducing moisture buildup, and outriggers comparable to those on Scott Prospect goggles. That said, there is a lack of stylish colored-tint options in the Fox Vue Stray lineup, so those concerned with fashion may want to look elsewhere.
Another alternative is Spy Optic's Foundation MX goggle, which offers an absolutely dizzying array of available design and color patterns, with big outriggers and high-definition Lexan lenses that provide a crisp image with what Spy claims is the widest peripheral view on the market. Like the Prospect, it offers a moisture-fighting three-layer face foam, but with "Dri-Force" moisture-wicking fleece for superior performance, and a "RISE+" ventilation system uses the Venturi effect to keep your face dry by drawing air out from the goggles through subframe vents. Ultimately, they're comparable to the Prospect in terms of performance, and which pair you opt for might just come down to which design you prefer.
Rather than roll the dice on a brand new pair of goggles just to see whether they'll work for you, one great way to get a feel for a product without buying it is to read real, candid user reviews – which is what we've done, sifting through a mountain of feedback to try and spot common themes.
Scott Prospect goggles have garnered overwhelmingly positive reviews online, with owners praising their fitment and comfort even when worn with a helmet. Some owners have noted that they'll fit comfortably over eyeglasses, although your mileage may vary.
On the topic of optics, users were quick to note that the Scott Works lenses do an excellent job of filtering out glare and maintaining a crisp image, although one user noted that they are prone to some fogging in very cold weather.
The available Works Film System has its share of fans, with users praising its ease of operation and the convenient packaging of the system. We couldn't find a single owner disappointed with the performance of the available Light Sensitive model, either; owners found it effective and well-attuned to the ambient lighting conditions.
Overall, owners disappointed in the Scott Prospect goggles line are few and far between, and the common consensus is that they deliver some of the best fitment, comfort, and visual clarity of any powersports goggle on the market, no matter the price point.
We are committed to finding, researching, and recommending the best products. We earn commissions from purchases you make using the retail links in our product reviews. Learn more about how this works.
Published December 1st, 2020 4:26 PM
Top Brands
Popular Articles