1 View
Gorilla Outback Series UTV Winch Review
June 24th, 2015 2:26 PM
Share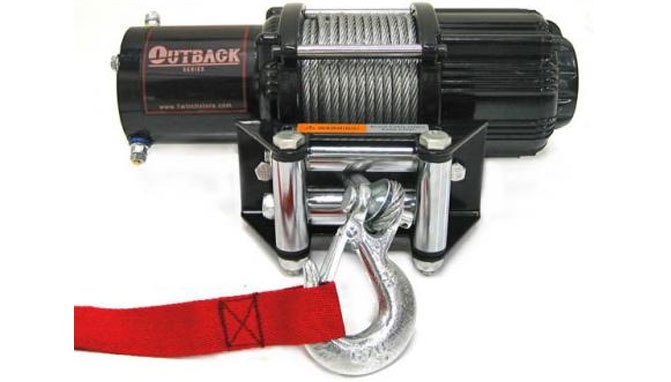 Go ahead and get hooked
When I first got the new Polaris Ranger RZR, I did not think I would ever have a need for a winch, but I guess anything can become stuck under the right set of challenging circumstances and terrain.
Out of the Box
I was a little intimidated when I got the 4000-pound Gorilla Outback Series winch. I had never actually put a winch on by myself. However, I decided to try it. I carefully read the instructions, although I think I must have been missing a sheet somewhere, and it could still be floating around in my garage.
First, I had to disconnect the headlamps and take off the front panels of the RZR. Then I assembled a few pieces of the winch mounting plate and attached it to the frame of the RZR. Then I mounted the winch motor to that plate. I ran the cable through the front opening and connected all the wires. I decided to mount the control switch on a bar that runs along side (but out of the way of) the steering column. Between the tools that came with the winch and with the RZR, I had everything I needed, with the exception of one socket set, which I borrowed from next door.
It did not take near as long as I thought to install and when I hit the switch, it immediately began to unwind just as it was supposed to do. However, in rolling it back in, I immediately realized that I had forgotten to put on the rubber line stopper that came with it. I now recommend, after this little mishap, double checking to make sure you put this on, as I had to take one of the bars back off to get the cable back out.
First Time Out
Once it was all connected and the panels put back on the RZR, I loaded it up and headed for the woods. As I said before, I was not too confident in finding a place where I was actually going to get the RZR stuck. With this in mind, I decided to try it out on a few other things. First, I used it to pull a fallen tree out of the path, so others could get past it. Feeling more confident that I knew how to use the winch, I went and played in the mud. I had a lot of fun, but still didn't get stuck. After a bit, I met up with some other people and while we were talking, one of their friends radioed them for help. Guess what! They were stuck. RZR and Gorilla to the rescue! We were able to hook up to them and pull them up out of the creek with no problem whatsoever. It was great. We rode for a couple of more hours and never were stuck ourselves. I finally gave up and went home.
Later, I was out playing in the woods behind my own house and low and behold, I got stuck on a log! It just goes to show me, that you never know when you might need a winch. So there I was stuck halfway across a huge log, unable to go forward or backwards. I smiled and got out of the RZR. I took the remote cable, ran the winch out and hooked it to a tree. I got back in the RZR and pushed the button. I gave it a little gas and it hopped right over that log as if it were nothing. I was impressed! Now, I never want to be without a winch on the front of whatever I am driving and I am convinced that the Gorilla Outback is definitely the best one for the job!
Overview
The Gorilla Outback Series UTV winch has superior pulling power and its rugged design makes it not only powerful, but very reliable as well. Its best-in-class horsepower and all metal gears, loaded with 45 feet of aircraft-grade steel cable, powered by a waterproof, heavy-duty motor, makes this a great winch for use in dry, or wet and muddy conditions.
The Gorilla winch comes with a 4-post contactor, handlebar-mounted thumb switch, roller fairlead, spring hook and pull strap, rubber line stopper, and all necessary wiring. They have even included a 10-foot corded remote with power in and power out options for safe and convenient winch control, which comes in very handy if you are out there by yourself, like I was when I got stuck on that log.
For more information about the Gorilla Outback 4000-pond winch or any of the company's other products, visit GorillaWinches.com.
I hope you never find yourself stuck or in a tight spot out in the woods, but if you ride enough, you probably will. When you do, I bet you'd be plenty grateful to have a Gorilla Winch to pull you out of the jam!
Published November 9th, 2009 3:31 PM