1 View
Taking It to the Streets: Towns Welcome ATVs, Promote Tourism
June 30th, 2022 4:43 AM
Share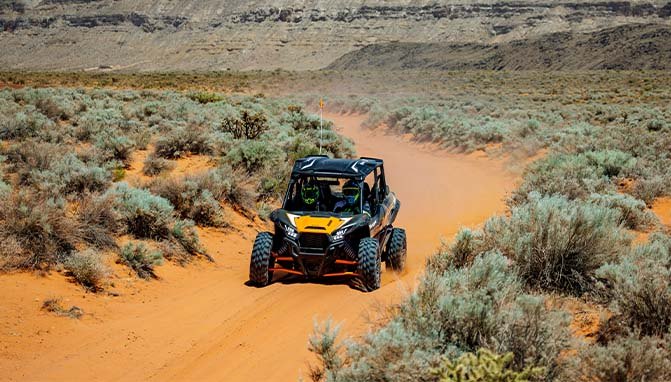 If you've ever ridden an ATV or side-by-side, you've very likely experienced the hassle of trying to get from one trail to another or across the road to a fuel stop. Parking up at a hotel or restaurant in a major center? As someone from New York once said – fuhgeddaboudit.
Here's the good news: more than a few towns are cluing into the fact that people who choose to invest money into a primo UTV probably have a few bucks to throw around. After all, these rigs are far beyond the four-figure machines of yore with agricultural driving characteristics and fewer creature comforts than a prison cell. These days, they're equipped with powerful engines and the type of features once reserved for snazzy road-going pickup trucks – air conditioning and power windows, anyone?
This is why some of the more switched-on municipalities around our continent are passing legislation which permits the sensible use of four-wheelers and side-by-sides on public streets. It isn't carte blanche in most instances, of course – most of the efforts center around permitting UTV access to places like gas stations and restaurants, with a shortcut or two between popular trails thrown in for good measure.
Take the city of Moab, for instance. Surrounded by jaw-dropping natural beauty and some of the country's best riding trails, community leaders spearheaded a program permitting off-highway vehicles (OHVs) on certain roadways in their jurisdiction. An overarching law by the state allows street-legal OHVs to be driven through town and directly to backcountry trailheads. Proper licensing and insurance is a must, while non-residents need to apply for a vehicle decal issued exclusively for an off-highway vehicle owned by a person without a local Utah address. There are also noise limitations.
The concept has been embraced by more places than just picture-perfect Moab. In the far-flung Canadian province of Newfoundland, the town of Corner Brook (which isn't a ghost town, it is a municipality big enough to warrant a presence by large chain stores like Wal-Mart) has embraced the idea with open arms. There are rules in place, naturally, such as regs requiring riders stick to the posted speed limits and not stray from streets which have been approved for ATV usage. Local business owners are seeing benefits.
"It's been a big increase in the tourist industry that we haven't seen before. They usually bypass the city," said the sales manager of Greenwood Inn and Suites in an interview with local media. Located right on West Street, the facility features secured covered parking, an unexpected amenity which is a big hit with ATV users. Since the pilot program began in 2019, local council has increased the number of streets on which rigs can drive and have ratcheted up enforcement in kind.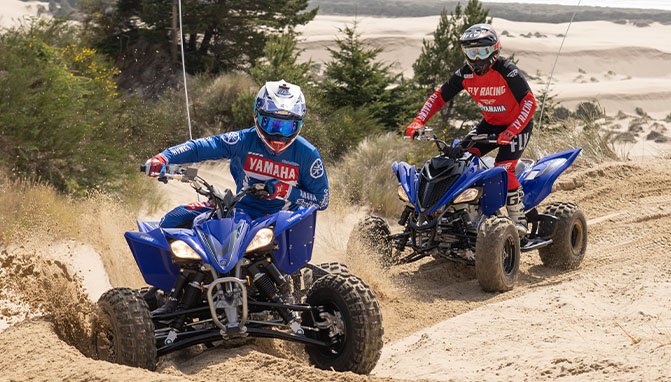 That latter point is key. These types of initiatives rely on gearheads like us remaining sensible and sane when wheeling our machines on public streets. NIMBY (Not In My BackYard) types in the community who clutch at their pearls have wailed that UTV drivers will suddenly be pulling donuts in the middle of Main Street while running over redheaded orphans and disabled kittens. Given the chance, these people would surely rather our sport didn't exist at all. That's why riders need to be responsible when given these opportunities in order to ensure programs like these aren't taken away (and proving the NIMBYs wrong is highly satisfying, it must be said).
Some states are more welcoming than others. Arizona is notably permissive with its regulations for ATVs, requiring just the addition of a horn and license plate light in terms of gear in order to make the thing street legal. The rig will also need liability insurance and pass an emissions test but compared to other areas of the country, the state as a whole is very accommodating. Some areas have blanket state-level rules discouraging the use of ATV on public streets, though it's always a good idea to check local laws before you cross a destination off your vacation list. For example, while Colorado generally prohibits the use of ATVs and UTVs on public streets, some local jurisdictions have opened their streets to these machines.
No matter where you choose to ride, always be respectful of the environment and other people. Much of this on-road access is the result of hard-won lobbying, meaning it mightn't take much for NIMBYers to have the rug pulled out from under our tires. Still, it seems we have more than a few supporters in our corner.
"We want to encourage safe and responsible use of off-highway vehicles," said a government official in eastern Canada where this type of project has been active since 2018. "The results [of the pilot project] will help inform decisions about the rules and conditions associated with OHVs accessing highways." For some, accessing that fuel stop or getting a bite to eat at the local diner – in other words, pumping money into a rural economy – has become a whole lot easier.
Published June 30th, 2022 4:43 AM
Top Brands
Popular Articles