1 View
ATVs and UTVs of SHOT Show 2016
March 15th, 2021 1:21 PM
Share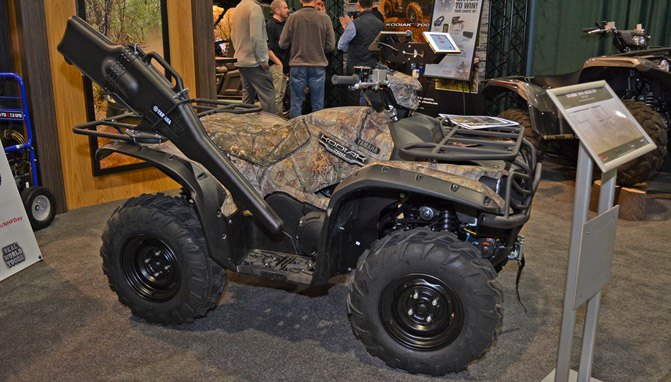 The off-road industry invades the world's largest firearms trade show
The third week in January is a busy time for the firearms industry, as the entire shooting world descends on the Sands Expo & Convention Center in Las Vegas for the National Shooting Sports Foundation's annual SHOT Show.
The SHOT Show is a gun enthusiast's paradise, as firearms manufacturers from around the world and all manner of shooting sports accessory manufacturers mix and mingle with dealers while showing off their latest products. And it's more than just guns and gun parts. The SHOT show also showcases everything from industrial products to sporting goods, to toys and games.
So it's probably no surprise that the off-road and ATV industries are also represented, with some manufacturers, such as Yamaha, maintaining their own presence on the SHOT show floor while others have their vehicles scattered in various vendor displays. Being firearms enthusiasts as well as off-road enthusiasts, we spent the better part of a day and a half gawking at all the hardware, but we also took notice of some of the vehicles and products that fit into both lifestyles as well. Here are a few of the sights we took in at the 2016 SHOT Show.
Flambeau Outdoors A.P.E.
Flambeau Outdoors may not be as recognizable a name in the UTV industry as Yamaha, Polaris, Arctic Cat and the like, but if the company follows its chosen direction, it might soon get respect as the Tesla of UTV manufacturers.
The starting point is the Flambeau A.P.E., which made an appearance at the 2016 SHOT show. A.P.E. stands for Advanced Performance Electric, and Flambeau says that the vehicle is built from the ground up to be a rugged electric 4×4 UTV. The Flambeau is powered by a single 48-volt AC induction motor that is capable of 26 peak horsepower and "the torque of a light-duty pickup," according to company press materials. That power is transmitted to a transfer case drive system that features on-demand four-wheel drive. The chassis is held up by independent wishbone suspension with the front delivering 9.5 inches of travel while the rear delivers 6.2 inches. Stopping chores are handled by four wheel disc brakes. The Flambeau weighs in at 1500 lbs and has a wheelbase of 72.8 inches. Its tilting cargo bed offers a claimed 1000 lbs of cargo capacity, and the vehicle has a 1500-pound tow rating.
The current model features a top speed of 18 mph and a maximum range of 50 miles. Recharging time for its lead acid battery pack is 8-12 hours. Pricing for the A.P.E. had not yet been set at the time of the SHOT Show, although company officials told us it would be approximately $20,000. This is one company we plan to keep in our sights.
Can-Am Defender XT Cab
Can-Am's new Defender XT Cab was spotted at the Mossy Oak booth during the 2016 SHOT Show. Can-Am's Defender line of UTVs boasts three models that can be ordered in Mossy Oak Break-up Country Camouflage graphics.
2016 Can-Am Defender HD8 XT DPS Review + Video The Defender's liquid-cooled 976cc Rotax V-Twin is claimed to produce a maximum of 72 horsepower along with class-leading torque, and its drivetrain utilizes a true "four-mode traction system" that allows the driver to select 2WD or 4WD with either an open or locked rear diff via the vehicle's Pro-Torq transmission. The Defender features Can-Am's Dynamic Power steering and also boasts 10 inches of front and rear suspension travel and 11 inches of ground clearance.
Can-Am claims a best-in-class payload of 1500 lbs, a best-in class towing capacity of 2000 lbs, and a best-in class turning radius.
www.mossyoakgraphics.com
Yamaha Kodiak 700 EPS Realtree Xtra
Yamaha has embraced the outdoor lifestyle market for several years, and the company always maintains a huge presence at the SHOT Show, showing off not only almost its entire line of Utility ATVs and UTVS, but its generators as well. So, it isn't a matter of finding a Yamaha product to focus on, but a matter of simply deciding which one.
2016 Yamaha Kodiak 700 4X4 EPS Review Sure, this 2016 Yamaha Kodiak 700 EPS Realtree Xtra is another member of the camo brigade, but it wasn't the Realtree camouflage pattern that caught our eye (guess it was doing its job, huh?), it was the smart choice of accessories that the Kodiak was, um, bearing.
The Kodiak 700 EPS Realtree Extra has a base MSRP of $8699, but Yamaha gussied this particular unit up for SHOT show by adding a short but tasteful list of Genuine Yamaha Accessories, including its Heavy-Duty Front Brush Guard, ATV Overfenders, Gun Boot, Gun Boot Mount and Yamaha Pro Vantage 2500 Winch, which is manufactured by renowned winch manufacturer WARN. The price for all of these add-ons? A mere $984.95, roughly the price of a good .45-caliber semiautomatic. Sounds like a bargain to us.
www.realtree.com
Arctic Cat Wildcat Trail SE Hunter Edition
True Timber Outdoors was one of the more prolific camouflage manufacturers at the SHOT Show when it came to powersports products. Indeed, True Timber Vice President of Sale and Marketing Eric Bondy explained to us that the company licenses with numerous powersports manufacturers, including Arctic Cat, Suzuki and Kymco. Bondy is a former executive for both Arctic Cat and Kymco, so it was no surprise to see this Arctic Cat Wildcat Trail parked in the True Timber booth.
2014 Arctic Cat Wildcat Trail Review The SE Hunter Edition boasts the same EFI 700cc twin-cylinder four-stroke engine with double overhead camshafts and four valve per cylinder as the Wildcat Trail SE. Power is transmitted to a continuously variable transmission (CVT) that features shift-on-the-fly 2WD/4WD, and there's also a front differential lock for when the traction gets really scarce. The sleek-looking two-seater also features full-length doors to help protect the occupants. With it 300-pound capacity rear cargo area, the Wildcat Trail is still heavy-duty enough to pack out a deer or other varmints, and with its 50-inch wide track, you can have a lot of fun doing it when the terrain gets nasty. MSRP for the Wildcat Trail SE Hunter Edition is $13,595.
www.truetimber.com
Suzuki KingQuad 500 AXi Camo
Another True Timber Outdoors licensee, Suzuki had a presence at the 2016 Shot Show with its KingQuad 500 AXi Camo. This special edition KingQuad boasts True Timber XD3 camouflage, but the rest is genuine Suzuki, including its 493 cc, SOHC, single-cylinder, liquid-cooled, four-stroke engine and QuadMatic CVT-type automatic transmission, which features high and low range selection for cruising or crawling.
2015 Suzuki KingQuad 500 AXi Review A handlebar-mounted push-button allows the rider to select 2WD, 4WD and differential-lock 4WD. Suzuki says that the 500AXi's torque-sensing limited-slip front differential delivers a balance between optimum traction and light steering when not in differential lock mode.
The King Quad's winch-ready chassis features an independent double A-arm front suspension with 7.1 inches of wheel travel, while a fully independent, I-beam rear suspension offers 7.9 inches of travel out back. A polyethylene skid plate provides under carriage protection, and plastic guards protect the front and rear half shafts.
MSRP for the Suzuki KingQuad 500 AXi Camo is $7999.
www.truetimber.com
Lightforce
Lightforce has a familial connection to the SHOT Show, as its parent company, Nightforce Optics, is a major supplier of rifle scopes for shooting sports. However, we are more familiar with Lightforce's comprehensive line of LED and HID of off-road driving lighting for everything under the sun – or at least once the sun is gone.
Lightforce's Dean Loebig showed us two new products at the 2016 SHOT Show, the first being a new camping light that is amazingly flexible and can be mounted just about anywhere. It is 100% waterproof and submersible, and it features a control that allows the user to adjust the brightness of the lighting output.
Also new for the off-road customer is Lightforce's HTX driving light, a combination LED/HID light that features LED lights that are the equivalent power of a 20-inch light bar around the outer edge of the housing and are set to offer wide and close-distance lighting while the center-mounted HID offers a concentrated beam for long-distance vision. For ATV or motorcycle lighting, Lightforce recommends its six-inch or 10-inch lighting bar, and the company offers several brackets to facilitate mounting on most ATVs and motorcycles.
Pelican
We have plenty of experience with Pelican coolers on some of our off-road adventures, and the company showed up to the 2016 SHOT Show with its biggest cooler yet. The new Pelican Tailgater cooler boasts a massive 55-quart (52-liter) capacity, enough to hold 60 12-ounce cans of your favorite beverage. The dry-ice capable Tailgater features Pelican's thick molded polyurethane insulation to keep your ice in solid form longer, and its freezer-grade gasket keeps the warm air on the outside where it belongs. The Tailgater also features a dual-action lid for quick and easy access to the contents without opening up the main lid. There also two removable trays in the cooler to help keep any stored food dry.
Other handy features include a built-in bottle opener and a telescoping handle and heavy duty wheels for easy transportation. The Tailgater also utilizes Pelican's durable and corrosion resistant stainless steel hardware.
Published February 1st, 2016 2:13 PM
Top Brands
Popular Articles