18 Views
Best ATVs and UTVs of 2016
February 13th, 2017 12:48 PM
Share
We're committed to finding, researching, and recommending the best products. We earn commissions from purchases you make using links in our articles. Learn more here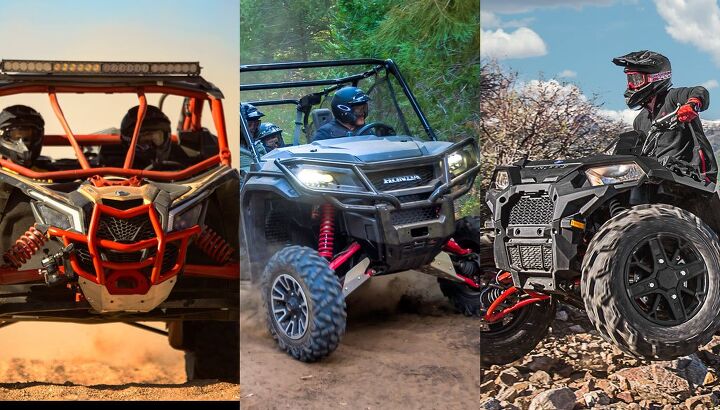 Our favorite off-road vehicles from the past year
In 2016 we saw many new machines and many more innovative features to make these machines perform at a premium for their owners. Some of these features do come with a slight price hike, but the pleasantry is so nice that you may not even notice them in the final numbers.
It is harder each year to just pick a single winner in any categories, as the competition is extremely tight. Having ridden many of these new rigs it was our pleasure to share them with you just after each ride and in this short feature we hope to revisit several that just seemed to stand out a bit more than the rest.
Sport UTVs
It seems the most innovative class in the industry is Sport UTVs. Each year the manufacturers push the envelope with more power and better suspension and 2016 was no exception.
Can-Am Maverick X3 X rs
Going fast and challenging most any terrain is becoming so easy these days with the latest in high performance machines and the competition is stiff like an red oak plank. The most fascinating of these last offerings in 2016 has to be the Can-Am Maverick X3 X rs. This super long travel FOX RC2 suspension coupled to the very impressive 156 hp turbo charged triple cylinder powerplant took us on a ride in the wilds of Baja that we will not soon forget. When you see the Can-Am Maverick X3 ripping it up it's like watching poetry in motion. The smooth sounds of the heavy breathing four-stroke whipping by just makes you want to be part of the adventure. Once seated in the comfort of the cockpit, the adjustable seating gets your body dialed for the ride of rides.
Yamaha YXZ1000R SS
After building one of the most interactive and innovative machines on the market, Yamaha has once again given its loyal customers something to grin about in the form of its SS or Sport Shift Pure sport UTV. As if the feeling of pounding the clutch pedal then shifting a high-strung powerful triple cylinder wasn't enough, Yamaha put paddle shifters on its YXZ1000R and stunned the haters once again. Flipping through the gears at high speed is so fun that it has brought many more to the Yamaha fold. Innovations like the launch system, which allows you to drop the proverbial clutch, make the YXZ SS even better.
Polaris RZR XP Turbo EPS
The Polaris RZR line has exploded over the last few years and certainly is one of the top players in the game of high performance. One thing that shocked many was the price drop for this year's Turbo EPS model with 144 hp starting at $19,999 ($5,000 less than the new 168 hp Turbo RZR). This, however, was not the most notable feature that caught our attention as the introduction rolled on. The addition of the Polaris GPS system, known as Ride Command, has taken the Polaris loyal and others by storm as a win-win for the company. We can get fixated on high power and long travel suspension, but the Ride Command gives another connecting feature to the machine. This feature connects other machines and riders together as well as their smart devices we all tend to carry on the trail. If you do not have a Polaris RZR but want to be a part of the group, the Ride Command is also available for smart phone download so you can also connect. Polaris is holding our industry in its hands with incredible features like these coming one after another.
Utility UTVs
As we mentioned in the opening we are starting to see many more incredible features in the UTV/SXS world. Looking hard at what is offered and finding things that will be extremely useful to the new off-road driver as well as helpful to seasoned veterans of the rugged terrain is the fine line between forward motion and just extra icing on the cake. When you work and play in the same machine some features just stand out that much more.
Honda Pioneer 1000-5 LE
Late in the year Honda released its Pioneer 1000 Limited Edition with I-4X4 and Hill Start Assist (HSA). These features help the novice or moderately experienced drivers execute terrain like a horse thief in the late 1800s. It is swift engagement of differential lock as the onboard computer sees a need instead of requiring the driver to stop and twist a knob. The usefulness of HSA makes a stall on an incline become worry-free for novice drivers as the brakes are applied via the brain of this Honda Pioneer and gradually released as you begin to accelerate. This is just the start for a new tomorrow in the world of UTV.
Bad Boy Off Road Stampede 900
Jumping over the fence into the bull ring is something that is well worth recognition and Bad Boy Off Road has done just that with the release of its Stampede 900 UTV. This new venture combines an 846cc twin cylinder gas burner and loads of storage space along with modern features like electronic power steering and 4×4 to tackle the wilderness. Bad Boy also included a unique section just behind the driver and passenger to add a more "close-up" storage area for trail must haves. The claimed 80 hp and a tow rating of 2,000 lbs also stunned the crowds as this machine is not only ready to play hard, but it appears at least on paper to be a capable worker as well.
Polaris Ranger Crew NORTHSTAR HVAC Edition
This has to be the most interesting of the Utility working class multi-passenger vehicles from Polaris. The Ranger Crew XP 1000 EPS NorthStar HVAC edition caught our attention when the thought of a hot tough day on the ranch could be stifled by the cool interior of a Side-by-Side with air conditioning. Heaters are pretty common on some machines as options, but AC? It is an industry first and it just tugs at the relief felt after busting the clock in the heat. This 80 hp ProStar engine platform is known for giving up reliable torque as well and the advent of Polaris's Tri-Mode throttle control in addition to everything else you can count on this machine to be as versatile as any in its class. Changing the drivability for the specific usage is why the Tri-Mode control was launched and it seems to also be something we never knew we wanted.
Kawasaki Mule SX 4X4
The Mule has long been the working side of Kawasaki's off-road UTV segment, but it's the small details that make a big picture that even the most frugal farm/ranch owner can appreciate. This compact 401cc gas burner is capable of those treks along the tightest fence rows and it comes packed with even more cool features to get the most of your budget. At just under 53 inches wide it would be an easy transport in the bed of your pickup. Don't let the small stature of this workhorse fool you, though, as it can also plow snow, spray fields and keep you out of the elements via the long list of Kawasaki Strong accessories available. The best part of this machine has to be its price tag, as most models of this gem come in under $10,000 and you get a lot of kick from this little Mule. It is also backed by an industry leading three-year warranty.
ATVs
The Utility ATV side is full of fascinating small-mid-big bore options that are made for work with some having a high emphasis on trail rage. Some platforms have reached the 800-1000cc range of their premium machines and are starting to focus on harnessing that power for the guy or gal who wants the biggest rig but does not really understand how to manage it just yet. Other Utility ATVs are revamped favorites still slip off the showroom floor into their loyal customers haulers each and every day.
Polaris Sportsman XP 1000
By far one of the most interesting features to have been seen this past year is the three-mode throttle control on the newest Polaris machines. This may not seem like much and throttle trims or maps have been used before, but not included on a factory-produced entry. The ability to tune the throttle response from standard to work and then for full out performance is forward thinking and enables the rider to have more control of the machine in certain uses. The digital dash also offers Bluetooth connectivity to alert you to missed calls or even your cell signal and battery strength. This may not seem like much, but when you are out in the way back you may want to know. The integrated six gallons of onboard storage as well as rack space also make this Sportsman a winner.
Yamaha Kodiak 700
Voted best of 2015 when it was introduced, this secret gem still holds a solid place in our minds. Yamaha brought back the Kodiak name in 2015 and made this package one that you must see. The capability of the 708cc fuel injected single is limitless and with the low-slung bars as well as seat, the comfort for the working crowd is also part of the draw. Easy on and off, the Kodiak is built for work, but do not single this one out or shoehorn it into a corner because trail riding is also a very fun venture on the Kodiak. The Yamaha exclusive Ultramatic clutch system also provides reliable, smooth engagement with engine braking. You know it is going to be reliable from Yamaha and the base price of $6,999 allows anyone to own a big bore Utility machine to hang with their buddies. Best of all, (keep this under your hat) some things can be swapped around to really breath more life into this powerplant!
Honda Rancher 420
Using a combination of incredible reliability with one of the most trail friendly rides on the market, Honda has kept loyal owners coming back year after year. For a hunting, working or sheer fun machine, the Rancher 420 still gets our minds excited for any good time on the trails. One thing that always comes as a very fine feature is the ability to control the gearbox any way you see fit. The manual shift allows not only a lower base price, but control of the gears in any situation. That's not saying that the ES or electric shift models are not important because it has proven to allow a new rider a little bit of a smoother learning curve while focusing on the trail more. The fact that the clutch lever is replaced with DCT or Dual clutch technology takes that learning time and flattens the curve that much more. Honda has always been a leader in the world of off-road and the Honda Rancher will always be smooth competition. Published January 3rd, 2017 4:19 PM
Top Brands
Popular Articles