1 View
QuadBoss Unveils New 5,000-Pound Winch
February 9th, 2016 4:55 PM
Share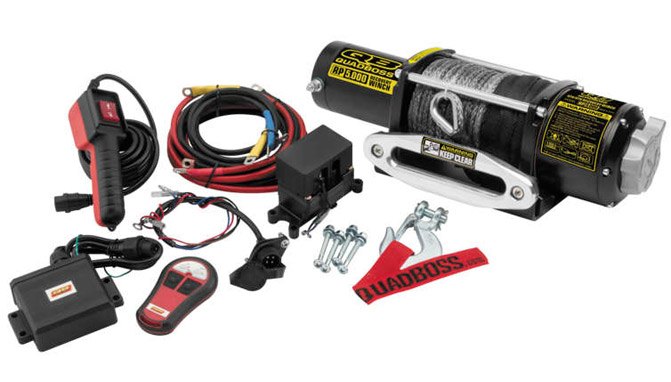 Available with wire cable or synthetic rope
QuadBoss has added a 5,000-pound winch to its line of ATV and UTV products.
The QuadBoss 5,000-pound winch features a three-stage, metal-planetary gear system that allows for a fast line speed. With a heavy- duty, electric permanent magnetic motor, this winch comes sealed and water-resistant. It has an automatic load-holding, self-locking brake and an aluminum engagement lever.
The winch has a low electric current and is free spooling. It comes with a corded and wireless remote and has a one-year limited warranty.
Consumers can outfit the winch with either a 50-foot wire cable or a 50-foot synthetic Dyneema rope, which QuadBoss boasts is 15x stronger than steel. All QuadBoss model specific mount kits and accessories sold separately.
The QuadBoss 5,000-pound winch can be ordered through your local Tucker Rocky/ Biker's Choice dealer. Prices start at $329.95.
Published February 9th, 2016 4:55 PM