17 Views
2018 Mahindra mPACT 750 S vs. Textron Off Road Stampede
September 11th, 2017 9:26 PM
Share
We're committed to finding, researching, and recommending the best products. We earn commissions from purchases you make using links in our articles. Learn more here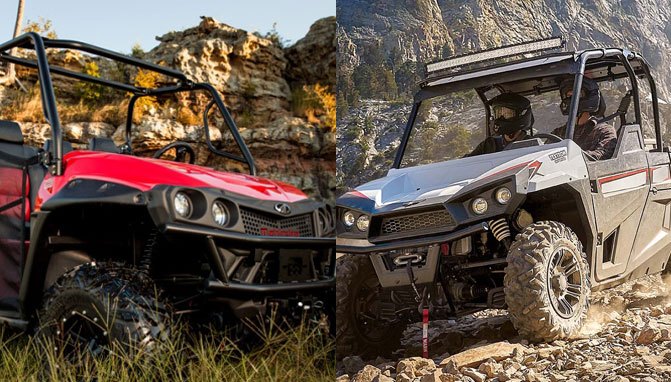 We decided to look at a pair of Utility UTVs built by two manufacturers new to the off-road world: the Mahindra mPACT 750 S and Textron Off Road Stampede.
The ATV and UTV market used to be the realm of the Japanese manufacturers, a couple of Minnesota companies and one from Canada. But as the old song goes, times, they are a changing. The "Japanese" companies now assemble the majority of their machines in the United States. Polaris remains a powerhouse brand, along with Can-Am, and Arctic Cat merged with newcomer Textron Off Road. Let's not forget John Deere either, who basically invented the UTV market.
As more companies jump into the UTV waters, it's not surprising to see quality machines coming from other tractor manufacturers. Mahindra, one of the more popular tractor and ag manufacturers, jumped in with a line of quality, American-made utility UTVs a couple of years ago. Let's see how the Mahindra mPACT 750 S compares to another relative newcomer, the Textron Stampede, by the numbers.
Mahindra mPACT XTV 750 S
Textron Off Road Stampede
Price
$13,599
$13,999
Engine
747cc Kohler EFI
846cc Liquid-Cooled 4-Stroke, Twin Cylinder Single Overhead Cam
Horsepower
NA
80
Driveline/Differential
Auto-lock diff front/Push-button lock diff rear
CVT system – Automatic Locking Overrunning Clutch (Front);




Selectable Locking (Rear)
Transmission
CVT
Dash-Mounted Cable Shifter (H,L,N,R,P)
Wheelbase
77 in
85.2 in
Overall Dimensions
113 x 63 x 78 in
126 x 58 x 75 in
Weight
1,571 lbs
1,650 lbs
Front Tires
27 x 10-14
26 x 9-14 Kenda
Rear Tires
27 x 11-12; Maxxis MU51
26 x 11-14 Kenda
Ground Clearance
12 in
11.5 in
Fuel Capacity
9.0 gal
9.5 gal
Front Suspension
10 in Dual A-arm
Dual A-arm/9.5 inches
Rear Suspension
10 in Dual A-arm
Dual A-arm/ 10.5 inches
Front /Rear Brakes
4-wheel disc
Hydraulic Disc Brakes with 9-inch Rotors, Dual Piston Calipers
Bed/Rack Capacity
1,200 lbs
600 lbs
Towing Capacity
2,100 lbs
2,000 lbs
Power
We all know about Textron's German-engineered, 846cc twin-cylinder engine. It pumps out a claimed 80 horsepower and is arguably the best feature of the machine. It's a really good engine and one with loads of potential. It pumps out 56 lb-ft of torque and has a plethora of meaty, mid-range power.
The Mahindra is a bit of a mystery. Mahindra went with a tried and true Kohler motor, selecting a 747cc four-stroke engine. Horsepower numbers are not published, but the top speed of the Mahindra mPACT 750 S is listed as 35 mph. That is plenty for a machine aimed at the utility crowd. Let's face it; you're not buying a Mahindra to go ripping down the trails. You're buying one because you maybe have a Mahindra tractor and now want a UTV.
Capacity
The Mahindra Kohler motors are designed for low end torque and geared super low with a 36:1 gear ratio. This lets the Mahindra mPACT 750 S tow 2,100 lbs and haul 1,200 lbs in the bed. The cargo bed has a power-dump assist and is the focal point of the design, with options for a convertible box and even a long-bed option, which basically takes the frame of the crew model and coverts the extra seating space to more bed. The Mahindras come with a three-year warranty and are so overbuilt that the company offers an accessory roof rack that mounts on top of the ROPS, something no other OEM does.
The Stampede has 2,000 lbs of towing capacity. The 2-inch receiver is built into the frame, too. This is another cool feature to the Stampede that doesn't get talked about much. Textron engineers that designed the frame knew how to make the receiver about as beefy and secure as anything else out there. The bed holds 600 lbs of stuff and there is additional specialized storage with the widely-publicized extended cab feature.
Apples to Oranges
The bottom line about these two machines is that they are both quite capable. Is this a true head-to-head shootout? No, because they are vastly different machines. The Stampede has qualities that fit the full-utility area, but is also aimed at the recreational crowd. The Mahindra is a workhorse first and foremost. Can you take it on trails and have fun? Sure, but the design is very utility in form. With every machine we compare by the numbers, the best way to determine what is best for you is to go check them out for yourself at your local dealer. Derrek Sigler
Derrek's love for all things ATV started when he was a mere 11 years old, growing up on his family farm. His mom gave him and his sister a choice - get a horse, or a three-wheeler. The sister wanted the horse, and Derrek wanted the ATV. Luckily he won out, and was soon burning up the trails on a Yamaha Tri-Moto 200. By the time he was 14, he had saved enough of his own money by working on the farm and in his folks restaurant to buy a new 4-wheeler. That happened the day he and his mom were driving past the dealership and saw 1987 Banshee. His mom had no idea what he was buying, and he never looked back. He's been riding ever since, and been writing professionally for many years. He has ridden all over North America and been behind the controls of just about every machine out there. And yes, he still has his 1987 Yamaha Banshee.
More by Derrek Sigler
Published September 1st, 2017 4:00 PM
Top Brands
Popular Articles