43 Views
2019 Yamaha Raptor 90 vs. 2019 Can-Am DS90: By the Numbers
November 2nd, 2018 4:23 PM
Share
We're committed to finding, researching, and recommending the best products. We earn commissions from purchases you make using links in our articles. Learn more here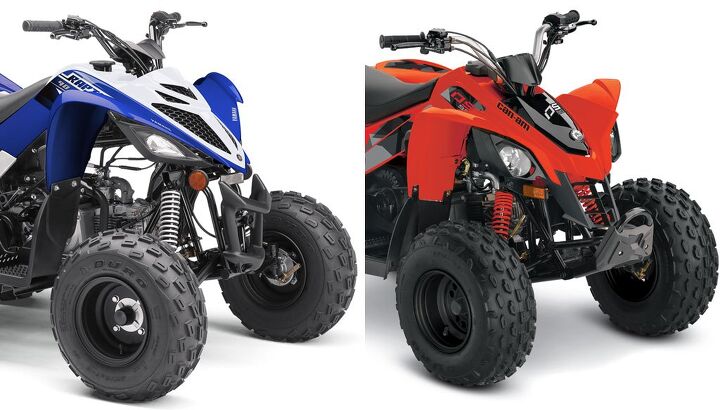 The 2019 Yamaha Raptor 90 and Can-Am DS90 are Youth ATVs designed to look like full-size Sport ATVs. Either is a great way to introduce kids to off-road riding.
I may be old, but when I was a kid, we didn't have much in the way of real youth ATVs. There were a couple models, but for the most part, the real machines were all adult sized, and you'd just have to wait until you were big enough to operate one. Notice I didn't say old enough. Back then, there weren't the stricter regulations we have today. Of course, there probably should have been, but that's a story for another time. When I see the level of machines available for kids today, it makes me happy as a parent because I can bring serious joy to my kids and get them into riding sooner and with better equipment than ever before. It also makes me a tad jealous that I didn't have these machines when I was a kid. The 2019 Yamaha Raptor 90 and Can-Am DS90 are two Youth ATVs well worth considering. Let's see how they compare… by the numbers.
Yamaha and Can-Am make some of the best ATVs on the market today and it's no stretch to think that they also make some of the best Youth ATVs available, as well. Both the 2019 Yamaha Raptor 90, styled after Yamaha's fabulous Raptor 700 sport machine, and the 2019 Can-Am DS90, which carried on the DS moniker from Can-Am's DS sport ATVs, would make any kid happy. These machines would provide hours upon hours of enjoyment and freedom, all while teaching responsibility and independence.
Motorin'
Being in the 90cc range, these machines will have enough power to give your kids some pretty broad smiles, while remaining controllable enough to give you some much-needed peace of mind. The 2019 Yamaha Raptor 90 has a 90cc, air-cooled, single-cylinder, four-stroke motor fed via 13mm carburetor. An electric starter turns it over, with a kick-start back up. Shifting duties are handled by a CVT with forward, neutral and reverse gears to give your kid the full range, while keeping it simple, too.
The Can-Am DS90 is powered by an air-cooled, single-cylinder, four-stroke 89.5cc motor, fed via Keihin carburetor and rolling out through a simple CVT transmission. Like the Yamaha, it is electric start with a kick-start back up. Both machines also feature a chain-drive rear axle, keeping in line with what you'd find on a full-sized adult Sport ATV.
Classy Chassis
I can speak from experience in saying that kids want machines that have the same look and feel of the full-size machines that mom and dad ride. Both of these 90cc heavyweights meet that. They have single A-arm front suspension and rear swingarms with a monoshock. The Can-Am has 3.4 inches of wheel travel up front and 6.3 inches of travel on the rear shock.
The 2019 Yamaha Raptor 90 has a full 5.0 inches of travel on the front shocks to soak up bumps and jumps. Yes, I said jumps. You know full well that your kids are going to end up jumping their machine when they feel comfortable enough to do so. Out back, the Raptor has 5.8 inches of travel on the rear shock that also has five-way preload adjustability. That's a nice feature because we all know kids grow fast, and not everyone's 10-year-old child is the same size.
Both machines have full floorboards to help keep your child's feet where they should be and away from the tires. There are also throttle limiters built in to help you control the speeds. Just don't let your kids see how the throttle limiter works right away. My son saw me playing with it when I got him his machine and let's just say that he was making his own adjustments when he thought I wasn't looking. Kids…
Bottom Line
I'll say it again, kids today have it made. These two machines are among the best youth ATVs ever offered. The 2019 Can-Am DS90 comes in Can-Am Red, White/Orange or White Pink color combos and has an MSRP of $2,849. Hop into your local Can-Am dealer and see one for yourself.
The 2019 Yamaha Raptor 90 comes in Yamaha Blue, or White with either black/red or black/magenta graphics. The pint-sized Raptor will set you back $2,899 and they are available now at your local Yamaha dealership. Derrek Sigler
Derrek's love for all things ATV started when he was a mere 11 years old, growing up on his family farm. His mom gave him and his sister a choice - get a horse, or a three-wheeler. The sister wanted the horse, and Derrek wanted the ATV. Luckily he won out, and was soon burning up the trails on a Yamaha Tri-Moto 200. By the time he was 14, he had saved enough of his own money by working on the farm and in his folks restaurant to buy a new 4-wheeler. That happened the day he and his mom were driving past the dealership and saw 1987 Banshee. His mom had no idea what he was buying, and he never looked back. He's been riding ever since, and been writing professionally for many years. He has ridden all over North America and been behind the controls of just about every machine out there. And yes, he still has his 1987 Yamaha Banshee.
More by Derrek Sigler
Published November 2nd, 2018 4:23 PM
Top Brands
Popular Articles