45 Views
Textron Prowler Pro XT vs. Kawasaki Mule Pro FX EPS LE: By the Numbers
February 12th, 2019 12:42 PM
Share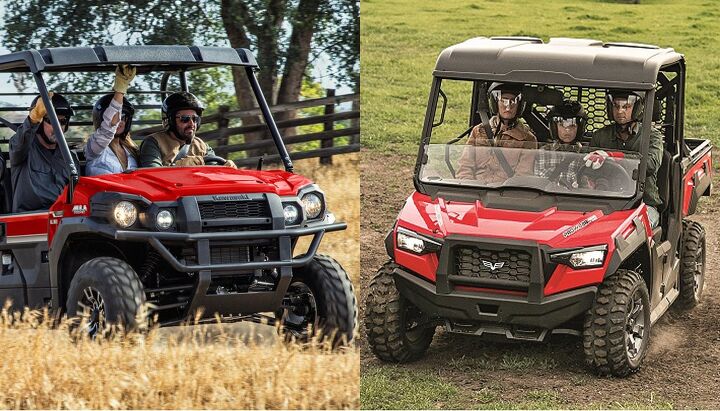 The Textron Prowler Pro XT and Kawasaki Mule Pro FX EPS LE are two machines built to get the job done. Let's see how they compare…by the numbers.
Since its release a couple of years ago, the Kawasaki Mule Pro FX has become the standard workhorse machine by which all others seem to be compared to. Unlike previous Mules, the Pro FX was more capable and had better trail manners that previous versions, adding to its appeal in the utility segment. Textron Off-Road unveiled its new Prowler Pro XT and it was obvious to everyone what market segment it was going after. There are some definite similarities between the Mule Pro FX and the Prowler Pro XT, so let's take a look at the numbers to see how similar they really are.
The Prowler badge was first put on a family of machines under the Arctic Cat banner. These machines were aimed at the Polaris Ranger market share and while they were capable work machines, there was a recreational slant to them as well, much like the Ranger. Further building on the work side of the coin, AC released the Prowler HDX, which had increased capacities as a utility machine. When Textron and AC merged into the new company, the original Prowler machines were replaced in the lineup with the Stampede series. The Prowler badge carried on with the electric vehicles, replacing the Bad Boy Buggy branding. But that was about to change, too.
| | | |
| --- | --- | --- |
| | 2019 Textron Prowler Pro XT | 2018 Kawasaki Mule Pro-FX EPS LE |
| Price | $12,999 | $14,299 |
| Engine | 812cc Liquid-Cooled 4-Stroke, 3 Cylinder | 812cc Liquid-Cooled 4-Stroke, 3 Cylinder |
| Horsepower | 50 | 47 |
| Wheelbase | 85.0 in | 92.3 in |
| Overall Dimensions | 126 x 63 x 74 in | 133 x 64 x 79.7 in |
| Ground Clearance | 10.75 in | 10.4 in |
| Curb Weight | 1,675 lbs | 1,832.4 lbs |
| Fuel Capacity | 10 gal | 7.9 gal |
| Bed/Rack Capacity | 1,000 lbs | 1,000 lbs |
| Towing Capacity | 2,000 lbs | 2,000 lbs |
| Front Tires | 26 x 10-14 Pro Terrain | 26 x 9-12 Radial Duro Frontier |
| Rear Tires | 26 x 10-14 Pro Terrain | 26 x 11-12 Radial Duro Frontier |
| Front Suspension | Double A-Arm with 10 inch Travel | Double wishbone / 8.7 in travel |
| Rear Suspension | Double A-Arm with 9.5 inch Travel | |
| Front /Rear Brakes | Dual Piston Front Calipers and Single Piston Rear Calipers | Front and rear disc brakes |
Déjà Vu, Anyone?
When CAT unveiled the Caterpillar CUV82 UTV, that was a joint venture with Textron and we all suspected that there would be a similar Textron Off-Road machine in the near future. We didn't have to wait long. The Prowler Pro XT is a very interesting machine. It shares some things with the Kawasaki that you might not expect.
The engines share a lot in common. Kawasaki uses an 812cc three-cylinder Chery motor for the Mule Pro FX. These are a popular utility UTV motor as they have tons of torque, run quiet and are extremely durable. Look under the hood of the Textron Prowler XT and you'll see something familiar – an 812cc three-cylinder Chery motor. In the Textron, it's good for 50 horsepower and it runs extremely quiet – things the Mule (47 hp) is known for as well. Which version is quieter? Go to your dealership and decide for yourself. Both machines run on full EFI, with the Textron machine having a closed-loop system. Both machines also use a CVT system for the transmission.
Looking at Numbers
One thing the Mule has going for it is that massive 54.1-inch long bed. You can haul a lot of cargo in the Mule Pro FX. This gives it a long wheelbase at 92.3 inches. For some trail obstacles, this can sometimes be an issue, as the Mule can high-center, so be aware of this as you're using it. It's a small price to pay for all that capacity, in my opinion. The bed is rated at 1,000 pounds of capacity, and having tested this machine personally with that amount in the bed, I can attest that you won't even know it's there.
Thanks to the suspension design and input from CAT, the Prowler has a bed capacity of 1,000 pounds as well. This is in a more standard-sized 40.5-inch cargo bed that gives the Prowler a wheelbase of 85 inches.
Both machines have 2-inch towing receiver hitches and a 2,000-pound towing capacity. You'll also find power steering on the Prowler XT and the Mule Pro EPS LE. The XT package also adds aluminum wheels to the Prowler and the LE package does the same for the Mule. Both machines have bench seating for three, although the Prowler gives you the option to remove the passenger seating for additional cargo space.
The Textron Prowler Pro XT comes in Dynamic Charcoal, or Fire Red colors. It has an MSRP of $12,999 and is designed and built in Thief River Falls, Minn. It is in dealerships now. Hit your local shop up for more information and check it out in person. You can also learn more here.
The Kawasaki Mule Pro FX EPS LE comes in Firecracker Red, comes with the Kawasaki Strong three-year warranty and is assembled in the amazing Kawasaki factory in Lincoln, Neb. It has an MSRP of $14,299. Your local Kawasaki dealership has them in stock and is ready to show you one. You can also learn more on the Kawasaki website.
Published June 1st, 2018 2:07 PM
Top Brands
Popular Articles