1 View
Natalie Captures 2011 AMA ATVMX Championship
August 15th, 2011 8:41 AM
Share
Rookie Hetrick sweeps motos in season finale
This year's AMA ATV Motocross Championship Series presented by DWT has been an array of ups, downs, career-firsts and even season enders; it's been chalked full of excitement as well as disappointment as the fastest ATV racers in the nation have put everything on the line to compete for the coveted AMA Pro Racing ATV Motocross Championship title. However, amidst all the hard work and emotion, only two riders were actually in contention this weekend to take home the championship title, and those riders were Motoworks Can-Am's John Natalie and Baldwin Motorsports PEP Racing's Josh Upperman – who came into the final round of racing at Loretta Lynn's Ranch only ten points apart.
Rewinding back to June, Motoworks Can-Am's Chad Wienen had swept four of the first seven rounds of racing – giving himself a padded points lead heading into the second half of the schedule until a season-ending practice crash put a halt to his championship sights in 2011. Like the true champion that he is though, Wienen attended this weekend's season-finale race to support his Can-Am teammate as well as his friends and fellow racers. To keep his mind in the game, Chad even co-announced both pro motos alongside ATVMX announcer Rodney Tomblin, adding his on-track experience and expertise for the fans at Loretta Lynn's.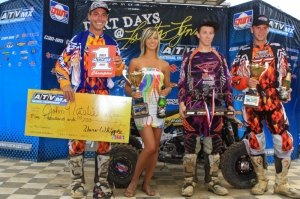 Makson Construction/JB Racing/Maximum RPM's Joel Hetrick grabbed the SSiDecals.com Holeshot Award, followed closely by fellow rookie Chase Snapp. It was an epic battle for the AMA Pro Racing ATV Motocross Rookie of the Year award until SSiDecals/Motoworks/Can-Am's Snapp was forced to pull off the track to fix his derailed chain. Snapp eventually made his way up to tenth in moto one, although he lost crucial points in the championship standings.
Points leaders John Natalie and Josh Upperman both got off a rough start, but worked their way up throughout the moto.
"I spun out of the gate and missed a gear, so I didn't get the best jump and then just settled in behind John [Natalie]," says Upperman. "I wanted to find good lines and maybe try some different things for the second moto."
Joe Byrd led a pack of Natalie, Upperman, Thomas Brown and Jeremy Lawson – all fighting for the fourth place position but it was Ballance Racing Yamaha's Brown who charged hard about mid-moto, past Byrd and Lawson to eventually wrap up the fourth spot in moto one.
Natalie caught up to Hetrick towards the end of the moto and put the pressure on pretty thick but trying to get by Hetrick proved to be an exercise in futility as the rookie was on rails in moto one.
"John [Natalie] was on my bumper the whole time but I just did my best to stay in front of him the entire race," says Hetrick. "I made a couple mistakes and he closed up the gap a little bit but luckily he didn't put a pass on me."
Hetrick edged out Natalie for the moto one win and Upperman finished in third behind Natalie, extending Natalie's points lead heading into the final moto.
"I hung back a little bit, we didn't want to take any chances for that second moto," says Natalie. "Joel [Hetrick] was riding really good and I didn't want to take a chance of taking him and myself out so I figured I would wait for him to make a mistake, but he rode flawless."
As the gate dropped for moto two, it was the Baldwin Motorsports PEP Racing Honda machine of Josh Upperman who shot out of the gate to claim the SSiDecals.com Holeshot Award. Points leader John Natalie and Ballance Racing's Thomas Brown got tangled up in first corner carnage, sending both riders to the back of the pack right away.
Heading into the final moto, Natalie only needed an eighth place finish to capture the championship title, so he played it cool on the first few laps. But, as any true champion would, Natalie dug deep and began picking off riders until he got into the top five, and even then he still kept on it.
Meanwhile, Upperman and Hetrick fought for the lead position in moto two, each keeping two different goals in mind. Hetrick wasn't vying for the championship, although he was looking to score as many points as he could; but his sights were on the AMA Pro Racing ATV Motocross Rookie of the Year Award, which he claimed after going (1-1) for the overall win at Loretta Lynn's. The award didn't come easy to Hetrick though, as Chase Snapp was in high contention until his chain derailed in moto one.
"It's great to win here in the pro class at Loretta's," says Hetrick. "A lot of people came out here to watch us today and I think it's pretty cool that the rookie won!"
Finishing with a (2-4) score for the day, Natalie captured the 2011 AMA Pro Racing ATV Motocross Championship title by only eight points over Josh Upperman. Jeremy Lawson finished fourth overall to claim third place in the championship standings in front of Thomas Brown and Joel Hetrick, who round out the top five in overall standings.
"There are a lot of people that put their heart and soul into this team and they made it all possible," says Natalie. "Can-Am started out with a dream and four years later we finally realized it. We took this DS-450 and we took a championship!"
Suzuki Loretta Lynn's ATV National
Final ATV Motocross Pro Class Standings
Pos.
Rider
ATV
Motos
Pos.
Rider
ATV
Points
1.
Joel Hetrick
Honda
1 – 1
1.
John Natalie
Can-Am
432 (3 wins)
2.
Josh Upperman
Honda
3 – 2
2.
Josh Upperman
Honda
424 (1 win)
3.
John Natalie
Can-Am
2 – 4
3.
Jeremy Lawson
Suzuki
374
4.
Jeremy Lawson
Suzuki
6 – 3
4.
Thomas Brown
Yamaha
339
5.
Thomas Brown
Yamaha
4 – 8
5.
Joel Hetrick
Honda
319 (2 wins)
6.
Travis Moore
Honda
7 – 7
6.
Chase Snapp
Can-Am
315
7.
Chase Snapp
Can-Am
10 – 5
7.
Chad Wienen
Can-Am
297 (4 wins)
8.
Harold Goodman
Honda
8 – 9
8.
Nick DeNoble
Honda
277
9.
Joe Byrd
Honda
5 – 12
9.
Travs Moore
Honda
268
10.
Nick DeNoble
Honda
14 – 6
10.
Joe Byrd
Honda
264 (1 win)
Published August 15th, 2011 8:41 AM
Top Brands
Popular Articles