1 View
2010 Santor Design Co. LT-R450 Projects
March 5th, 2010 11:51 AM
Share
Dressing up two LTRs for the Dealer Expo
In addition to writing for ATV.com, I also operate a graphics company called Santor Design Co. Each year SDC puts together an ATV project for the International Powersports Dealer Expo. In fact, it was at the 2008 Dealer Expo where I first met ATV.com's editorial staff.
When we put together an ATV for the show, we feature a theme that is unique and different than just a regular race ATV you see throughout the show. For the 2008 show we designed a "Whisky Runner" YFZ, which you can read about here. A year later we were given space in the Maier Plastic booth and designed a YFZ450 with a " Stripper kit" that featured two girls on the gas tank with fish nets wrapped around the plastic.
This year at SDC we decided to start with a different base model. Instead of using a YFZ as our canvas we choose not one, but two Suzuki LT-R450s. These two quads belong to two Team Santor riders, Landon and Derek Glass. Both of these LTRs were ridden before we started the build, which was a new experience for us. It would have been nice to bring home two new ATVs and strip them down the first few minutes we had our hands on them, but we decided to save a little money and literally get our hands dirty with this build. One LTR was built to be featured in the Kenda Tires booth and the other was destined for Blingstar's booth. Both will be ridden hard throughout the 2010 race season.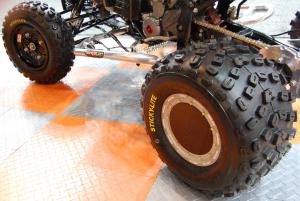 We started out by making sure the two LTRs were clean enough so that no loose dirt could flake off when removing the engine. It should be noted that these ATVs were not trashed before the build – both were very well maintained and in fairly good condition.
All stock wheels and tires from each quad were removed, which would be replaced by "Champion in a Box" DWT wheels and Kenda Sticky Lite tires. The Champion in a box DWT wheels feature the patented Rok'n Lock rear bead lock wheels, front wheels, mud caps, and a DWT hat. This is truly a great deal and works very well, as has been proven by the top pros that run this package.
After removing the stock plastic, swing arm, A-arms, sub frame, and finally the engine and its components, it was time to prep the frames for the powder coaters. Before sending them off to Carrara Powder Coating, we chose add some strength to the frame. A simple two-piece custom gusset set from GLS Machine was welded between the footpeg mounts to prevent them from bending after harsh landings.
Carrara Powder Coating specializes in making frames look their best, whether it's an ATV or even a full size race car frame. Each frame was shot in Satin Black. We went with a satin finish because a high gloss finish tends to show more wear.
After receiving the frames back from Carrara it was time to reassemble and put all the aftermarket goodies on. We started by placing the engine back in the frame and prepping the Houser Slicast A-arms for installation. These MGC (Maximum Ground Clearance) A-arms not only add ground clearance to the LTRs, but they also greatly improve handling thanks to Houser's easy-to-use camber adjustments.
Next up were the Float X Evol shocks by Fox Racing Shox. These shocks are ultra-lightweight and feature an almost infinitely adjustable dual stage air spring, dual speed compression adjuster, wide range rebound adjuster, and velocity sensitive damping control. Sweet!
A Fuel ATV steering stem was also installed, which is much stronger than the stock stem. To wrap up the front end a newly released product was added to help the rider get better starts – Idol Speed's Quadshot. The Quadshot is designed to help transfer power to the ground while keeping the front end down. It's an adjustable bolt-on device that has the ability to compress the front end suspension up to three inches. We can't wait to try it out for ourselves! Out back we added a hefty DuraBlue Axle and a rear Fox Shox Podium Shock. This combination should not only stand up to more abuse, but also improve handling over rough conditions.
Both LTRs were outfitted with new exhaust systems. One received a Big Gun Evo Series Exhaust and the other a Yoshimura RS-5 exhaust. The idea here was simply to increase the power. We already reviewed the Yosh exhaust on ATV.com and you can expect an exhaust shootout between these two systems in the near future. To bring these two LT-R450s to a halt, Streamline brakes supplied colored brake lines, rotors, and brake pads, which should make a major difference in reducing brake fade.
Santor Design Co. has had a longstanding relationship with Maier USA ( check out our Raptor 250 Project as an example), so we ordered a set of race cut plastic from Maier for both ATVs. To add additional accents to the Maier plastic we called up Quad Tech and had it ship our its latest carbon fiber parts and components for the LTRs. Quad Tech supplied a more comfortable "Hump" seat, carbon fiber frame glide plates, skid plates, and carbon fiber electronics guard for the builds. Fuel ATV also added a share of the carbon fiber parts to these builds with a trick looking carbon fiber battery box guard and fuel pump cover.
For the LT-R450 that would be displayed in the Kenda Tires booth, SDC decided to do a Zombie theme. We designed the graphics, which feature creatures from beyond the grave, to give the ATV a unique look that is like nothing else we've seen. After telling Direct Drive about the Zombie theme we were supplied with a zombie green see-though clutch cover and lock-out assembly. This clutch cover not only makes this theme more unique, the lock-out clutch makes for faster take offs during starts.
Motogrip has always been happy to help us out with our project builds and it sent out a set of Death Grips, which suited the Zombie theme perfect. We love these grips. They look great and work in just about any riding condition. ASV also sent us a set of C/5 unbreakable levers for both bikes. As far as we're concerned, these levers are the best available and they come with a five-year guarantee.
Although both owners of these LTRs, Landon and Derek Glass, are pretty fast, we all have times when we're in the middle of the pack and need something to protect our hands from oncoming debris. PowerMadd supplied guards on both LTRs to protect the hands of the Glass brothers. All of these parts were installed on top of Fasst Co. Flexx bars. This may seem like a lot to be installed on the bars, so to free up some room we added a kill switch from Pingel. The kill switch is very similar to what KTM uses on its ATVs. Instead of mounting the kill switch on the bars, a hole was drilled into the plastic and the kill switch was screwed in.
Being that one LTR was featured in the Blingstar booth, a custom kit was designed and printed for Blingstar. The kit features the company's main logo on the tank and a Blingstar logo pattern background that almost gives off a camo effect. Both LT-R450s were given Blingstar front bumpers and Factory Series Nerf bars with aluminum foot pegs. The Blingstar LTR featured the newly released Maltese front bumper, billet dual sprocket guards and rotor guards.
Published March 5th, 2010 11:51 AM