1 View
2010 Indianapolis Dealer Expo Report
February 16th, 2010 4:25 PM
Share
We're committed to finding, researching, and recommending the best products. We earn commissions from purchases you make using links in our articles. Learn more here
A Shangri-La for ATV and UTV owners
It may have been a little smaller this year, but the Indianapolis Dealer Expo is still far and away the industry's largest ATV and UTV trade show and the place to find all the latest and greatest aftermarket accessories.
In past years the Indy Dealer Expo filled the Indianapolis Convention Center, Lucas Oil Stadium, and some surrounding hotels. For 2010 it was confined to the Convention Center. It's unfortunate that some aftermarket manufacturers either couldn't afford to go or aren't in business anymore, but those who did attend unleashed a heap of cool new products that you'll be seeing in dealerships shortly.
If you were tuned in to ATV.com over the weekend of the Expo you noticed we were blogging about some of our favorite products. With 19 blog posts in all, it may have been hard to keep up, so we've decided to showcase all the products we blogged about in this article so everything is easy to find.
ATV and UTV Projects
Instead of merely showing you their latest products by themselves, most of the aftermarket manufacturers instead choose to display their wares by incorporating them into the vehicles they are designed for. We decided to compile a photo gallery of all the best sport quads, utility quads and side-by-sides we could find at the Expo. ( Read More)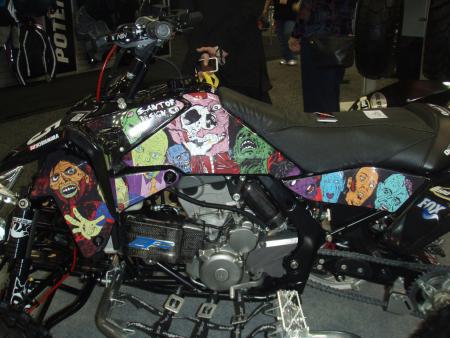 Warn XT HID Lights
Warn had a lot of new products on display at the Dealer Expo. Though generally associated with winches, we were most impressed with Warn's new Extreme Terrain (XT) HID lights. Available in four inch (for a wide blast of light) or two inch (narrow, intense beam), the XT HID lights are shockingly powerful and feature forged aluminum housings, impact-resistant glass, stainless steel hardware, and silicone seals. ( Read More)
Houser Racing Nerf Bars
Perhaps our favorite product of the entire show was Houser Racing's Suspension Nerf Bars. The most groundbreaking part of these nerf bars is the foot peg, which is where the "suspension" comes from. It works similar to a swing arm with a rubber isolated pivot point and replaceable cushion ball that is pre-load adjustable. We can't say enough how cool we think this peg is and how popular we think this nerf bar system is going to be. Houser also unveiled a new aluminum grab bar that is angled down to make it easier to lift up your ATV. ( Read More)
J-Wheelz
One of the most interesting products we saw on the first day of the Dealer Expo is called J-wheelz. The idea of J-wheelz is to provide extra traction and flotation to your ATV or side-by-side. You bolt J-wheelz to your normal wheels (installation takes about 10 minutes) and, if we are to believe the manufacturer's claims, you can get through most any terrain. ( Read More)
HiPer PROFill System
Long known as one of the top ATV wheel manufacturers in the industry, HiPer Technology has expanded to flat prevention. HiPer debuted its new PROFill flat prevention system at the Indy Dealer Expo and this could be the ATV product to watch in 2010. The system is made up of foam inserts, but unlike other flat prevention systems, the PROFill system won't absorb water and is very light weight. ( Read More)
RideTech Shockwave
We had to look outside the main hall at the Indy Dealer Expo, but we found an interesting new suspension for side-by-sides from RideTech Air Ride Technologies.The system is called ShockWave and it replaces the factory shock and coil springs with aluminum mono-tube shocks and sleeve style air-spring. The ShockWave system offers seven inches of travel, adjustable spring rates, and the ability to level the vehicle when loaded and maintain a specific ride height. ( Read More)
Laeger's High Roller Front End
Laeger's Racing was showing off a brand new front end at the Dealer Expo that could make a big impact for cross country racers in the near future. The High Roller front end, according to Laeger's, features the most ground clearance available on the market. Designed specifically for cross country racing, the High Roller front end is camber and caster adjustable. ( Read More)
DragonFire Racing Beadlock Wheel
DragonFire Racing launched its first wheel at the Dealer Expo. DragonFire's new aluminum beadlock wheel was completed just before the show so there was no press material of any kind available, but the rep we talked to was quite excited about it. Expect the wheel to come in sizes to fit both ATVs and side-by-sides. Also, DragonFire unveiled a new gauge pod for UTVs. ( Read More)
Mattracks LiteFoot XL
The folks at Mattracks introduced a more economical ATV track system at the Dealer Expo called the LiteFoot XL (Extra Light). With an MSRP of $3,995, the LiteFoot XL costs hundreds less than many track systems. ( Read More)
Kali Prana Carbon Helmet
We stumbled across an interesting new ultra-light helmet from Kali Protectives called the Prana Carbon. Weighing in at just 1100 grams, the helmet is DOT and ECE approved, but the heart o the Prana is the introduction of Composite Fusion Plus technology. According to Kali, this construction incorporates pyramids of different foam densities to provide the softest materials next to your head. ( Read More)
Utopia Optics Goggles
We had a chance to talk to a rep from Utopia Optics and he told us about some of his new products, including the Warrant Bones goggles. This is a pretty sweet looking set of goggles and it looks like it can take some serious abuse. The goggles, as the rep demonstrated, could basically be folded in half (lens included) without breaking. ( Read More)
O-Liminator
O-Liminator was our favorite product at the Dealer Expo for under $10. It comes with two pellet packs that you place in your gear bag or your boots to keep the stink out. According to the manufacturer, O-Liminator inhibits 100 percent growth of Staphylococcus (Staff) and E-coli. ( Read More)
CTEK Piglet
From the company that claims to have the smartest battery chargers in the world comes another smart addition to the Comfort Indicator series – the Piglet. The Piglet can be permanently connected to your battery so always know how much juice you have left and it eliminates the need to reinstall new eyelet terminals on the battery or disconnect your O.E. plug if its used for other accessories. ( Read More)
Blingstar Heel Guard
Blingstar redesigned its popular heel guard for 2010 to include an anti-vibration flexible joint. The patent pending Flex Joint System, according to Blingstar, helps prevent breaking and stress cracks caused by extreme racing conditions. Additionally, Blingstar unveiled some trick billet aluminum products – Dual Sprocket Guards and Rotor Guards. ( Read More)
ProCharger Supercharger
ProCharger wants to make your side-by-side go faster…a lot faster. The Kansas-based company plans to do this with its new intercooled, supercharger that is currently available for 800 EFI Polaris Ranger models. The kit is claimed to provide a boost of 30 to 40 rear wheel horsepower. ( Read More)
Cycle Country Rear Hook-A-Lift
If you've seen Cycle Country's products before, you'll know the Hook-A-Lift isn't exactly a new product. However, what is new is a prototype for a rear Hook-A-Lift for side-by-sides. Because it's still a prototype we don't have much information yet, but we do know that the rear Hook-A-Lift connects to a two-inch receiver hitch and has a 275-pound capacity. ( Read More)
Precision Shock & Vibe Clamp
Precision's Shock & Vibe looks as simple as can be – it is a handlebar clamp after all – but Precision says it dampens several times the vibration of an anti-vibe stem. Instead of the handlebar having direct contact with metal like on a typical clamp, it is surrounded by a rubber insert. ( Read More)
Kolpin PowerPod
If you're the type who has a lot of electronic accessories attached to his ATV, Kolpin's new PowerPod is for you. The PowerPod allows you to connect multiple electrical accessories to our ATV or UTV instantly and without having to do any makeshift wiring. All you have to do is install the PowerPod harness just once to your battery and then plug and play with multiple accessories to the external ports. ( Read More)
Tamarack Realtree Lounger
Tamarack ATV Accessories had a few interesting new products on display at the 2010 Dealer Expo, including a brand new lounger and front box in Realtree camo. According to Tamarack, nobody else will have a Realtree camo pattern for ATV storage and seating systems. ( Read More) Lucas Cooney
I have been working exclusively in digital media since 1997. I started out with TSN.ca, spending nearly nine years creating and editing content on Canada's leading sports website. I left to join VerticalScope, Inc., one of the world's largest online publishers, to start a number of powersports publications. While at VerticalScope, I've helped create and oversee content for a wide variety of different publications, including ATV.com, Off-Road.com, ArcheryTalk.com, Tractor.com, RVGuide.com, and many more.
More by Lucas Cooney
Published February 16th, 2010 4:25 PM
Top Brands
Popular Articles