1 View
Five ATV New Year's Resolutions You Can Keep
January 4th, 2018 12:01 PM
Share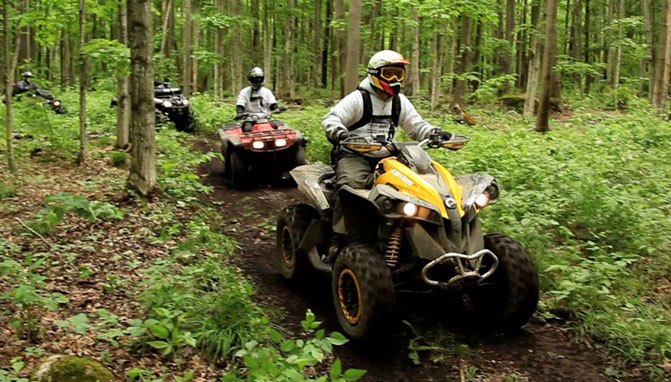 We are not normally big on New Year's resolutions, but when it comes to off-road riding, we can think of a few we'd like to focus on in 2018.
The official start to the New Year has come and gone. Like you, I'm back to work and trying to be productive while having my mind wander to things motorized and much more fun. New Year brings resolutions that many of us make, but seldom keep up on. I could resolve to join a gym, but that's not happening. Maybe I should try to get debt-free, but that too is difficult. I like to buy expensive toys. I do, however have a few New Year's resolutions that are ATV-friendly and are things that I can actually deliver on…and you can too.
Ride More
Last year I told myself that I was going to do a lot more riding, and then life happened. Things came up and the machines sat in the garage unused for more often than I had planned. It's hard being an adult these days, but you still need to play. You spent the money on the machine, you might as well use it, right? Right now, there is a guy somewhere riding his motorcycle down a snowy, freezing-cold road. You may think he's completely nuts, but he bought his motorcycle because he loves to ride and that's exactly what he's doing right now. It may not have been the perfect time to ride, but he's doing it. You've got to give him that.
Ride Somewhere New
Going along the same lines as riding more, I'm also going to ride somewhere new in 2018. While sure, it'd be sweet to load up machines and head off on a grand adventure to some place that falls along the more premiere locations, like Glamis. I've never ridden at Glamis, can you believe it? But I'm betting there's some pretty cool trails right by you that you've never explored. I know I recently learned of several local trails that I hadn't ridden yet, and my home state is officially opening more areas to riding in 2018, so I've got some places I need to go. I'm betting you do too.
Take a Kid
When I was a kid, I had several good buddies who rode, so we all rode together and had fun. My kids ride already. You knew that, I'm sure, but they have friends who have no idea what it's like. This year I'm going to take a few more of my kids' friends on rides with us and not only show them the fun of riding, but also the right way to ride. It'll be safer for them, and in the long run, safer for my kids, too. So make one of your New Year's resolutions to take a kid riding this year. And make sure they have a good helmet.
Speaking of Helmets
If you've been running the same skid lid for a while, make another one of your New Year's resolutions to inspect it and replace it if need be. This is something all of us should do every year as helmets are really only good for one impact. Plus, as they get older, the materials can break down. I'm going to be totally honest in that I tend to get at least one new helmet a year just because I like to have a bunch. The wife has her shoes; I have helmets. My latest one is a new Fly Racing Carbon F2 with the cold-weather setup so I can ride in the winter.
Ignite the Spark
(By gornostay/Shutterstock.com)
I've already talked about riding more and taking the kids riding, etc. But there is one more thing that I felt it was time to do. I bought my son a bunch of his own tools this past Christmas and I'm giving him one of my old ATVs that is in need of repair. I want him to take it all apart and learn how it works, and then we'll put it back together and get it running. I think it's important to teach not only the fun of riding, but the mechanical side of it too. This way he'll not only see the bigger picture, but he'll gain the knowledge he'll need for maintenance and upkeep.
Published January 4th, 2018 12:01 PM
Top Brands
Popular Articles