1 View
Gearing Up for Memorial Day Weekend Rides
May 10th, 2018 12:41 PM
Share
We're committed to finding, researching, and recommending the best products. We earn commissions from purchases you make using links in our articles. Learn more here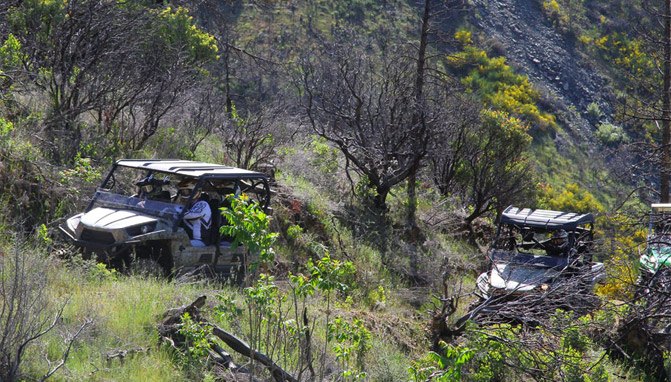 With Memorial Day weekend fast approaching, we've put together a list of items most every ATV and UTV owner should consider before heading off to ride.
Memorial Day is coming up fast and for many of us, that marks the kick-off to the summer riding season. Many of us are planning to go out and hit the trails, tracks and dunes on the extended holiday weekend, so gearing up and being ready to enjoy every second of the time on the trails is important. We decided to make up a list of some important essential items that can help you enjoy yourself more and make the weekend as stress-free time.
Pelican Phone Case
I don't know about you, but I'm a little ashamed to admit just how tied to my phone I am. I use it to connect with family and friends, take photos and work on stories. It's important to me for sure. When I'm on serious rides, I protect my phone with a serious case. Pelican, a company that supplies the military with protective cases for just about everything, makes a slim, completely waterproof and shock-proof case for most of the major phone brands. I've been using one for a while now and like that when I am out on the trail and slam through a mud hole, my phone isn't going to get trashed. Learn more about Pelican phone cases here.
Fly Kinetic Gloves
Whether you're on an ATV or riding in a UTV, gloves are important for protecting your hands. I always wear them so I don't get blisters, and to protect my hands when I get out for things like winching the machine back onto the trail, or fixing a flat – two things that have happened to me recently. I've always liked the fit of Fly stuff and the Fly Kinetic gloves work great for riding and wrenching because the back of the glove is ventilated enough to keep my hands cool while protecting them on the palms.
Orion Cooler
We all need a good cooler when we ride. The trend in extreme coolers has led to some sweet developments and yes, they may be pricey, but they last! I've been beating on my Orion cooler for a while now and it still looks new. These are seriously the toughest, most advanced of the roto-molded coolers. It has bottle openers on the corners and you can get some cool attachments, like a seatback to make it into a chair. It'll hold ice for seven plus days and looks sweet to boot.
Flat Tire Repair Kit
Sooner or later, you're going to have to deal with a flat tire on the trail. You probably already have. It's happened to me a few times. I got stuck in a valley in Brimstone Off-Road Park with a flat tire and had to wait while my buddies went to get a spare. I think they took some extra time, too. Wouldn't have been an issue if I'd carried this kit, which I do now. This flat tire repair kit has everything you need to plug and re-inflate a tire and get you back on the trail. Seriously, get this kit or something like it. Spend your time riding, not waiting for help.
Coleman Canopy
If you're on a trail head, or at a ride park, you know that you're not going to spend all of your time actually riding. There will be some time when you're back at the truck with your buddies bench racing and relaxing. Getting out of the sun or rain is important, so an instant, pop-up canopy is really nice. I've been using and abusing this 10-foot by 10-foot canopy from Coleman for a while now and love it. It has a swing-up wall that can add an additional 10 feet of cover, or drop it down for some protection from the side too. It works great, holds up and doesn't cost a fortune, either. I'll have mine with me this holiday weekend, so stop on by. Derrek Sigler
Derrek's love for all things ATV started when he was a mere 11 years old, growing up on his family farm. His mom gave him and his sister a choice - get a horse, or a three-wheeler. The sister wanted the horse, and Derrek wanted the ATV. Luckily he won out, and was soon burning up the trails on a Yamaha Tri-Moto 200. By the time he was 14, he had saved enough of his own money by working on the farm and in his folks restaurant to buy a new 4-wheeler. That happened the day he and his mom were driving past the dealership and saw 1987 Banshee. His mom had no idea what he was buying, and he never looked back. He's been riding ever since, and been writing professionally for many years. He has ridden all over North America and been behind the controls of just about every machine out there. And yes, he still has his 1987 Yamaha Banshee.
More by Derrek Sigler
Published May 10th, 2018 12:40 PM
Top Brands
Popular Articles