3 Views
Robby Gordon and Polaris Have Big Plans
June 16th, 2015 4:41 PM
Share
We're committed to finding, researching, and recommending the best products. We earn commissions from purchases you make using links in our articles. Learn more here
A match made in off-road heaven
You can expect to hear the names 'Polaris' and 'Robby Gordon' mentioned together a lot in the next few years. The Minnesota-based manufacturer has just entered a three-year agreement with the NASCAR driver and three-time Baja 1000 Trophy Truck winner.If you think Gordon won't be doing anything other than lending his name and likeness to Polaris and smiling for a few pictures, think again. Beyond the obvious marketing opportunities, Gordon will be getting his hands dirty and working with Polaris engineers on product development, specifically on the Ranger and Ranger RZR lines.Though he's best known for going fast and turning left on the NASCAR circuit, Gordon has more than 20 years of off-road racing experience. He races trophy trucks at Baja and Hummers at Dakar and a working relationship with Polaris makes a lot of sense.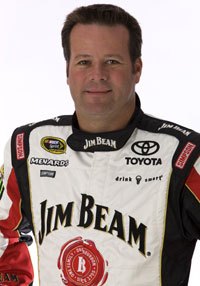 Robby Gordon as we're used to seeing him during the NASCAR season."I'm really excited about the opportunity," says Gordon. "I hopped on one of their side-by-sides a couple years ago and just couldn't believe it. felt that if I could ever work with them that we could make the ultimate side-by-sides. We're going to share some of the reliability stuff that we do for our Baja trucks and Dakar programs and work hand in hand with the Polaris guys and girls to make this the best four-wheel vehicle possibly available to the general public."While Gordon is comfortable driving anything with four wheels, he's used to riding in vehicles with a lot more power than a production side-by-side. Gordon, however, doesn't see that as an issue and figures he has the experience to make a positive impact with Polaris."I've obviously had my own side-by-sides in the past, and currently do, where we've done wider kits, steering geometry, [and] suspension. Our trophy truck's a side-by-side as far as I'm concerned."Polaris has been working on this deal for a while and clearly thinks Gordon is more than qualified to help the product development team map out the future of the Ranger and Ranger RZR platforms."Robby's vast experience in off-road vehicles – from racing to engineering and building his own products and vehicles – is what separates this agreement from other promotional type agreements that we've entered into with other personalities," says Craig Scanlon, Polaris product line sales manager for the side-by-side division.Scanlon says that with Gordon growing up in the southwest and riding the dunes, he'll be able to provide Polaris with the perspective of customers from that part of the country and what they're using the vehicle for.
Gordon rode this Polaris-sponsored trophy truck at the Baja 1000."One of the things we're really excited about is Robby's experiences not just from development and building his own stuff, but also his racing and riding experience that we can tap into," says Scanlon.Gordon figures that he'll spend most of his time working on suspension systems. In fact, he had a small hand in developing the suspension of the new Ranger RZR S."We've done a little bit of stuff with them," says Gordon. "They were 90 yards downfield before we started to talk about our relationship and they've done a really good job. The suspension is very good to start with and I think we can take that and work forward from there. We've got a good piece to start with, for sure."
Gordon was a guest at the Polaris dealer meeting last year. Note the tricked out 'Robby Gordon' RZR to the right. Is that the type of thing we can expect from the Polaris/Gordon partnership?Specifically, Gordon likes what Polaris has done with the approach angle and how the RZR S so that the lower-A-arms don't dig into the ground."Some of the other manufactures don't have that piece figured out," says Gordon.While Gordon doesn't figure he will ever race the RZR, he and his team have already worked with Polaris' Jagged X racing team by building some A-arms for their vehicles. That's not to say he wouldn't like to get behind the wheel if there were a few more hours in the day."All the off-road racing I think that I'm going to be able to do at this time of day will either be the trophy truck at the Bajas or the Hummer at Dakar," says Gordon. "If my NASCAR schedule wasn't 36 weekends plus the All-Star plus the shootout, you know I would go race the RZR."Of course adding Robby Gordon to the Polaris team is about more than just working on suspension systems behind the scenes. Gordon has a huge following because of NASCAR and Polaris has every intention of putting Gordon's name out there to try and move some product."It's not just the product development side," says Scanlon. "I do foresee a family of vehicles that are tagged with Robby on it and have a lot of his influences built into those vehicles. The idea there is to take our current vehicles and differentiate them to fit different marketplaces and different customer usages and potentially even different platforms – meaning expand upon what we're currently offering today."Understandably Polaris wouldn't get into specifics, but it sounds like the Ranger and Ranger RZR lineup is in for a major boost. Consumers could be seeing a lot more options, allowing them to build up the vehicles directly from an increasing Polaris catalog of parts and accessories. The aftermarket for side-by-sides is absolutely huge and Polaris would love to tap into some of that business by supplying ready to fit upgrades directly from the factory.
Gordon piloted this Hummer at the grueling 2009 Dakar in South America.Though Gordon's main focus seems to be on side-by-sides, is it safe to assume that he'll set his sights on Polaris's Sportsman and Outlaw ATVs as well."I can say yes to that, but I can't specifically tell you what we're working on," says Gordon. "We have some neat ideas that I believe we can mix and match some products together and come out with some cool stuff."Polaris and Gordon have been working together for over a year before the partnership was officially announced to the public, so you can expect to see the fruits of their labor in the not too distant future."I would expect anywhere between the next eight to 12 months you'll start to visibly see this partnership come to life," says Scanlon.Related Reading Polaris enters agreement with Robby Gordon 2009 Polaris Ranger RZR S Review 2009 Polaris Rangers: First Look 2009 Polaris Ranger RZR Review Lucas Cooney
I have been working exclusively in digital media since 1997. I started out with TSN.ca, spending nearly nine years creating and editing content on Canada's leading sports website. I left to join VerticalScope, Inc., one of the world's largest online publishers, to start a number of powersports publications. While at VerticalScope, I've helped create and oversee content for a wide variety of different publications, including ATV.com, Off-Road.com, ArcheryTalk.com, Tractor.com, RVGuide.com, and many more.
More by Lucas Cooney
Published April 9th, 2009 2:12 PM
Top Brands
Popular Articles