1 View
2016 Polaris RZR S 1000 EPS Review
January 29th, 2016 3:14 PM
Share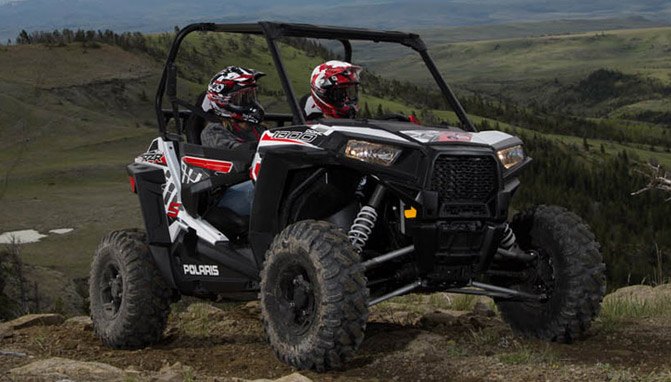 Polaris' best do-it-all Sport Side-by-Side
New for 2016, the Polaris RZR S EPS 1000 delivers a unique blend of nimbleness, stability, and versatility that truly puts it in a class by itself.
At 60 inches wide, the RZR S 1000 combines the same shorter wheelbase as Polaris' 50-inch trail RZRs, while boasting a robust 25% increase in peak power over the RZR S 900. This package of power and size makes this a very intriguing choice for most any performance-seeking consumers.
Engine
Power comes from the 999cc ProStar 1000 engine found in the RZR XP 1000, with a different intake and exhaust. This parallel twin features four valves and double-overhead cams per cylinder, fueled by EFI. The transmission features High and Low forward ranges, plus Neutral, Reverse, and Park. A high-flow clutch intake system is designed to help keep belt temperatures down.
How does this translate to ground-ripping performance? Polaris says the engine churns out 100 horsepower and can accelerate from 0-50 mph in five seconds.
The ProStar 1000 engine cranks out 100 horsepower, giving the RZR S 1000 the ability to accelerate from 0-50 mph in about five seconds.
Power output is ample, pulling notably harder than the RZR S 900 at lower rpm, with midrange and top-end that feel equally impressive. Throttle response is crisp, as you would expect from a high-performance machine. The massive low-end power and snappy throttle response make the RZR S 1000 feel unstoppable on steep hills and in tricky situations where bursts of big power come in handy.
Mashing the pedal to the floor, the power curve is smooth and strong throughout the rpm range with enough thrust to pin you against the back of your seat. We never reached top speed durring our testing at Brinstone Recreation in Tennessee. However, we did reach 70 mph with more power in reserve. Whether you ride tight trails or wide open dirt roads, the RZR S 1000 has plenty of acceleration and speed on tap.
Belt slippage from the CVT transmission was never a problem, although as good stewards, we thoughtfully shifted the transmission into low range while tackling rough, low-speed, rocky sections.
Due to its relatively compact size, the RZR S 1000 is at home in tightly wooded trails and wide open fire roads.
As usual, we mainly left the drive selector switch in all-wheel-drive, unless we were trying to break loose and slide. Polaris's all-wheel-drive system worked pretty flawlessly, engaging the front wheels and providing extra traction when needed.
Chassis and Suspension
We found the 2015 RZR S 900 to deliver confidence-inspiring handling and the 2016 S 1000 shares the same phenomenal handling, chassis, and suspension. The car measures in at 60 inches wide, the new standard width that many trails are being cut at. Its wheelbase measures in at 79 inches long, which is 11 inches shorter than the XP1K.
Dual A-arms at both ends deliver 12.25 inches of suspension travel up front and 13.2 inches out back, controlled by preload and compression adjustable Fox Podium 2.0 shocks. A rear sway bar helps control body roll. EPS is standard equipment on the RZR S 1000. Connecting the RZR to the ground are 27-inch GBC Dirt Commander Tires, which are mounted on 12-inch cast aluminum wheels. This combination provides traction and helps yield the vehicle's 12.5 inches of ground clearance.
With 12.5 inches of ground clearance, rocks and most trail debris will roll unnoticed underneath the RZR S 1000.
The performance of the chassis and suspension add up to an outstanding handling machine. Steering feels light and accurate, going where it is pointed. Cornering stability is among the best of any UTV we've tested and its lack of body roll leaves you feeling well-connected to the trail on side-hills. High-speed stability is rock solid with no feeling of twitchiness. Unless you need 18 inches of travel for pounding through desert whoops, this suspension on this RZR can handle anything you'll throw at it.
Due to time constraints, we weren't able to tune the suspension. Using the stock settings, action was firm, yet forgiving. It did a decent job of absorbing impacts from roots and rocks. We launched the car a couple of feet in the air numerous times over water breaks, never finding the limits of the suspension travel. We could have softened it up a bit more for smaller impacts, but overall it's good to go as is and could be made even better with a little adjustment
GBC Dirt Commander tires were a great choice for this machine. The angled tread rolls smoothly on hardpack, while its tall, widely spaced center knobs dig deep and offer good clean-out in the mud. When they wear out, we can't see a reason to switch to a different tire for the varying terrain we ride in.
We really liked the GBC Dirt Commander tires for their performance over a variety of terrain.
Brakes
Hydraulic disc brakes can be found at all four corners, with dual piston calipers up front. These brakes offer excellent stopping power. A positive feel is delivered at the brake pedal, allowing you to dial in the right amount of braking force for scrubbing off a little speed or holding the car on the side of a steep hill. You really have to abuse them before there's any sign of fade.
Interior Comfort
Stepping in through the quarter doors, there is plenty of room to enter the machine. We would like to see full doors as standard equipment for better splash protection. The driver's seat features an automotive-style latch and slider system, allowing for easy adjustment. High-backed seats are bolstered on the sides to help keep you in place. The steering wheel features tilt adjustment and the passenger grab bar can be adjusted closer or farther away.
Seat comfort for an all-day ride is acceptable and leg room was sufficient for our 6'4" test driver. The adjustable seat and tilt steering allow you to dial in the ergonomics of the driver's compartment.
Storage and Accessories
The rear cargo bed features a 740-pound capacity, which is quite a lot for such a compact space. A wide array of Polaris-engineered accessories is available to help you customize your RZR any way you like. Polaris says many consumers finance these accessories into their RZRs at purchase, leaving the dealer with a tricked-out machine. A built-in 1.25-inch hitch receiver provides 1,500 pounds of towing capacity.
Conclusion
With the 100-horsepower ProStar engine on board, the RZR S 1000 has the romping low-end power that is missing from the ProStar 900 engine found in the RZR S 900. With most trails being cut 60 inches wide these days, the RZR S 1000's wide stance and shorter wheelbase make it a nimble, stable-handling machine on any trail.
The Polaris RZR S 1000's combination of awesome power and a nimble-handling package make it an appealing machine for a huge variety of consumers.
With the exception of pounding through deep desert whoops, there are few Side-by-Sides available that handle as well. Add in the capability of being able to haul it in the back of a full-size pickup truck and the 2016 RZR S 1000 is one of the best performing, most versatile Sport Side-by-Sides of 2016. It might just be the best machine for the largest number of Sport UTV enthusiasts.
Published December 2nd, 2015 12:29 PM