1 View
2012 Kawasaki Brute Force 300 Review [Video]
July 3rd, 2015 12:08 PM
Share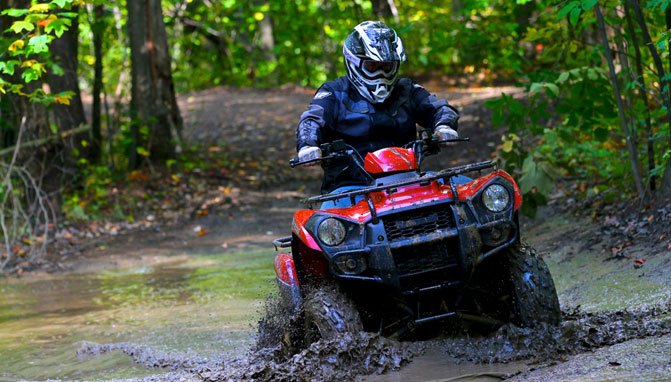 Entry level doesn't have to mean unexciting
In the world of off-road fun there is an underlying theory that bigger must be better, but as we found out recently, dynamite still comes in small packages. This time in the form of Kawasaki's brand new 2012 Brute Force 300.
My humble introduction into the world of ATVs just might have been that clapped out 249cc four-banger utility quad (who's maker I shall make no mention) and it actually belonged to my close friend and neighbor. This borrowed machine taught me how to have fun and that's where I really began to love the sport of off-road riding and four wheelin. It wasn't until I rode the new Brute Force 300 that I was reminded again of how I might have been missing the fun part that had turned me on to riding.
Get the Flash Player to see this player.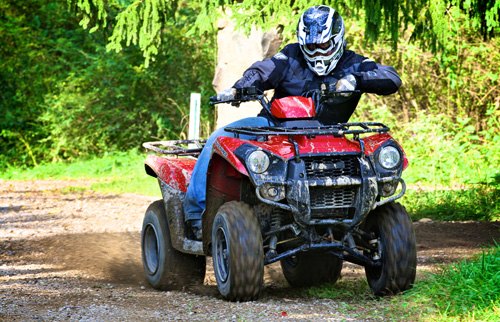 Kawasaki's new Brute Force 300 doesn't look like an entry-level ATV.
In the upper part of our beautiful United States of America lies a small town called Wampum, Pa. and this is where I got back to what brought me into this sport in the first place!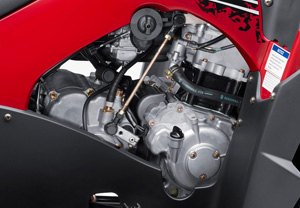 Powering the latest Brute is a 271cc, liquid cooled, single-cylinder engine.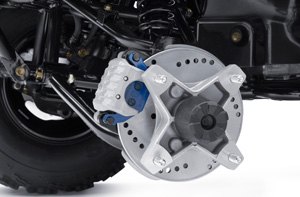 Stopping power is provided by 180mm disc brakes on each front wheel and a single disc in the rear.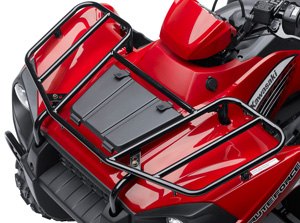 Front and rear racks carry a combined 110 pounds.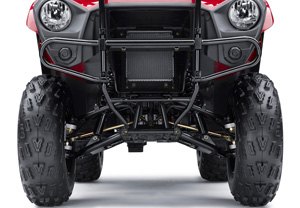 An impressive 10.8 inches of ground clearance helps you get over most trail debris.
For model year 2012 Kawasaki has said goodbye to an old friend, the Bayou 250, and birthed the next in a line of Brute Force ATVs. The moment I laid eyes on this Kawasaki Brute Force 300 from the window of our charter bus I instantly recognized the Brute Force heritage. The sleek Brute Force similarities were instantly evident. So with a helmet and gloves in hand it was time to see if the performance would compare, in the 300 range no doubt, to the older siblings. Dressed for the day we marched out into the woods in Wampum, Pa. to our own world of Myth Busting.
Kawasaki's newest Brute has a 271cc liquid cooled, four stroke, single overhead cam engine that produces enough power to have fun yet is controlled enough for the newer rider. This Keihin 32mm carbureted engine builds a claimed 20 horsepower and enough torque to haul the mail. The linear power is mild off the bottom and ramps into the fun zone in the midrange. With the 300 engine building the power, it is left to the precise design of Kawasaki's CVT transmission to deliver the ponies to the ground. This belt-driven design is also another feature that gives less experienced riders a chance to enjoy the ride instead of worrying about changing gears. Incorporating a gear selection of high, low, neutral and reverse, the Brute Force 300 seems to be ready for whatever the trails have in store. Kawasaki engineers have also geared the transmission to be speed appropriate for the displacement size.
Moving the Brute is not an issue, but one might wonder how it can be stopped from getting away. The triple disc brake set up on the Kawasaki Brute Force 300 is how this is accomplished. The front end has a 180mm disc with a single-piston caliper on each wheel and the rear is controlled by a single disc setup just like the front. Front and rear brakes are separate for more precise control with a floor pedal on the right floorboard and two handlebar-mounted levers. A hydraulic-operated system means you will get even braking all around. There is a cable-operated parking brake thrown in there as well that makes sure that when you step off the machine it won't go anywhere.
If hauling things makes you a happy rider then the Brute has a spot for everything. The front rack can handle 44 lbs and the rear will take on up to 66 lbs for the worker in the family. There is also a sweet storage box up front for bottled drinks out on the trail or ranch. Looking over onto the right side of the 300 we found a small storage compartment for the GPS or a pair of gloves. The controls of the 2012 Brute Force 300 are situated for maximum performance also. Sitting in the captain's chair you'll see a digital display that gives you information like speed, fuel level and temperatures. There is also a clock for the timely rider.
Riding Impressions
If you are asking yourself just how well the machine rides, then hold on and let's look together. I think you'll be just as surprised as we were.
We put the Brute Force 300 to the test at a ride area called Mines and Meadows ( we've been here once before). Mines and Meadows offers a variety of terrain types and the Brute Force 300 seemed right at home. The trails had many different types of grip from slick mud to gravel and even tough, hard pack. This would be a true test of versatility for this beast.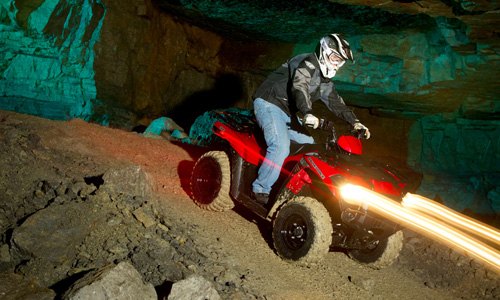 We took the Brute Force 300 into an old Pennsylvania mine for a spin.
Our Kawasaki Brute Force 300 fired up and sitting in the driver's seat I immediately noticed the parking brake lever, which is on the left side of the bars. This has to be disengaged to really get to the start/stop buttons. It's a great addition to the machine. The seat felt comfy and being a larger rider that's important. There also seemed to be plenty of room for my over six-foot-tall frame. I usually stand when I ride so after the first few miles I felt as if I were bending over a bit to reach the bars. I'm sure I could cure that by just swinging them up a bit.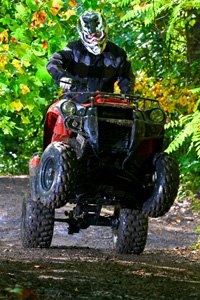 Who says you can't have fun on a 300?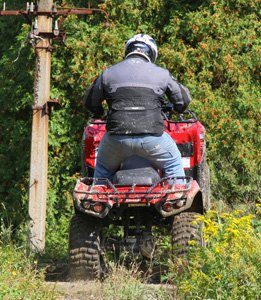 Two wheelie pics? We make no apologies!
The suspension on this Brute handled everything like a champ. It's not often that a 250-pound guy can ride a smaller machine and say that. The double A-arm suspension up front coupled with the rear swinger seemed to be just right for the Mini Me Brute. As far as the power is concerned I felt like at the end of the day this machine has just what a person needs to have an incredible time on the trail. The Brute climbed whatever I decided to climb and when I got ready to stop the incredible brakes made sure I wasn't disappointed. I also love the fact that the brake are separate from front to rear as it provides me with just that much more control. The stable steel-framed Brute is a little quick turning at times, but for the most part it will heed to the driver's commands without any hesitation.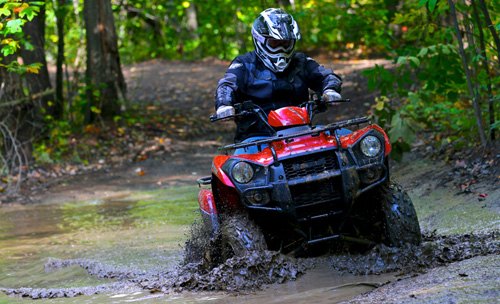 This little Brute handled everything we threw at it.
Overall I'd say this is a win for Kawasaki and anyone who decides to throw down the $4,199 price tag (a cool $100 more than the new Yamaha Grizzly 300).
I'm sure there is more to talk about, but if I could give a final thought it would be that when I was on the 2012 Kawasaki Brute Force 300 it really feels like I am on a Brute Force. Looking out over the fenders as I rode in for the end of the day I was wishing I had more time to enjoy the new ride and I'm certain you will feel the same.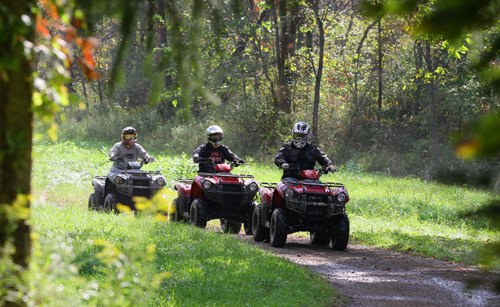 Whether you're looking for your first ATV or just want an affordable play thing, the Brute Force 300 is certainly worth a look.
2012 Kawasaki Brute Force 300 Specs
Engine Type:
271cc liquid-cooled; 4-stroke; single cylinder
Bore x Stroke:
72.7 x 65.2mm
Compression Ratio:
11.0:1
Fuel System:
Keihin CVK32
Ignition:
Direct Current CDI
Final Drive:
2WD, Shaft
Transmission:
Two-speed automatic with reverse
Frame:
Double cradle, steel
Front Suspension:
Double wishbone / 5.2 inches travel
Rear Suspension:
Swingarm / 5.6 inches travel
Front / Rear Brakes:
Dual 148mm discs / Single 148mm disc
Front Tires:
Maxxix 22×7-10 tubeless
Rear Tires:
Maxxis 22×10-10 tubeless
Wheelbase:
45.8 in.
Wet Weight:
535.7 lbs
Length x Width x Seat Height:
75.3 x 42.5 x 33.3 in.
Ground Clearance:
6.1 in.
Fuel Capacity:
3.2 gal
Lighting:
35 W headlights, 5W tallight and 21 W brake light
Front/Rear Rack Capacity:
44 lbs / 66 lbs
Towing Capacity:
500 lbs
Instruments:
Speedometer, odometer, clock, fuel gauge and coolant temp light
Colors:
Aztec Red, Super Black
MSRP:
$4,199
Related Reading
2012 Kawasaki Teryx4 750 4×4 Preview
2012 Kawasaki Brute Force 750 4X4i EPS Review [Video]
2009 Kawasaki Brute Force 650 4x4i Review
2009 Kawasaki Prairie 360 4×4 Review
2012 Yamaha Grizzly 300 Preview
Published October 10th, 2011 4:25 PM
Top Brands
Popular Articles