1 View
2014 Honda Pioneer 700-4 vs. Yamaha Viking 700 – Specs Shootout
June 18th, 2015 3:17 PM
Share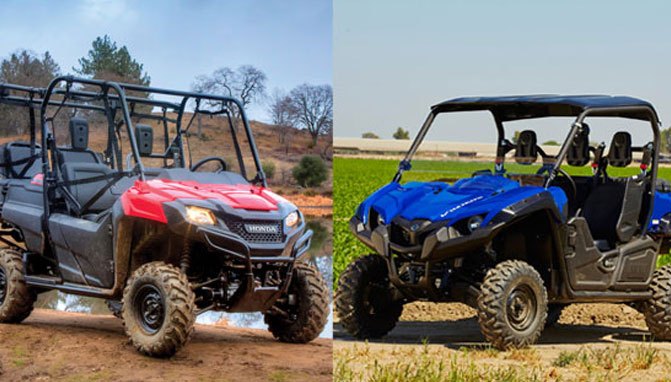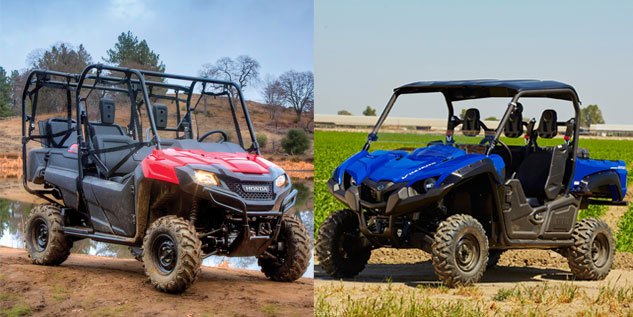 We compare two Utility-minded multi-passenger UTVs
While much of the UTV world seems fixated on the ongoing battle for horsepower and Sport class supremacy, a handful of manufacturers are going all in with the Utility market. Honda's Pioneer 700-4 and Yamaha's Viking 700 both fall on the Utility side of the market we thought they were worth comparing against each other on paper.
If you're not loyal to one brand over another, you might have a tough time deciding which of these two machines is right for you. To make an informed decision, users will have to closely examine what exactly they plan to use the machine for and even the type of terrain that the machine will most frequently be used in.
Multi-Passenger Utility Side-by-Side Specs Comparison
Honda Pioneer 700-4
Yamaha Viking FI
Price
$11,699
$11,599
Engine
675cc Single
686cc Single
Horsepower
36.3
46.9
Transmission
Automatic with hydraulic torque converter 2WD/4WD & 4WD dif lock
Automatic CVT with 2WD, 4WD & locked 4WD
Fuel Delivery
Electronic fuel injection
Electronic fuel injection
Wheelbase
76.8 in
84.1 in
Overall Dimensions (LxWxH)
114.8″ x 60″ x 78.3″
122″ x 61.8″ x 74.1″
Curb Weight
1,396 lbs
1,342 lbs
Turning Radius
14.8 ft
14.8 ft
Front Tires
OTR Blacktone 4 Ply 25-8-12
Maxxis Bighorn 2.0 6 Ply 25-8-12
Rear Tires
OTR Blacktone 4 Ply 25-10-12
Maxxis Bighorn 2.0 6 Ply 25-10-12
Ground Clearance
10.5 in
11.8 in
Fuel Capacity
8.2 gal w/Reserve
9.7 gal
Suspension Front/Rear
Independent Double Wishbone 7.9″/9.1″
Independent Double Wishbone 8.1″/8.1″
Brakes
Front Dual Hydraulic Discs, hydraulic disc rear
Dual Hydraulic Disc
Lighting
Halogen
Halogen
Instrumentation
Multifunction digital display featuring drive indicator, speadometer, odometer, trip meter, fuel guage
Multifuntion digital display featuring speedometer, odometer, dual tripmeter hour meter, 4WD status, transmission position, clock and fuel gauge
Towing Capacity
1,500 lbs
1,500 lbs
Drivetrain
Shaft drive
Shaft drive
Bed Capacity
1000 lbs
600 lbs
Power Steering
No
Available on EPS model
Seating Capacity
4
3
Brother from another Mother
From a 5,000-foot view, the two machines appear very similar. Both provide workhorse capabilities with the option of carrying more passengers and all at a nearly identical price. With a difference of just $100 ($11,699 for the Pioneer and $11,599 for the Viking), if you were hoping the price tag would ease the decision making process you'll have to dig a little bit deeper.
COMPARISON: Read our review of the 2014 Honda Pioneer 700-4
Both machines offer hydraulic disc brakes and three-speed automatic transmissions with 2WD, 4WD and 4WD locking mode. It's worth mentioning that while the Viking features the typical CVT (continuously variable transmission), Honda gave the Pioneer a more automotive-like tranny and included a hydraulic torque converter.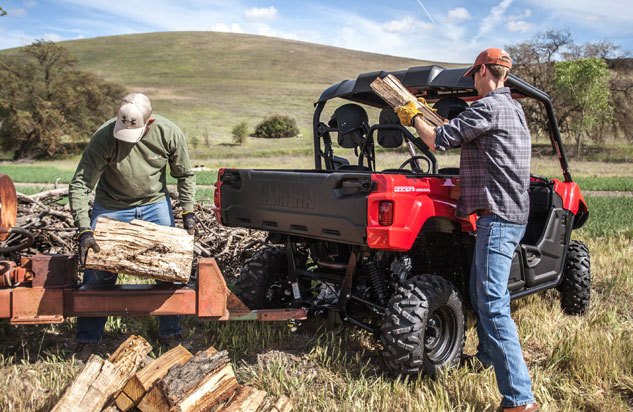 The Viking makes for an excellent work companion.
Both engines are single overhead cam designs with electronic fuel injection. Displacement is nearly identical – 675cc for the Pioneer and 686cc for the Viking. Power, however, is a clear win for the Viking. The Viking produces a claimed 46.9 horsepower compared to 36.3 ponies for the Pioneer.
The turning radius is identical on both models at 14.8 feet and the Pioneer tips the scales at 1,396 pounds, just 54 pounds more than the Viking's 1,342. Digital displays on both vehicles offer all the standard indicators and both machines come with standard halogen headlights.
COMPARISON: Read our review of the 2014 Yamaha Viking 700 EPS
Key Differences
If you're in the market for a utility vehicle, it's a safe assumption that you plan to haul a load and that's where the main differences in these machines begin. While the Viking's bed is large enough to carry a full size pallet, its 600-pound capacity is 400 pounds less than that of the Pioneer. If you don't think you'll ever need to haul more than 600 pounds then that's not an issue, but it's worth noting the difference. Towing capacity is the same on both vehicles at 1,500 pounds. Both the Pioneer and the Viking offer a standard two-inch receiver hitch.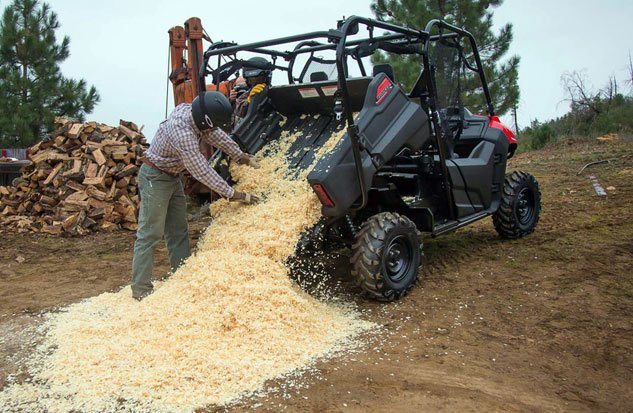 The Pioneer can hold a whopping 1,000 pounds in the cargo bed.
The Viking provides a larger footprint than the Pioneer with an 84.1-inch wheelbase compared the Pioneer's 76.8. It's also 1.6 inches wider and eight inches longer than the Pioneer. Again, if you're looking for a farm or ranch vehicle that never leaves the property, overall dimensions probably won't matter a great deal, but if you plan to load your machine up and haul it to hunting camp, these differences can be important. The more compact Pioneer can squeeze into tighter trails, but the larger footprint of the Viking may offer more surefootedness.
COMPARISON: Read our review of the 2014 Honda Pioneer 500
When considering the suspension on both vehicles, having a good idea of where and how the machine will be used will help make the decision easier. The Viking provides 8.1 inches of travel all the way around with 11.8 inches of ground clearance. That's over an inch more than the Pioneer's 10.5 inches of ground clearance. However, the Pioneer provides an inch more of rear suspension travel, possibly to help handle the larger bed capacity.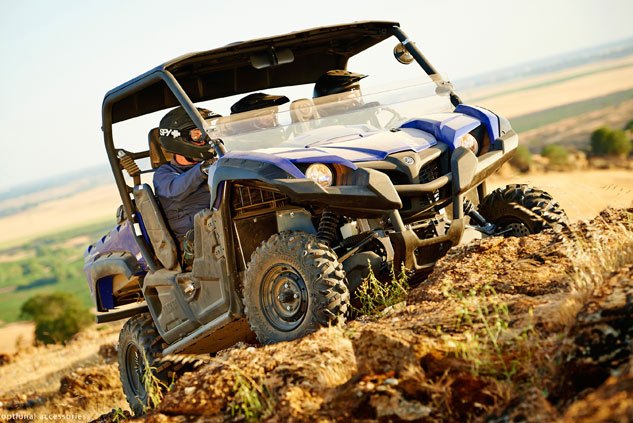 When the work is done, the Viking can handle itself adeptly on the trail.
Both machines have massive fuel tanks, with the Viking offering 1.5 gallons more capacity than the Pioneer. If riding all day without stopping for fuel is important to you, it's something to keep in mind.
You'll find 25x8x12 front and 25x10x12 rear tires both models. We could see Pioneer users replacing the four-ply OTR Blackstone tires with something more durable. The Viking uses the tried and tested six-ply Maxxis Bighorn 2.0 tires.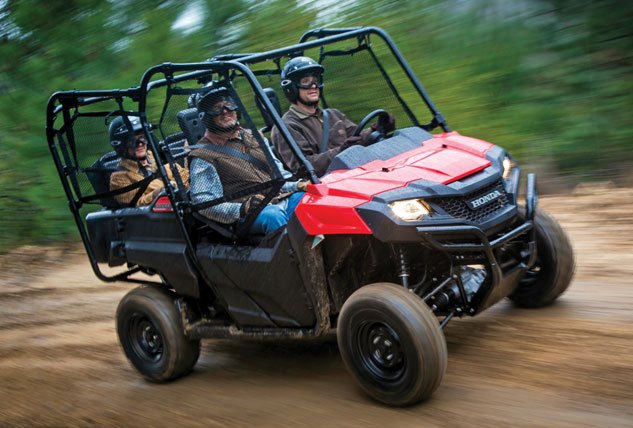 Up to four people can fit in the Honda Pioneer 700-4.
Both vehicles are available in a variety of colors, but only the Viking offers an option with EPS (electronic power steering). Although it makes the price tag jump $1,000, we can foresee this model being a hit with consumers. EPS is becoming more and more popular so at least giving consumers the option of forking out some extra cash for it seems like a smart move by Yamaha.
COMPARISON: Read our review of the 2015 Yamaha Viking VI
One key difference between these two vehicles, and perhaps the most important one, is passenger carrying capacity. The Viking allows for three full-size adults to fit comfortably in the front of the machine while retaining the use of the entire cargo bed. While the Pioneer provides seating for four, the rear passenger seats (when in use) take over the cargo bed. That's probably not a deal breaker for most people and having the ability to take a family of four on an outing is a nice perk; however, it would leave little room for a cooler, hunting equipment or anything else.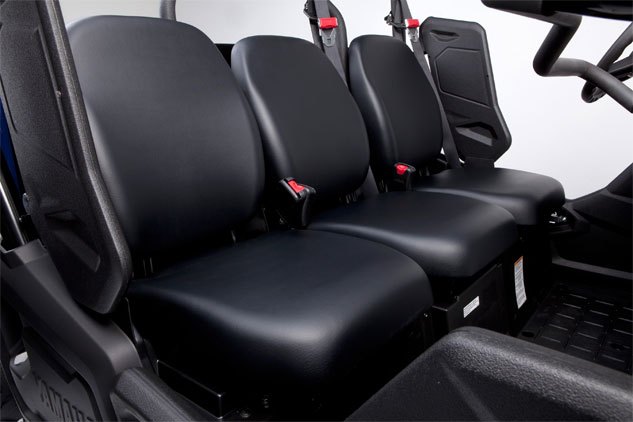 All three Viking occupants sit in the front of the machine, with the middle passenger placed slightly rearward to provide more elbow room for everybody.

This photo illustrates the different seating options with the Pioneer 700-4. When the rear seats are folded down, you've got full access to the cargo bed. When the rear seats are up and in use, cargo space is severely limited.
Of all the vehicle comparisons we've done recently, these two vehicles are probably the most similar. Consumers have a tough choice on their hands. Regardless of which way you lean, both models are an affordable option for both work and play. For the time being, this appears to be why the Utility segment continues to outperform the Sport Side-by-Side market.
Published July 30th, 2014 2:32 PM
Top Brands
Popular Articles