1 View
Arctic Cat Thundercat Victorious at Baja 1000
December 3rd, 2009 12:18 PM
Share
Thundercat tops 4x4 Utility ATV class
Arctic Cat and its factory off-road racers are setting more "firsts" for the company and the sport of off-road racing than anyone else.
The Arctic Cat/Fines Double Racing team (FDR) delivered another record-setting performance at the SCORE-Tecate Baja 1000 off-road race, winning the 4×4 Utility ATV class aboard the powerful Thundercat 1000 H2. The FDR team swept the entire 2009 SCORE series, including wins at the Baja 250 and 500.
The Arctic Cat/FDR team achieved its unmatched results by pressing the advantage of the industry's most powerful production ATV. The 951cc V-Twin with EFI helped provide the muscle, torque, horsepower and acceleration necessary to dominate the demands of high speed desert racing.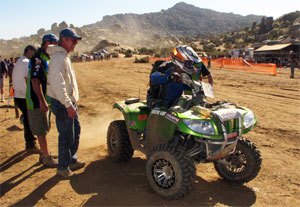 "Our Thundercats are race-proven, with several thousand miles stacked up on the odometer," says team captain Reid Rutherford. "This 2009 Baja 1000 win completes 13 finishes in a row between Nevada's Best-In-The-Desert series and the SCORE Off-road series. This is our 9th Baja finish in a row, which is an unheard of record when it comes to competing in long distance races as brutal and unforgiving as the Baja, and that's something that our team, sponsors and Arctic Cat can be proud of."
"We are extremely proud of the FDR team, the historic win and championship, our ATVs and our continued success in Baja," says Ted Bettin, Arctic Cat race coordinator. "In 2008 an Arctic Cat Prowler became the first UTV to finish and win the Baja 1000. This year we were the first to sweep the entire series in the ATV class. That's a bold statement about the performance and durability of every Arctic Cat ATV and UTV."
For more information on the Arctic Cat Thundercat 1000 H2 4×4, visit ArcticCat.com. Visit FinesDoubleRacing.com for more information about Team FDR.
Related Reading
2008 Arctic Cat Thundercat 1000 Review
Arctic Cat wins Utility ATV class at Baja 500
Arctic Cat Thundercat 1000 earns major win Published December 3rd, 2009 12:18 PM
Top Brands
Popular Articles