3 Views
August 19th, 2021 2:53 PM
Share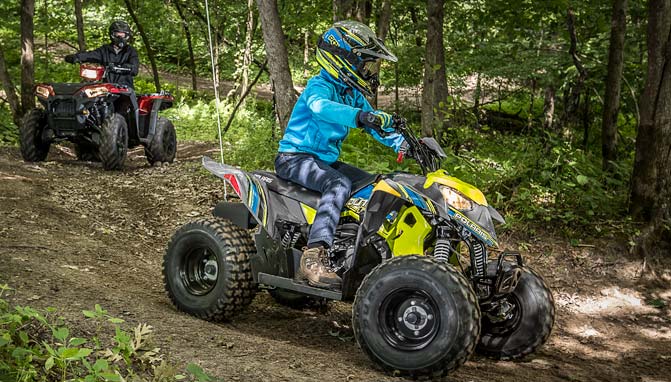 ATV decals are the quick and inexpensive to add some customization to your ride.
If you've been feeling lately like your ATV is just a bit too… plain looking, some ATV decals are in order.
In today's massive aftermarket, ATV decals and stickers exist for just about every imaginable purpose, passion, and design sensibility, from classic flame and stripe decals to customizable racing numbers and complex, abstract geometric patterns with vibrant color palettes. If you can imagine it, it's probably available somewhere as a decal.
Of course, what looks good to one ATV rider might seem cringey or gross to another, and with such an incomprehensibly large collection of ATV decals and stickers available today, trying to find the "best" ones available is a bit of a fool's errand. But we've tried anyway. Here on this list are, in our humble opinion, the best ATV decals available today.
1. Editor's Choice: B4B Stickers Vinyl Graphic Motorsport Decals
For about as long as motorsports have been around, sponsorship deals have been an integral part of the equation, bankrolling drivers and placing their sweet, slick-looking brand logos on those drivers' cars. You can emulate that look yourself with one of these B4B Stickers motorsport decal sets, which ships with six expansive, full-color sheets of brand decals including big names like Gulf, K&N, O'Neal Motocross, Easton, MOMO, and Red Line. These die-cut ATV decals are all slightly different sizes, but each one averages about a couple of inches across, and you receive a boat load of them in a pack, with a 90-day satisfaction guarantee.
2. Best Trendy Decal Opiton: StickerChef Tribal Smart Flames ATV Decals Set
Love 'em or hate 'em, flame decals will forever be a fixture in the custom hot rod, motorcycle, and powersports world, and while you undoubtedly have your pick, we recommend this Tribal flame decal set from StickerChef. They're pretty massive for ATV decals, measuring 48" by 11" per side, so you'll likely have to cut them for a proper install, but if you don't mind engaging in a little bit of creative sticker slicing, they're the perfect fire-themed graphics for your trusty ATV, with a clean, simple appearance and long-lasting high-gloss vinyl composition. Made in the USA, these ATV decals are rated for up to 6 years of use.
3. Best ATV Racing Background Kit: MxNumbers Custom MX & ATV Number Plate Decals
There's something about race ATVs that just make them look cool. And if you're anything like us, you probably devoted hours of your childhood to sketching out your name and racing number on the pages of your notebook. That's what makes these custom ATV decals so darn cool; you can order finished, high-quality stickers with your name and a racing number of your choice, in any one of 17 different colors and 14 different fonts, and then plaster them all over your vehicle to let those other riders know you're not to be trifled with. A total of three ATV decals, each including both your name and chosen number, are included in each purchase, and the package is quite reasonably priced considering that each one is custom-made to order.
4. Best Racing Background Alternate: MxNumbers ATV Number Plate Decals
Race coming up? Or maybe you just want to give your ATV a showy, motorsport-inspired appearance. Either way, these number plate ATV decals from MxNumbers are the perfect choice: highly legible, flashy-looking, and ridiculously customizable. These custom ATV decals let you select your number, the main print color, outline color, drop shadow color, and background color from a palette of 42 different options, giving you precise control over the end product. After you've made your selections and placed your order, you'll receive three matching number plate decals, each one measuring 6" by 6" to 5" tall by 9" wide, depending on the number of digits – just the right size to fit a standard 7" by 10" plate.
5. Coolest Looking Decals: Vinyl Customs Flying Tigers Decals
Of all the fighter squadrons in US military history, the 1st American Volunteer Group from World War II – nicknamed the "Flying Tigers" – were the most distinctive of all, their Curtiss P-40B Warhawk aircraft adorned on either side by big, snarling teeth and angry eye decals. That distinctive look has been a part of the hot rod scene ever since, and thanks to Vinyl Customs, you can even apply it to your ATV. The company's Flying Tigers decal set comes with two snarling teeth and two angry eye ATV decals, one for each side of your machine, with available sizes ranging from 3" to 30" long. Made from laminated vinyl, they're both waterproof and UV-resistant, ensuring a 7-year outdoor lifespan and exceptional good looks.
6. Best Flashback Era Decal Kit: AMR Racing ATV Graphics Kit - Flashback
Have you ever wished that your entire ATV could just be a bit… flashier? That's where a full-coverage ATV graphics kit comes in – like the retro-looking "Flashback" graphics kit from AMR Racing. These ATV decals and stickers are precisely cut to cover every square inch of exposed bodywork on your machine, so needless to say, each kit is very much model-specific; there is no one-size-fits-all version. But AMR Racing offers its sharp, stylish Flashback kit for numerous models from the Yamaha Raptor 80, 350, and 700, to the Suzuki LT-Z50 and LT-Z400, to a few versions of the Polaris Sportsman and Honda TRX, and more. What's more, this graphics kit even functions a bit like armor for your factory bodywork, with triple-layer construction and a 22-mil thickness taking light bumps and scratches and leaving your ATV unscathed underneath.
7. Best Camo Decal Kit: AMR Racing ATV Graphics Kit - Woodland Camo
Speaking of AMR Racing's full-coverage ATV graphics kits, the company also offers a "Woodland Camo" version – perfect for those who use their ATVs to do a bit of hunting. You still get the same exceptional print quality and three-layer construction with a 22-mil thickness, which helps provide a buffer between your ATV's factory bodywork and destructive hazards like rocks and branches. The only difference is that instead of a flashy, retro-looking color scheme, you get photorealistic camouflage with images of tree trunks, branches, and leaves to help your ATV blend right in with the surrounding foliage. Once again, these ATV decals and stickers are precision-cut for very specific models, but AMR Racing offers kits for the Polaris Sportsman, Scrambler, and Predator; Honda Rancher, Recon, Foreman, and TRX; Yamaha Raptor and Grizzly; and Suzuki King Quad and LT model lines.
8. Best Factory Honda Replacement Decal: Factory Effex Honda Die-Cut Sticker
Are you a Honda ATV owner who likes to keep things simple? Then you should check out these OE-looking Honda ATV decals from Factory Effex. Available in lengths of 1' or 3' in either white or red, these 4-mil die-cut Honda ATV decals are an easy, inexpensive way to show your brand pride, with the classic Honda wing logo and old school-font Honda name set next to each other, ready to dress up your machine. Installation is as simple as peeling off the backing, carefully applying the ATV decals to clean bodywork, and pulling off the transparent cover, and for the price, you might just as well order a whole slew of them and slap a few on your toolbox, trailer, and laptop lid.
9. Best Nostalgic Manufacture Decals:Nostalgia Decals OEM-Style Motorsport Decal
Honda ATV decals aren't the only option when it comes to OEM-inspired ATV decals, of course, and if you ride a Yamaha or an Arctic Cat model, you might want to check out Nostalgia Decals. The company offers motorsport-inspired ATV decals and stickers for both brands, with a fantastically retro, OE-looking Yamaha Racing decal in blue and red that looks just like it travelled through time from the 1980s, and an awesome green and gray Team Arctic Cat sticker with a snarling saber-toothed cat logo and highly stylized lettering. Both are big and highly visible, with crisp, high-quality printing on Orafol vinyl material, which comes with a 4-year outdoor warranty, and both look like they're fit for genuine factory racecraft.
How Do I Cut ATV Decals?
Most ATV decals will require no modification for a proper install; just spray and wipe clean the area where the sticker will be applied, peel the protective film off the adhesive backing, and carefully set into place before firmly pressing from one end to the other to drive out any bubbles. (Some decals might also have a transparent protective film on the top, meant to keep multiple elements properly aligned and spaced during installation, which must be removed after application. Always remember to check for this.)
However, now, and then, you might come across a decal that needs to be cut to fit your factory bodywork properly. For example, you might wish for your racing stripe decal to run across multiple separate panels, or for a long flame decal to start on your rear fender and continue onto the front. Or, you might have bought a graphic that's just slightly too large to fit onto the right body panel, necessitating a bit of trimming.
To cut your ATV decals, first decide where you want them applied and how you want them oriented, and then tape them into position using painter's tape. Painter's tape is easy to apply and remove, and typically leaves behind no tacky residue on either your decal or your ATV's bodywork, making it the perfect choice for this sort of task. Now, find the edge of the panel where the decal should end, and use a sharp razor blade to precisely score the cut you want to make on the vinyl. You can use a pen or a marker if you'd rather, but these are less precise and will leave behind a hard-to-remove trail of ink.
Before removing the decal for the actual cutting, you may want to frame the decal with the backing paper with several pieces of tape. This will help you to align the decal later after you've made your cut.
Now, remove the decal from the ATV and lay it onto a piece of scrap cardboard or wood. Corrugated cardboard works well in most cases, but if you're nervous about piercing through and marring your work surface, you may wish to place a piece of wood underneath regardless. Using your razor blade, slowly, carefully cut along the line you scored or marked earlier. Make sure your blade is razor sharp, and keep in mind that it may take several passes to cut entirely through the decal, the adhesive backing, and any protective film on the top.
Why not simply use scissors? You can, but we prefer razor blades; scissors are more difficult to be precise with due to their thicker blades, and they work by tearing the material, which may leave bent or curled edges that are hard to smooth out.
After you've made your cuts, install your ATV decals as you would normally, and voila. You're all done.
Become an ATV insider. Get the latest news first by subscribing to our newsletter here.
We are committed to finding, researching, and recommending the best products. We earn commissions from purchases you make using the retail links in our product reviews. Learn more about how this works.
Published August 19th, 2021 2:53 PM
Top Brands
Popular Articles