58 Views
April 22nd, 2021 10:28 AM
Share
We're committed to finding, researching, and recommending the best products. We earn commissions from purchases you make using links in our articles. Learn more here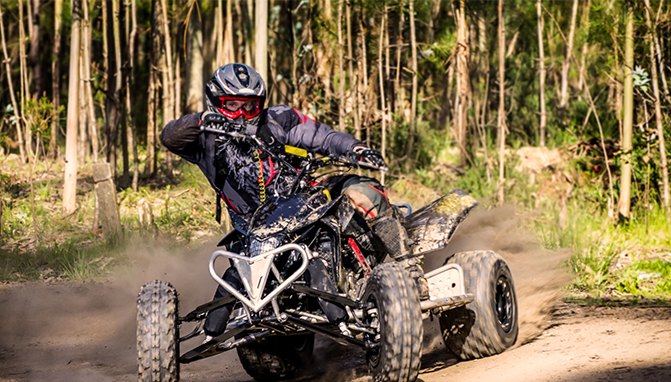 Add some safety and style to your ATV with a set of nerf bars
Adding a set of ATV nerf bars is often the easiest and best upgrade to make to your ATV. Aside from giving your ride a sport look, they add an element of safety to catch your foot/boot in the event you lose your footing on your pegs. Additionally, if you're riding or racing with others, they can help to prevent another wheel from intruding into the area of your ATV that can cause a catastrophic wreck. In fact, many race organizations and tracks make ATV nerf bars a mandatory item before you can even consider riding or racing.
ATV nerf bars are also available in a wide variety of configurations, with the most popular being a style that has an integrated foot peg (pro-peg) and heel guards. The pro-peg style foot pegs are usually made from stainless steel and have a wider base than stock and much more aggressive and sharp teeth on the peg for better bite into your boot. As for mounting, the pro-peg style replaces your OEM foot peg using that location for one mounting point, while the front cross-tube mounts to your frame. The more traditional style ATV nerf bars mount to your OEM foot peg and the cross-tube mounts to the frame as well, just like a pro-peg model.
Both come in a variety of finishes like raw aluminum, chrome plated, or even custom powder coated to a color of your liking. Some brands default with specific color nerf bar nets, while others give you a variety of color options so you can coordinate with the color of your machine.
Our team of ATV experts have hand selected some of the best ATV nerf bar brands in the industry, for both conventional and pro-peg style nerf bars, with prices for every budget. Dive in to see which is best for you!
Lead photo courtesy of homydesign / Shutterstock
1. Editors Choice - Houser Racing Pro Bounce Nerf Bars
Coming from a family with a long history in ATV racing, the Houser Racing Pro Bounce Nerf Bars have taken pro-peg ATV nerf bars to a whole new level. Made from strong aluminum tubing, these ATV nerf bars utilize your OE foot peg mounting locations and front mounting points to the tubes of the frame for quick installation. These nerf bars also feature an integrated heel guard to keep your boots from getting sucked in behind the pegs and into the rear wheels should your feet come off of the pegs, but that's not the highlight of these nerf bars.
What makes these ATV nerf bars shine from all the rest is the pro-bounce feature that lies in the design of the foot peg. The foot peg pivots on the the frame of the nerf bar and uses a rubber ball in-between the peg and mount to act as a dampener for your foot. This helps to absorb harsh shock that can be felt through the pegs. Take it from someone that has experience with this setup, these pegs are legit! Whenever you can minimize shock through your body, do it. While pricey, the most expensive on our list, the safety and comfort they provide are worth every penny. They're available for most popular Sport ATV models but on Amazon we've only found them for the Honda TRX 450R and EFI Yamaha YFZ 450R.
2. Best OEM Nerf Bar - Yamaha GYTR Nerf Bars
If you own a Yamaha Sport ATV and want a good set of ATV nerf bars, you can't forget about the ones from Genuine Yamaha Technology Racing (GYTR). These products are made by Yamaha for the specific Yamaha models, so fit and finish is practically perfect. The pro-peg series nerf bars are available for the YFZ 450R and are constructed from strong 1.25", 6063 aluminum alloy tubing for maximum strength. The integrated foot peg is 2 1/2" wider, and .75" longer than stock. For increased rider comfort, there are two height options for the foot pegs as well.
Installation is simple since the pro-peg nerf bars mount in the back to your OE foot peg location and the front mounts to two frame points and utilizes an extruded joint clamp align and secure the nerf bars up front. If you are the owner of a Raptor 700, Yamaha also offers a conventional non-pro-peg nerf bar that doesn't have all of the cool features but still offers great fit and protection. We feel these are the best options of nerf bars if you have either of the two supported models.
3. Best Budget Nerf Bar - Tusk Racing Nerf Bars
If you want a solid yet inexpensive set of ATV nerf bars, you can't beat the Comp Series line from Tusk Racing. Manufactured using 1 3/8" alloy tubing, these ATV nerf bars come in a brushed aluminum finish with black nylon webbing that can be replaced with the same or alternate color options when you want. Mounting is simple to your OEM foot pegs and frame using the supplied hardware. Available for most popular Sport ATVs, these are as basic as you can get when it comes to nerf bars, but priced under $100 you can't beat the deal.
4. Lonestar Racing DC-Pro Nerf Bars
These ATV nerf bars were designed by racers, for racers. Available for most popular Sport ATVs ( Honda TRX 450R and Yamaha YFZ 450R on Amazon), these nerf bars were designed with a wider foot peg stance with inner crisscross teeth to reduce boot wear. Made from durable 1061 aluminum tubing, they also have removable heel guards. Both foot pegs and heel guards were specially designed to drain out mud and water to avoid clumping.
These are the same nerf-bars that you'll find on many of the worlds fastest ATV racers, so they'll be the perfect addition to your ATV.
5. Alba Racing ATV Nerf Bars
Another company that has been around forever is Alba Racing and it shows in their products like these ATV nerf bars. If you've got an older ATV like a Yamaha Banshee or Blaster, they still carry the older conventional style nerf bars if you've been looking for some. As for the later model ATVs like the Kawasaki KFX 450R, Yamaha YFZ 450R, and Raptor 700 you can get their Pro Peg Heel Guard Nerf Bars.
The nerf bars are manufactured from 1 3/8" heat treated aluminum tubing and features chrome plated mounting hardware. The pro-peg foot pegs are extra wide for increase comfort, provides more foot placement options, and also feature a kick-up end for better body leverage while cornering. What's even better is that these stainless foot pegs are also adjustable for height and are 100% replaceable so when they wear down, you only need to replace the pegs and not the entire nerf bar assembly like some other brands. As a company that's been around as long as they have, Alba is big on customer service so if you have an issue, give them a call and they'll do their best to solve it.
6. DG Performance ATV Nerf Bars
DG Performance is one of the longest running companies in the ATV industry so they know what it takes to make a quality product and it shows in their various options of ATV nerf bars. With options of steel or aluminum nerf bars, aluminum being offered in standard (1" diameter tubing) or Fat Series (1 1/2" diameter tubing), DG has some of the most offerings of any brand for nerf bars. While they don't offer any pro-peg option, their ATV nerf bars are stout, reliable and have a reputation for simple bolt-on installation.
We are committed to finding, researching, and recommending the best products. We earn commissions from purchases you make using the retail links in our product reviews. Learn more about how this works.
Should I use nerf bars for woods racing?
If you want to run a nerf bar, by all means do it. An advantage woods racers have not running a nerf bar is that it's easier for them to push their machines when they get caught in the sticky mud and it might be easier for them to maneuver in tight technical areas without them. A feature on the Houser Racing nerf bars is their tree hugger design, that allows you to use the nerf bar as a pivot. Ultimately you run what makes you most comfortable.
Is it difficult to install ATV nerf bars?
Normally no. Some brands/models are easier than others, but for the most part companies try to design their products to be a simple bolt-on installation. That's not to say that there aren't some companies that won't require some drilling or have products that are an unperfect fit. Look to reviews and ask around for peoples opinions on the different products to be sure. Published April 21st, 2021 6:47 PM
Top Brands
Popular Articles