3 Views
FMF Exhaust Buyer's Guide
May 25th, 2021 12:03 PM
Share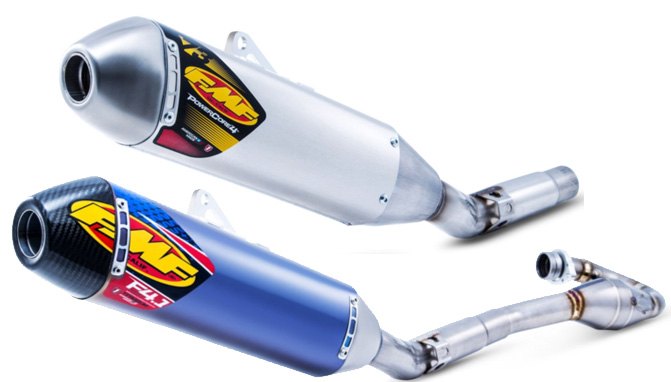 The Flying Machine Factory is ready to give your ATV a boost
When ATVs exploded onto the scene in the 1980s, FMF was already well known as one of the top performance companies in the motocross world. The brand jumped into the ATV world with full throttle and quickly became one of the biggest names in performance exhaust and other performance enhancements. Today, the Flying Machine Factory – FMF – still makes some of the best performing, highest quality exhaust systems for your ATV. Which one is best for you? Read our FMF exhaust buyer's guide and see which system will work best for you.
1. FMF Factory 4.1 RCT Anodized System With Carbon End Cap
The latest four-stroke system from FMF exhaust is really pretty cool. It starts with the titanium Megabomb header pipe with its bulging midsection that increases horsepower by as much as 3hp just on its own. The Megabomb also has the effect of reducing sound output by as much as 1.5dB. The pipe is designed for low- and mid-range power, while still giving the top-end a boost. Being titanium, weight is cut while durability is improved. The pipe is mated to an anodized titanium muffler that uses FMF's Resonance Chamber Technology with a five-sided canister that creates great power output while getting a better handle on the sound output, too. This cuts excessive noise while still letting you find the horsepower increase you are looking for. The end cap is made from full carbon fiber for a trick look and even more weight reduction. Being a full system, you also get the spark arrestor insert that can easily be removed if you're running on a closed course.
2. FMF Powercore IV S/A Exhaust System
The Powercore IV system is perfect for those looking for an affordable exhaust upgrade. It has a lightweight aluminum muffler with a stainless steel header and mid pipe. The end cap is also made from durable stainless steel. There is a removable spark arrestor and a Quiet Core insert is available separately to lower the exhaust tone. This FMF exhaust system is available for most four-stroke sport and recreation ATVs and gives you a definite performance boost, and FMF quality for a modest cost.
3. FMF Q4 S/A Complete Exhaust System
The Q4 is for the rider looking for that FMF power boost while also wanting to keep the sound output as low as possible. On average, the exhaust noise is kept around 94dB. The aircraft-grade aluminum muffler has more packing volume, so you get that lowered tone and get to go longer between repacks. The spark arrestor is USFS approved and there is no screen to blow out, so maintenance is easy. The pipe is made from durable chrome steel that looks as good as it performs. This is a great option for trail riders; especially when we are trying to maintain the good image of ATV riders in general.
4. FMF Factory 4.1 System
Not one to only offer one option for today's four-stroke machines, FMF also has the Factory 4.1 system that uses the same anodized titanium muffler but with the stainless steel Power Bomb pipe. The Power Bomb is a section of the header pipe that is placed at a specific spot based on the model of machine it is going on. The module increases rear-wheel felt power by as much as 10%, while cutting down on some of the excess sound, something FMF is very concerned with. The Power Bomb, much like the Mega Bomb pipe, acts like the expansion chamber from an older two-stroke machine. Exhaust gases are allowed to expand and contract at a key point, creating more power.
5. FMF Gold Series Fatty Two-Stroke Moto
There is a reason FMF still makes pipes for the two-stroke crowd - there's a call for it. People who have the bikes love them and people are still buying the used machines where they can. For the Honda, Suzuki and even the Yamaha Blaster owners out there, the FMF Fatty Moto pipe is a great option, with smooth power delivery with a heck of a mid-to-top range boost. It is a great pipe for track and trail alike. The chrome-like finish turns a golden hue as the pipe is used longer, making these pipes look as good as they perform.
6. FMF Gold Series Fatty Torque
When you want low-end grunt from your two-smoker, you need a pipe designed for it. For many, that pipe is the FMF Fatty Torque. This pipe is similar to the moto pipe in construction but the shape is designed to boost the low to mid-range power while still providing decent top end boosts too. It is available for all the same machines with the addition of the most successful and longest-produced two-stroke machine - Yamaha's screaming Banshee. If there was ever an ATV that needed a low-end boost, it was the Banshee, and this FMF exhaust is the most popular pipe ever made for the machine.
7. FMF PowerCore 2 Silencer
Made from a lightweight 6061 T6 aluminum oval body, the PowerCore 2 is the perfect compliment to your FMF Fatty pipe if you don't need a spark arrestor. The stainless-steel end cap makes repacking easy and the silencers give a raspy tone you'll like.
8. FMF TurbineCore 2 Silencer
Take the same 6061 aluminum body of the PowerCore 2 silencer and add FMF's patented Turbine Dampening Core system that creates a USFS-approved spark arrestor dampening system and you've got the TurbineCore 2. The turbine core does not impede the performance in any way, something that is a possible issue with some two-stroke exhaust systems that have a spark arrestor. This system really cuts down on weight while improving performance and it is the most popular two stroke silencer/spark arrestor combo.
9. Bonus: Vortex Fuel and Ignition Control ECU
You can't take full advantage of a new exhaust system without optimizing your fuel delivery. FMF doesn't actually make its own fuel controller, but arguably the product in the industry in this category is the Vortex Fuel and Ignition Control ECU. Yes, it's more expensive than most alternatives, but if you want the best of the best, this is it. This particular ECU is for the Yamaha YFZ450R, but there are other options out there. Pair this with an FMF exhaust and you will see more power and easier starting. The ECU plugs right into the ATV's wiring harness and adjusts fuel and spark timing in all weather, altitude and load conditions.
Recent Updates
April 21, 2021: Added the Vortex ECU to the list to take full advantage of adding an FMF exhaust.
We are committed to finding, researching, and recommending the best products. We earn commissions from purchases you make using the retail links in our product reviews. Learn more about how this works.
How much horsepower does an FMF exhaust system make for my ATV?
It depends on your specific machine just how much of a horsepower boost you'll get from an FMF exhaust system for your ATV. Generally speaking, for a four-stroke ATV, you'll get anywhere from three to six additional ponies and a little more torque. Two-stroke machines generally see a little more horsepower due to the nature of the engine, as long as jetting is done right.
Do I have to buy a complete FMF exhaust system?
You do not need to buy the entire FMF exhaust system, however, the pipes and silencers are designed to work better as a unit. Each silencer and exhaust pipe are available separately and can be interchanged to a degree, or used with stock components, as FMF uses the same spacing as stock. For machines like Yamaha's Banshee, there is no real advantage to not replacing the entire exhaust system, as Yamaha's stock setup is heavy and robs the machine of a lot of power. If, for example, you want to buy a 4.1 muffler now, you can buy it as a slip-on system and then add the PowerBomb or MegaBomb later if you like.
Published April 3rd, 2019 10:33 AM
Top Brands
Popular Articles