16 Views
Kolpin Rhino Grips - Everything You Need To Know
May 25th, 2021 11:59 AM
Share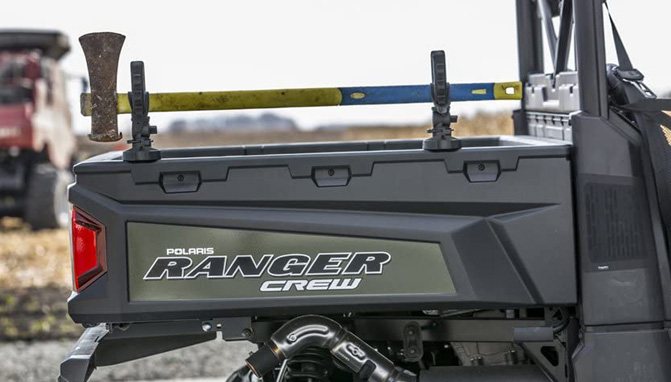 We look at the features, styles, user reviews, and alternatives for this versatile gear transport solution
Kolpin Rhino Grips just might be the most useful and versatile gear transport solutions in the industry. Let's take a closer look at features, styles, alternatives, and more.
A Utility ATV or Side-by-Side is only as good as the work it can do, and one of the most important functions they can serve is transporting gear. And when leaving things to bounce around in the bed or slide around on the racks won't do, the market is full of boxes, racks, clamps, and other cargo management solutions that can help you stay organized and keep your gear safe from damage. They're about the quickest, surest way to boost your side-by-side's usefulness. But with so many different types of products on the market, from myriad competing manufacturers, it can be hard to plot out what's the best product for your needs. We're here to help with our "Everything You Need To Know" series, which takes some of the guesswork out of shopping for ATV and UTV parts and accessories by arming you with all the most pertinent information. In this article, we'll be looking at the Kolpin Rhino Grip line of gear transport clamps.
Table of Contents
1. Kolpin Rhino Grip Features
The Kolpin Rhino Grip line comprises numerous different products, each with its own individual strengths, but they all share at least one thing in common: high-quality, durable construction. The Standard, XL, XLr, and Pro Rhino Grips all utilize the same basic design, with Y-shaped cradles that feature knobby, slip-resistant rubber grips to hold your gear in place without marring, and retaining straps that slip into place across the cradle to keep items from bouncing out. Load ratings range from 10 to 50 pounds, depending on the model, and the XL, XLr, and Pro models all allow you to tilt the cradle up to 80 degrees in either direction, with a full 360 degrees of base rotation so you can position each individual grip exactly right. Adjustments can be made quickly out in the field thanks to their tool-free operation.
The Kolpin Rhino Grip Flex and Ratcheting models both operate on different principles. The Flex is essentially a reinforced mounting base with a flexible band clamp for carrying round items, and the Ratcheting model relies on ratcheting jaws to clamp firmly onto whatever you're transporting, with a tool-free rotating base for positioning. But both feature protective, textured rubber grips and up to 15 pounds of carrying capacity.
For Polaris owners, the most alluring feature in the Kolpin Rhino Grip line by far is the availability of Lock & Ride-compatible mounting bases on the XL, XLr, Pro, and Ratcheting models, which give Polaris owners the option of mounting the grips securely using the company's proprietary Lock & Ride system. That means no drilling or struggling to find a practical spot on the roll cage.
2. Styles of Kolpin Rhino Grips
Kolpin Rhino Grips are available in no fewer than six different styles, each one aimed at a particular use, and a variety of different mounting bases expands the range of options even further.
The basic workhorse of the Kolpin Rhino Grip lineup, the Standard model is molded from durable nylon with a flexible, rubber over-molded grip. The grips sell in pairs, with both single- and double-jaw options, rated to 10 and 15 pounds of carrying capacity, respectively. They give you a choice with regard to mounting: drill and mount onto a suitable flat surface, or use a four-corner bolting system to mount to either square or tubular bars.
The XL is the most popular grip in the Kolpin Rhino Grip range, with 15 pounds of carrying strength for the single-jaw design, and 20 pounds for the double-jaw grip. Like the Standard, it's made from nylon and rubber, but it offers more flexibility for carrying your gear with 160 degrees of tilt in 40-degree increments, and a 360-degree rotating base. Multiple mounting base options are available, including a clamping handle-bar mount for ATVs, a four-bolt plate for bolting to flat surfaces or clamping onto roll cage bars, and proprietary Polaris Lock & Ride plungers for easy no-drill installation onto certain Polaris models.
Like the Rhino XL, but with a little bit extra, the Kolpin Rhino XLr offers the same basic features, with over-molded rubber grips over nylon jaws, and 160 degrees of tilt with 360 degrees of base rotation. What differs is the jaws themselves, which have been redesigned to move independently of one another to grab all different sizes of gear. They've also been made stronger for increased durability, and are complimented by a set of extra-strength retaining straps.
The strongest variety in the Kolpin Rhino Grip line, the Rhino Pro is made from durable cast aluminum with rubber over-moldings, giving it a full 50+ pounds of carrying strength to safely carry all your heavy items, like augers, guns, and the like. The Rhino Pro offers the same 160 degrees of tilt and 360 degrees of rotation as the XL and XLr, but there are no two-jaw versions available, and mounting options are limited to a four-bolt system for flat-surface mounting or clamping onto bars, and two varieties of Polaris's Lock & Ride system.
The most affordable option in the Kolpin Rhino Grips line, the Rhino Flex is the answer for your most basic bar-mounting needs. It features a circular band clamp with a flexible rubber securing band, affixing to your vehicle's roll cage with a pair of metal band clamps, and it's rated to 15 pounds of carrying strength per pair. Available versions include 1.5-inch and 3.0-inch clamps.
The Rhino Ratcheting is a unique grip in the Kolpin line, using a pair of ratcheting jaws to secure objects instead of a cradle with a securing strap. The jaws are made from high-strength, heavy-duty nylon with inlaid rubber grips to securely hold your items without marring them up, and they're capable of holding items from 1 inch to 4 inches in width. They're expandability make them the perfect choice for holding some of your more irregularly-shaped or girthy gear.
One possible alternative to the Kolpin Rhino Grip line is the Pack Rack Plus from All Rite Products. The Pack Rack Plus doesn't offer the same wide range of mounting options as the Kolpin Rhino Grips, but it uses something of a similar design, with Y-shaped cradles and rubber retaining straps. It features a strong steel core for rugged strength, and customer reviews are nearly universally positive, especially among those using the grips to transport hunting rifles.
Another alternative is Kenimoto's ATV gun mounts. They, too, utilize a steel core for strength and stability, and they feature a simple fixed, rigid mounting base that leaves little possibility for looseness to develop with routine use. They're priced even more competitively than the All Rite Pack Rack Plus, and owner reviews are overwhelmingly positive. Yet like the Pack Rack Plus, the Kenimoto mounts lack the posability, flexibility, and breadth of mounting options that the line of Kolpin Rhino Grips offers.
Without taking the plunge and purchasing a pair of Kolpin Rhino Grips yourself, one of the best ways to get a sense of their quality and functionality is by looking at reviews from real-life owners.
A majority of owners are in agreement that Kolpin Rhino Grips perform as advertised. Customers noted the quality feel of components and the ease of installation, adapting the grips to a wide range of different applications. One owner, for instance, mounted them to an old Bob Revolution stroller to create a makeshift shotgun buggy for shooting sporting clays.
One common refrain, however, is that on certain Kolpin Rhino Grip models – notably, the XL and XLr – the tilt and rotation functions come at the expense of some amount of stability. One owner alleged that the screw to lock the grip's rotation in place consistently became loose after regular use, and another claimed the tilt would only stay in place if the jaws were mounted perfectly upright.
Still another found fault with the included mounting hardware, which he said stripped readily during mounting.
Such reviews were not in the majority, however, as Kolpin Rhino Grips received overwhelmingly positive owner reviews no matter which model was purchased.
We are committed to finding, researching, and recommending the best products. We earn commissions from purchases you make using the retail links in our product reviews. Learn more about how this works.
Published October 27th, 2020 4:25 PM
Top Brands
Popular Articles