1 View
Anti-vibe Handlebar Mounts
June 16th, 2015 4:13 PM
Share
Isovibe SX for Can-Am DS 450 absorbs vibration and shock
Epic Racing Products of Las Vegas has released a new anti-vibration and anti-shock handlebar mount for the Can-Am DS 450.
The Isovibe SX, according to Epic Racing Products, is better than standard anti-vibe stems because it absorbs both vibration and shock in the forward, rearward, vertical and side-to-side directions. At US$179, the Isovibe is also less expensive than many anti-vibe stems that can cost hundreds more.
Designed to absorb some of the shock and vibration that is normally transferred to your wrists, shoulders and arms when landing jumps and hitting hard bumps, the Isovibe can help prevent injury and rider fatigue.
"If you've even landed a jump wrong on one side you've experienced the side to side impact to your wrists that sometimes rips the bars out of your hands," the company says. "This new Isovibe SX will absorb this impact and keep you in control."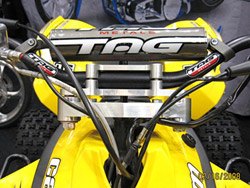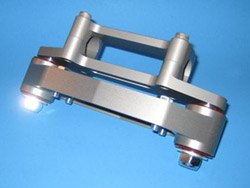 Riders can adjust front-to-back handlebar deflection by adding or removing shims between the bushings. To alter the side-to-side deflection, add or remove shims on the top and bottom sides of the bushings.
Height is adjustable as the Isovibe will raise the bar mounting point by one inch or 1.5 inches over stock depending on how it is mounted. Two offset options are also available—same as stock or 0.5 inches forward.
Related Reading
2008 Can-Am DS 450 EFI
Published March 6th, 2008 2:04 PM
Top Brands
Popular Articles