10 Views
Riding the Illinois Countryside at Harpole's Heartland Lodge
May 17th, 2016 12:08 PM
Share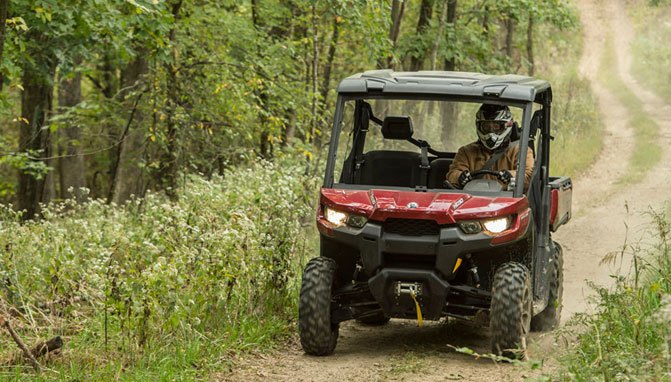 An amazing facility with scenic off-road trails
If you find yourself looking for a new place to ride your ATV or Side-by-Side but you want to step out of the typical fast paced and potentially crowded OHV locations, then you might find what you need at the
Harpole's Heartland Lodge
.
Located in Midwestern Illinois, Heartland Lodge is a picturesque mountainscape of trails and incredible accommodations. During a recent product launch we had a chance to not only stay a few days in the lodge, but we also rode all over the Pike County, Ill. hills in our Can-Am Defender, discovering the peaceful trails available there.
The Lodge
Comfortable country charm is seen all over Heartland Lodge.
The first thing we noticed when arriving at the lodge was the home-style feel of the facilities. Whether you come up and ride for a day or choose to stay a while, you at least owe it to yourself to take a walk inside the main lodge. Be sure to remove those shoes in the foyer, though, as abusing the beautiful hardwood floor with dirty shoes is frowned upon. As we dropped our bags on the front porch and walked inside, Mr. Gary Harpole greeted us at the front desk. Gary and his family opened the doors to the first lodge here in 1995, but the family history goes further back.
According to Mrs. Wanda, Gary's mother, the farm adjoining the Heartland Lodge has been in her family for over 100 years and in 1999 her son Gary purchased it. With a desire to return to his roots as well as the wide open freedom of the countryside, Gary lived here for a short while before coming up with the idea of the Lodge and allowing others to come and enjoy the very things that gave him peace in his heart and soul.
"If Colorado can use its mountains and Florida its beaches, we can use the resources which we have in Pike County," Gary said. And it was then that the real work began to build this beautiful facility. The actual in depth history can be found on its website at www.heartlandlodge.com Gary picked the name Heartland and his mother Wanda believes it reflects the values and principles found in America.
A sight for sore eyes after a long day on the trails.
It wasn't long before several other homes and lodges had been built or acquired and the property was taking shape as a premier destination for hunters as well. During the summer of 2015 the official ATV riding area at Heartland Lodge was open for adventurous off-roaders. There are over 450 acres of riding here and this also connects to an existing OHV trail system with another 500 acres to explore.
Exploring the Trails
With plenty of great weather as well as time to ride, it was our turn to stroll over the many tall hills in our Can-Am Defender and into the woods where Gary had set his dreams in motion. We experienced what not only settlers of hundreds of years past had experienced, but got a feel for the life in the countryside here in Pike County. There is just something about a leisurely ride with friends, enjoying the outdoors that makes a soul at peace. Make no bones about it, though, there are a few challenging trails that keep you on your toes. But for the most part you will find that the scenery will keep you intrigued the entire time. There are even a couple of really challenging bogs as well, but it wasn't a tough task for the Defender HD10.
We found some mud to play in on the Illinois trails.
After a full day of riding we reassembled at the main lodge to clean up and get ready for supper. Having a meal at suppertime at the Heartland Lodge is when the entire family, counting guests as Harpole Family, comes together and enjoys the company of each other without any distractions. The meals offered to guests are incredible as well and if you love good country cooking then you are in for a treat. I have never been accused of missing a meal and I can tell you this for a fact that is was hard to push away from that table. Yeah, it was that good.
After a belly full of great food, many of us settled on the first floor of the main lodge near our rooms where there was a pool table and couches assembled to relax. We had come up with an idea that we weren't sure anyone would go along with, but when you're at such a beautiful place you owe it to yourself to see the sunrise. It took a little convincing but we assembled the team and we were up well before daylight to find the perfect spot to watch it all unfold and to get some great photos to remember it by. Little did we know what an incredible morning it would be.
A Morning Ride to Remember
A map of the trails connected to Heartland Lodge. Click to enlarge.
If you look at a map of the trails, you can follow along on the ride as we share it. We took our Can-Am Defenders out through Area "C" or Safe passage and then over into Area "D" past the old church site. The Carrollton Ridge Baptist church stood here from 1906 until a tragic fire destroyed it in 1995. You will find many areas have specific names here and "Old Church site" is one of these. Once we made our way past the old church site we slipped in behind the "Hay Barn" of area "E" and down into the "River Overlook." Keep in mind that we were traveling along in predawn hours so it was a bit more of a challenge, but well worth it and the plentiful lighting on our Defender HD10 was guiding us with confidence. We found our way up "Iris Hill" and out past the "Back Pond" arriving at the "Indian View" well before sun up.
We found the spot that we had estimated would get the sun first as the world came to life, but confirmation came once the amber glow of a new day rolled across the tops of the trees. We knew we had come to the right place! The view was amazing and overlooked farmers fields and rolling hillsides for miles clear out of view. It was what we had hoped it would be and more. Just one more reason to get out in our Can-Am Defenders and explore this place.
Views like these make getting up before the sun well worth the effort.
A cool breeze blew to the west and brought yet another very peaceful experience as the incredibly clear morning was greeted by a full moon off to the southwest. After staging a few photos we noticed something familiar to the ear. Off in the distance we could hear a turkey hen calling for everyone to wake up. We almost always carry a turkey hunting mouth call with us in our camera bag and after a little convincing we had a pretty good conversation going with the group of turkey living in the valley just off to our left. This just added to our ride experience and two hens even crept up right close to where we had our Side-by-Sides parked. If you love to hunt then you will also be welcome at Harpole's Heartland lodge and we hope to get back sometime soon to give that old Tom a house call!
As we mentioned before, riding your ATV or SXS at Heartland Lodge is very relaxing and if you do not have a machine then call ahead as they have rental ATVs for you to use. When the motorized trails lose your attention, take a horseback ride into the hills to wind down before supper. The rooms are amazing and extremely well kept. A good night's sleep here is an understatement for sure. Regardless of your idea of an off-road vacation, Harpole's Heartland Lodge is one place you should try and we bet you will have the same great experiences that we had. Published April 28th, 2016 4:30 PM
Top Brands
Popular Articles