3 Views
UTV Riding and Trout Fishing in Ontario
December 18th, 2018 11:57 AM
Share
We're committed to finding, researching, and recommending the best products. We earn commissions from purchases you make using links in our articles. Learn more here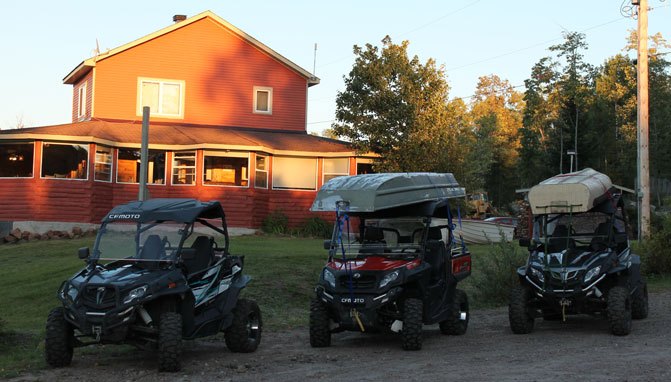 Two days of chasing fish in remote locations using UTVs
I was not a fisherman before starting this adventure. I did a fair amount of fishing when I was a kid, but I'd let go of the pastime many years ago. I wanted it back and traveled up to Mattawa, Ontario to find it.
It was back in 2010 that I first discovered the awesome ATV trails in Mattawa. On that trip we happened upon a basically deserted lake on the side of one of the trails, which is what pushed me to call my contact in Mattawa with the idea of using UTVs to reach some remote fishing locations there. He liked the idea and was, in fact, already discussing Brook Trout fishing with the guys from The New Fly Fisher TV show and we decided to join forces and team up for a fishing trip to remember.
I called on the experts at Bass Pro Shops to outfit me for this trip. Daniel, the fishing team lead at the Vaughn, Ontario location, was a fountain of information and showed me what I should have for this trip. I picked up a Micro Lite Elite Spinning Reel loaded with six-pound monofilament line, Browning Fishing Safari Travel Spinning Rod, White River Fly Shop Creel Bag, White River Fly Shop Breathable Waders, and Redhead Classic II Wading Boots. As for tackle, Daniel handed me five different Bass Pro Shops Nitro Spin Lures in a variety of colors, along with some split-shot weight and small hooks.
Tasked with securing vehicles for the trip, I looked up the local Mattawa powersports dealer, Mattawa Sports & Marine, and noticed it was a dealer for CFMOTO Canada. Since I'd never been in a CFMOTO vehicle and we could ride from the dealer right to the trail, I called up CFMOTO Canada and arranged for three UTVs – One UFORCE 800 Utility UTV and two sportier ZFORCE 800EX UTVs.
My cameraman picked me up early on Monday morning and we headed north from Toronto towards Mattawa. The trip is all on major roads and once you get out of Toronto, traffic is a distant memory. We headed up Hwy. 400 to Hwy. 11, which we took to North Bay. From there, we headed east on Hwy. 17 right into Mattawa. In about 3.5 hours, we arrived at Mattawa Adventure Camp, which was our home base for this fishing/UTV riding adventure.
It was here we met up with everybody who would be going fishing tomorrow – myself, my cameraman Gord Trieu, Bill Spicer and Brett Colpitts from The New Fly Fisher, fishing guide Nik Birmingham, and Jeff McGirr, head of economic development for Mattawa-Bonfield. We decided to grab some lunch at Myrt's Family Restaurant, where I feasted on a stellar panzerotti and talked shop with the rest of the crew.
We followed up lunch by picking up the CFMOTO UTVs and rode them through town (that's legal here!) to Mattawa Adventure Camp. Upon arrival, we strapped a Jon boat down to the UFORCE 800 and a canoe to the one ZFORCE 800EX with power steering. We took the rest of the day to unpack, eat a great dinner and talk about what the next day would bring.
Our CFMOTO UTVs are packed up and ready to take us where the fish are.
When my alarm went off the next morning, I was eager to begin the quest for Brook Trout. Jeff and Nik took the UFORCE 800, Bill and Brett took the ZFORCE 800EX without the canoe on it, and Gord and I hopped in the other ZFORCE. We rode through Mattawa and towards a logging road, which the Voyageur Multi-Use Trail System (VMUTS) crosses several times. We were about 20 miles from camp when Jeff and Nik came to a stop. I couldn't see water anywhere, but we unloaded the boats and followed as Nik disappeared into the trees and down a hill.
A rough, rudimentary trail opened up into a small, beautiful spring-fed lake. This is one of Nik's secret spots for catching Brook Trout. Because the crew from The New Fly Fisher were shooting a TV show, there was minimal room in the boats, so Gord and I set up our rods and did some shore fishing. While we gave it a good go for a couple of hours, the fish just weren't biting. The guys in the boats could see fish all over the place, but they ignored all of Bill's flies and our spinners.
This gorgeous lake is full of trout. The trick is getting them to bite.
With the lake proving fruitless, we made our way back out towards the machines and saw a young black bear cross the road behind us and head down towards the water. Nik was still down there with the boats and had to scare the bear off; we saw it cross the road again, this time about 30 yards in front of us.
The power steering in the ZFORCE 800EX is much appreciated when the terrain gets challenging.
We loaded the CFMOTO UTVs back up and moved on to a stream, which was visible right off the VMUTS trails. It was while driving over some rough terrain that I came to appreciate that I was the only one driving a machine with power steering. While the others complained of feeling some harsh feedback through the steering wheel, I had a perfectly smooth ride.
This stream is located right on the side of a VMUTS trail and is a great spot for Brook Trout fishing.
Foolishly, I left my waders back at camp, so I stuck to walking along the river banks and across rocks to keep dry. We found some calm water and threw a line in. It didn't take long for the fish to start biting.
Success! My first fish is hardly a river monster, but it's nice to get on the board.
I brought in a few small Brook Trout and one little feeder fish as we worked our way down the river, but I could feel plenty of other fish inspecting my lure. Because the area was so tight, I didn't so much as cast my rod as I flipped a bit of line out in front of me and moved it around.
Mattawa Adventure Camp is located on the shores of the Ottawa River. It offers cabins for larger groups and motel rooms for couples. All guests get three meals a day, including a pack lunch and a feast of a three-course dinner. The owner, Wim, provides entertainment by singing a song every night during dinner. If you stay three days/nights, it costs $85 Canadian per person per day, which is less than $65 American. It's an amazing deal.
We played around in the river for quite a while, before packing it in and heading back to camp. I celebrated my first day of fishing by jumping in the Ottawa River for a swim. If you've ever been up north swimming in deep water in September, you'll know it was a bit brisk. Nobody joined me.
Since the Ottawa River is known for great Walleye fishing, Brett, Gord and I hung out on the dock trying to hook a big one. We came up empty, save for some bold crawfish hanging onto our hooks, but just sitting on the dock under a sky absolutely thick with stars made for a pretty great time.
Our second day of fishing brought us to a spot I'd never be able to find again if I looked for a solid week. With the boats again strapped down to our UTVs, Nik brought us to a logging road that looked like it hasn't been active in 25 years. It was badly overgrown, but the boats ended up being a big help, as they pushed away the foliage so we could get through unscathed. Once again Nik stopped seemingly in the middle of nowhere with no sign of water withing sight. We left the boats on the UTVs and trekked down a long, steep descent on foot.
We emerged at a gorgeous stream that was broken off into pools from a number of beaver dams. This place proved to the ultimate honey hole for Brook Trout. The New Fly Fisher team went left and I headed right to stay out of their way. The action started immediately.
This remote stream is a challenge to reach, but is well worth the effort.
As soon as I dropped a line into the first pool, I got a hit. I'd catch a fish or two and the action would stop, so I'd move on down the stream and repeat the in another pool. It was the best fishing experience of my life. My waders proved very helpful, as it was tough to move around without crossing some water. Fortunately, none of it was more than a few feet deep, so the waders kept me dry.
I was happily fishing along for a while when I noticed The New Fly Fisher crew was right behind me shooting. Apparently, when they went left they walked in on a mother bear and two cubs feeding on what they guessed was a beaver. Smartly, they turned back and joined the rest of our crew.
I was a bit skittish about putting my thumb in this trout's mouth. Fortunately, the only damage done was to my ego. I am not brave.
We fished like that for a couple of hours and I'd guess the group of us reeled in 20 fish or so. For the first time in my adult life, I felt like an actual fisherman. The feeling didn't last long.
After packing up, we slowly turned the machines around (I must have taken an 11-point turn to do it) and headed back to another of Nik's go-to fishing spots. Though it was much easier to access, this little lake wasn't interested in giving up any fish. We followed that up by returning to the original lake from our first day, but the results were the same. It seems we could catch fish, but only in streams.
Though we didn't catch any fish in this beauty of a lake, it was still a treat just to experience it.
Still on a high from the great morning of fishing, I considered the day a huge success and once again celebrated with a jump in the Ottawa River. Again, nobody joined me. Cowards!
Get the Flash Player to see this player.
That spelled the end of our Ontario UTV/Fishing adventure, but it's not quite the end of the story. Two days after we left, Nik posted a photo to Facebook of him sitting in his Jon boat in his secret lake holding two Brook Trout far bigger than anything we caught in two days. Go figure.
Our guide finally got the trout to bite in his secret lake shortly after we left. We think he's just rubbing it in with this picture.
The Machines
Pictured front left to right are the ZFORCE 800EX, UFORCE 800, and ZFORCE 800EX EPS.
This trip would not have been possible (or relevant for this site) without the UTVs we borrowed from CFMOTO Canada. These demo models were not stock, so we thought we'd let you know what accessories were outfitted to each machine. Prices are in Canadian dollars, but we will include the U.S. base price for each machine as a comparison. Both ZFORCE models come standard with a four-point harness in Canada.
CFMOTO UTV Accessories
ZFORCE 800EX EPS
ZFORCE 800EX
UFORCE 800
$15,539 Base Price ($13,045 with Factory Rebate)
$14,159 Base Price ($12,045 with Factory Rebate)
$13,293 Base Price ($11,295 with Factory Rebate)
$11,299 Base Price in USA
$10,499 Base Price in USA
$9,999 Base Price in USA
Roof Kit – $360
Roof Kit – $360
Roof Kit – $350
Tilt Front Windshield – $455
Tilt Front Windshield – $455
Tilt Front Windshield – $500
Rear Window – $225
Rear Window – $225
Rear Window – $240
Doors Kit – $699
Doors Kit – $699
Sticker Kit for Doors – $199
Sticker Kit for Doors – $199
Rock Sliders – $275
Rock Sliders – $275
Two Brothers Exhaust – $599
Front Bumper – $320
Rear Bumper – $310
Spare Tire Holder – $155
Spare Tire Rim – $199 (tire is extra) Lucas Cooney
I have been working exclusively in digital media since 1997. I started out with TSN.ca, spending nearly nine years creating and editing content on Canada's leading sports website. I left to join VerticalScope, Inc., one of the world's largest online publishers, to start a number of powersports publications. While at VerticalScope, I've helped create and oversee content for a wide variety of different publications, including ATV.com, Off-Road.com, ArcheryTalk.com, Tractor.com, RVGuide.com, and many more.
More by Lucas Cooney
Published September 28th, 2015 9:59 AM
Top Brands
Popular Articles