1 View
UTV Riding on British Columbia's Cougar Mountain
September 22nd, 2015 2:57 PM
Share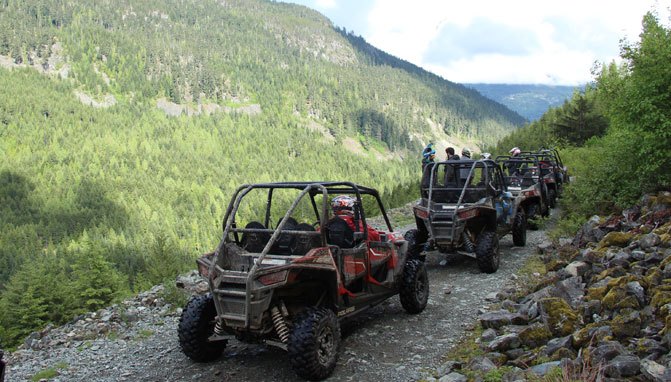 Climbing the Rocky Mountains in a RZR
As we grow older, not only do our toys get bigger and more expensive, we outgrow the local playground and begin searching for something bigger and better.
Chevrolet brought us to Squamish, British Columbia, affectionately known as the outdoor recreation capital of Canada, to show us what a proper powersports playground looks like.
Cougar Mountain in British Columbia is a playground for any outdoor enthusiast.
About an hour from Vancouver, Squamish is nestled on the appropriately named Sea to Sky highway, right on Howe Sound. Ocean inlets push in amongst snow-topped peaks surrounded by thick lush forest. The area offers every type of terrain you could hope for, whether you're taking out the Side-by-Side or standup paddleboard.
We were there to experience some of the best tourism ATVing anywhere, but also to sample Chevy's latest in toy-hauling, the new Colorado and Canyon midsize pickups.
We used a Chevy Colorado to haul our RZR up the mountain.
These trucks can help the enthusiast who is looking to get away on the weekend with their toys without the penalties that come along with a half-ton; namely the size of the truck and fuel-sucking nature of those heavy workhorses.
We used a Colorado to haul a Polaris RZR up the Sea to Sky, with the 3.6-liter V6 pulling our cargo with ease through the winding mountain roads. This is more than enough truck for us to get away from it all with toys in tow.
Cougar Mountain was our chosen playground for the day. It was here that we were teamed up with ­­­­The Adventure Group to lead us on our day of riding.
Before hitting the trails for the RZR tour, we were appropriately geared up, a saving grace considering I had no change of clothes and it had rained most of the morning. From head to toe, The Adventure Group has all the off-road gear you need for a safe ride. Anything you don't want to bring with you on the trail can be left behind in a sealed locker.
Our two guides were friendly and knowledgeable, walking us through the functions of the machines and going over some basic trail tips. The machines in question were all Polaris RZRs, though they ranged from the four-seat RZR 4 800 to the single-seat Polaris Ace, which was piloted by our guide as the lead vehicle.
The real beauty of a place like British Columbia is discovered when you get off the roads and onto the trails, which deliver you to gorgeous vistas offering a stunning view of the surrounding mountains. The trails themselves are well maintained on Cougar Mountain, though they did get pretty rough in some areas – a welcome situation that our RZRs ate up.
Small stream crossings and massive rocks are some of the obstacles you will have to overcome, but nothing was too much for an inexperienced rider to handle. On the other hand, it was enough to keep even the most experienced rider engaged and interested.
Starting at the base of the mountain, the trails begin to immediately climb, heading for the summit, some 1,450 meters above sea level (about 4,750 feet). For the most part, the thriving forest surrounds you as you ascend, not allowing you a sense for just how high you've come. Then suddenly there will be an opening in the trees and the most breathtaking mountain range will spread out right before your eyes. It's these moments that make trail riding in B.C. such a tremendous experience.
For those looking for a little more from their off-road fun, a small section of trails, best described as a mud park, is attached to the main trail about half way up the mountain, offering the chance to not only push these RZRs a bit, but also to get nice and muddy. Deep ruts, sludgy water and steep climbs are par for course in the small mud section, which had me once again praising The Adventure Group for suiting us up in its gear.
A little mud is always a good thing. Throw in mountain views and you've got something really special.
It's here that we could really push the RZRs and take some great photos.
Cougar Mountain features over 16,000 miles of rideable terrain, which was apparent by the constant stream of side trails that we rode by on our journey. On the way back down the mountain, we followed a main access road for most of the time, allowing us to get some speed in the RZRs. The entire ride really offered a little bit of everything, and as we pulled back into camp, I couldn't help wanting to go for a few more laps.
The tours can range in length from two to three hours and cost between $219 and $379 for the rental of a RZR. For that price, you can load your whole family into a four-seat RZR for an afternoon and show them the power of the great Rocky Mountains.
If you're looking for adventure in B.C. that will take you to places that you could never access in a car, climbing up Cougar Mountain in a Polaris RZR is a great idea.
Published September 18th, 2015 2:58 PM
Top Brands
Popular Articles