72 Views
2018 Mahindra Roxor vs. Willys Jeep: By the Numbers
April 23rd, 2018 9:59 AM
Share
We're committed to finding, researching, and recommending the best products. We earn commissions from purchases you make using links in our articles. Learn more here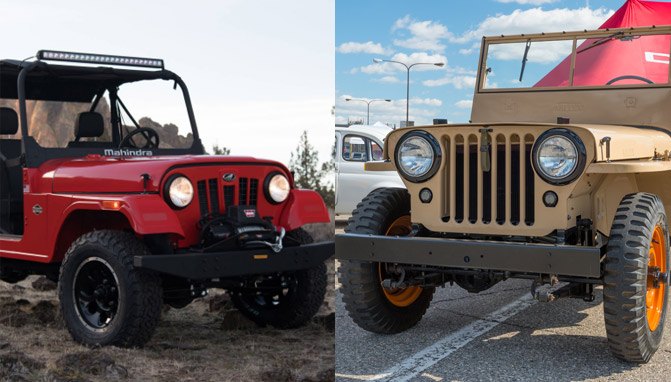 Anyone who has seen a Mahindra Roxor has the same thought – it looks like a Jeep. That's no accident, either. How does a Roxor compare with the original Jeep by the numbers? Let's see.
Mahindra made serious waves recently with the launch of the Mahindra Roxor, a machine that combines UTV and automotive components into something unlike anything available in the UTV market. If you think it looks like an old Willys Jeep, you're right. That's not an accident. Mahindra has held a license since 1947 to build and market vehicles that look like the old Willys Jeeps. They build, sell and market these machines in other parts of the world, just not North America.
The Roxor, however, is something all new that is a 100-percent American-assembled vehicle coming off a production line in Auburn Hills, Mich. The Roxor comes not from the ag side of Mahindra, but its automotive division, which until now had no presence in North America. It represents a bold move on the part of Mahindra, too. It built an impressive new factory just to produce the Roxor and already have sourcing, shipping and warehousing networks set up in Michigan. Mahindra expects the Roxor to do big things.
Willys Roxor?
So, if the Mahindra Roxor looks like a Willys Jeep, does it share much else in common with one? The answer might surprise you. The Roxor has a two-person capacity, matching the specs for the Willy's, although the Willy's does allow for a maximum crew of five. The Original Willys had a curb weight of 2,450 pounds and a total rear payload capacity of 400 pounds with a 15-gallon fuel tank. The Roxor has a curb weight of 3,035 pounds, with a 12-gallon fuel capacity and a rear cargo capacity of 349 pounds. The additional weight comes from two places on the Roxor.
Mahindra builds the Roxor on a full box-steel frame with solid front and rear axles that have leaf-spring suspension. The rear leaf spring has shocks mounted as well. The Original Willys Jeep is built on an open-spar frame, also with leaf spring suspension. The additional rigidity of the Roxor frame means it can tow 3,490 pounds. The old Willy's was rated for 2,000 pounds on pavement and only 1,200 on dirt. We can't really compare on-road specs for the Roxor and Willys because the Roxor is not, nor will it ever be street legal according to Mahindra.
Motoring
The motor of the Mahindra Roxor is another area that adds weight over the Willy's. The old Willys came with a 2.19 liter, inline four-cylinder gas engine, good for 54 horsepower. The Roxor has a 2.5L M2DICR inline turbo diesel engine that produces 62 horsepower. The Willy's could hit 65 mph on pavement, while the Mahrindra is governed at 45 mph off road. A modern turbo diesel is going to add significant weight, but there are advantages too in terms of torque and fuel economy. The Roxor has a five-speed manual transmission with a two-speed Dana T-18 transfer case. The Willys had a three-speed manual with a two-speed transfer case.
(By Sergey Kohl/Shutterstock.com)
The Mahindra Roxor has a 96-inch wheelbase and is 148 inches long, 62 inches wide and 75 inches tall. It has nine inches of ground clearance, too. For some perspective, the original military Willys Jeep was 123 inches long and just over 57 inches wide. For rubber, Mahindra went with 235/70R16 BF Goodrich All-Terrain KO2 tires wrapped around five-lug, 16-inch steel or aluminum wheels. The Willys had a six-ply general purpose tire mounted to a steel 16-inch rim.
If you're thinking that there are some striking similarities to the Willys from the Roxor, you're dead on. Those old Jeeps, while having little in common with the Jeep products sold, share a lot of similarities with the Mahindra Roxor sold at your local powersports dealer. There are reports that Mahindra is actively pursuing the contract to replace the current aged crop of U.S. Postal Service Jeeps with a Roxor-like product. That and the plan Mahindra has to make the Roxor extremely customizable from the factory goes hand-in-hand with the massive infrastructure it have in place in Michigan to produce the vehicles. Derrek Sigler
Derrek's love for all things ATV started when he was a mere 11 years old, growing up on his family farm. His mom gave him and his sister a choice - get a horse, or a three-wheeler. The sister wanted the horse, and Derrek wanted the ATV. Luckily he won out, and was soon burning up the trails on a Yamaha Tri-Moto 200. By the time he was 14, he had saved enough of his own money by working on the farm and in his folks restaurant to buy a new 4-wheeler. That happened the day he and his mom were driving past the dealership and saw 1987 Banshee. His mom had no idea what he was buying, and he never looked back. He's been riding ever since, and been writing professionally for many years. He has ridden all over North America and been behind the controls of just about every machine out there. And yes, he still has his 1987 Yamaha Banshee.
More by Derrek Sigler
Published April 20th, 2018 4:02 PM
Top Brands
Popular Articles