1 View
June 17th, 2015 1:26 PM
Share
We're committed to finding, researching, and recommending the best products. We earn commissions from purchases you make using links in our articles. Learn more here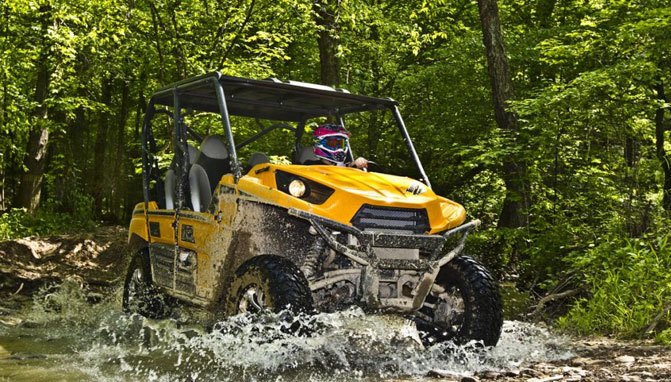 11 locations for camping and adventure
It's getting hot and rainy in the south these days and the snowfall up north is not what it used to be. Weather can play a tricky roll in the opening or closing of the local state run ORV and to be honest they can be super crowded for the amount of space available. The ride area closest to you is beat down like an amateur boxer and you just need a new place to explore.
Well we feel your pain and I think it is about time to find some really cool ride locations that bring back the feeling of off-road adventure. Traveling to pay ride location may offer more than the state-run ride destinations. After digging around we were able to come up with a few places that we like to not only ride but where camping and adventure awaits.
Brimstone Recreation:
Location: Huntsville, Tenn.
In the hills of central Tennessee Brimstone is fast becoming the go to ride spot for those in the southeast. The trails here are rugged and require common sense but are well suited for the general riding public. Brimstone offers cabin rentals and also has space for RV hook ups. Whether you have an ATV or SxS, you can find plenty of room on the over 19,000 acres of wooded terrain to ride for days.
Website: www.brimstonerecreation.com
Phone Number: 1-800-brimstone
WindRock Park
Location: Oliver Springs, Tenn.
WindRock Park offers 72,000 acres of beautiful scenery and riding trails.
Getting out and away from it all is very easy at WindRock Park. With an estimated 72,000 acres and days of trails, the riding keeps going on and on. The coal creek company allows off-road usage of the land through permits that are purchased at the WindRock office. This location has lots for primitive tent and RV camping as well as cabins you can rent. The mountainous landscape here gives way to beautiful scenic views on most every trail.
Website: www.windrockpark.com
Phone Number: 865-435-1251
Kentucky Mine Made Paradise:
Location: Knott County Kentucky
The Kentucky Mine Made Paradise is yet another example of reclaimed coal mining land that is being put to use. Located in the Appalachian mountains of eastern Kentucky the Mine Made Paradise is home to one of the largest Elk herds in the US. Using the marketing strategy of tourism the ATV ride destination invites not only the off-road community but also horseback riding, camping and elk viewing. If you want a remote getaway the kind people of Knott county Kentucky are waiting for you. They even have ATV rider training for the new riders in your group but be sure to visit the website for course times and dates.
Website: www.knottcountyadventure.com/minemade.html
Moto Mountain:
Location: Fairmount, Ga.
Moto Mountain's sky cabins offer lodgers a beautiful view from their rooms.
This growing ride park features trails fit for ATV and SxS use. Located in the mountains of North Georgia Moto Mountain offers over 70 miles of trails with varying degrees of difficulty. Need a place to sleep? No problem. The sky cabins at Moto Mountain let you wake up in the clouds as they tower over the scenic landscape. For the down time after the ride try a zip line on for size and sail off through the trees of Moto Mountain Park. It's a must-try for sure.
Website: www.motomountainpark.com
Phone Number: 706-337-5590
Durhamtown Plantation:
Location: Union Point, Ga.
Durhamtown is probably one of the most popular ride destinations in the south. Getting out on 150 miles of trails can be an adventure in itself but with other attractions such as deer hunting and skeet shooting, there is always something to keep everyone in the family happy. Durhamtown also has six MX tracks for the go fast guys or gals in the group who love to fly high on their MX ATVs. The UTV race track has become even more popular with local racers, and management at Durhamtown plans several regular racing schedules throughout the year. Bring a tent or your RV and if you have neither of those just call ahead for a cozy cabin to sleep off the day's ride.
Website: www.durhamtown.com
Phone Number: 706-486-4603
Carolina Adventure World:
Location: Winnsboro, S.C.
Carolina Adventure World offers challenges for riders of varying experience levels.
For those traveling to the far-east, Carolina adventure World will keep your ATV dreams alive with many technical trails as well as motocross style tracks for the race crowd. The hills and rivers in the almost 100 miles of trails keep the adrenaline flowing all day. Offering varying degrees of difficulty, you can be sure each member or skill level in the group will have some place to ride. ATV riders and SxS drivers alike can navigate the many trails designed by Steve Uhles of Cloud Peaks. Carolina Adventure World also welcomes campers with RV hook ups and cabin rentals.
Website: www.carolinaadventureworld.net
Phone Number: 803-482-3534
33 Motorsports Park:
Location: Mio, Mich.
So you want to go racing right? In northern Michigan there is a motosports park dedicated to each skill level of ATV motocross racing. Using several tracks with varying difficulty the 33 Motosports Park gives riders a chance to gain the skill they need to advance in the ranks without being forced around the track by more experienced riders. The park only operates from May until October but during the peak summer months you can get in during the week for extra practice. They are even UTV friendly though it is unclear if UTV racing is allowed here. Overnight parking is permitted and nearby camping is available.
Website: www.33motosportspark.com
Mudders Off-Road Park:
Location: Seale, Ala.
Mudders Off-Road Park certainly lives up to its name.
So you're the kind who loves to jump face-first into the muckiest mud on your ATV? This park located in the mid-eastern mudlands of Alabama has just what you need to get down and dirty. The ride park consists of around 350 acres for riding and mud bogging events. This park is not only open to ATV and SxS enthusiasts – if you have an old chevy 4×4 sleeping in the garage back home you can bring it too and try out the Bounty Hole! Be warned, it isn't for sissies! If you want to stay a few days the event pricing includes your camp permit as well.
Website: www.mudderspark.com
Burning Rock:
Location: Sophia, W.V.
Looking for a few days off and out of the normal routine? Look no further than Burning Rock ATV adventures n West Virginia. Connected to the history of the Hatfield McCoy era Burning rock keeps you busy with over 8000 acres and 100 miles of trails. With many lodging options you are sure to find a cozy spot to rest your weary bones after the ride of a lifetime. Using the trails on your ATV or Side by Side makes no difference, just be sure to bring lots of excitement and if you get brave this resort has a 2500 ft long zip line to drag the bravado out of the big boys!
Website: www.burningrockwv.com
Phone Number: 877-683-9240
Mud Creek Off-Road Park:
Location: Jacksonville, Texas
Mud Creek's signature Sand Pit offers a fun challenge.
Located in the eastern rim of Texas the Mud Creek Park is probably most famous for its yearly hosting to the High Lifter Mud Nationals. This park stretches out over an estimated 4000 acres and features everything from slow trail riding to full on mud bog competition. The park has many feature spots such as the Highline and the infamous Sand Pit. If you want a great place to take your utility mud machine then look no further. Offering camp sites, RV hook ups, power wash racks and much more this has to be a stop on your adventure tour!
Website: www.mudcreekoffroadpark.com
Phone Number: 903-586-6972
Lizzie and Charlies:
Location: Marysvale, Utah
Get the caravan rolling and stop in to see Lizzie and Charlies RV/ATV park in Marysvale Utah. Getting a friendly and safe place to park your RV has never been easier and with premiere access to the Paiute Trail system you will have plenty of riding to do once you unpack the bus. If you do not have your ATV or UTV with you don't worry as Lizzie and Charlie have these for rent. Just bring your safety gear and a good mind for adventure and you'll be set for days. If you should get hungry in camp and you don't feel like cooking then head over to the on-site pizza and sub stand for a bite. Obviously RV's are welcome with all the hook ups you need and if you just want to drive in there are cabins for rent too.
Website: www.lizzieandcharlies.com
Phone Number: 435-326-4213
As you can see there are many places to get the fire burning for the outdoors once again but you have to get up off the comfy couch and make it happen. I once read somewhere that life doesn't come with a remote, you have to get up and change it yourself! Go ride and take a child with you!
Related Reading
How To Help Maintain Off-Road Trails
Desert Camping
Camping With An ATV: Advice on Gear and Trip Planning
10 Things To Check Before Riding Your ATV
How To Tow ATVs Safely and Securely Published July 24th, 2012 1:37 PM
Top Brands
Popular Articles