1 View
Pro Armor Releases QuickShot Accessory Mount
September 30th, 2010 12:21 PM
Share
Versatile mount lets you take it all with you
Pro Armor has unveiled a new product designed to make it easy to carry a spare tire, jack and other essential equipment on your UTV or trailer – the QuickShot Universal Spare Tire and Accessory Mount.
QuickShot's mounting plate allows you to mount hundreds of essential products in various ways. With the option of mounting your QuickShot both horizontally and vertically, finding a place for your QuickShot to mount to is simple.
QuickShot is not only for your vehicles. Mount your QuickShot to your trailer or garage to hold tools and other essentials. With QuickShot the possibilities are endless.
The QuickShot retails for only $179.95 for the horizontal mount or just $199.95 for the vertical mount. Visit ProArmor.com for more information.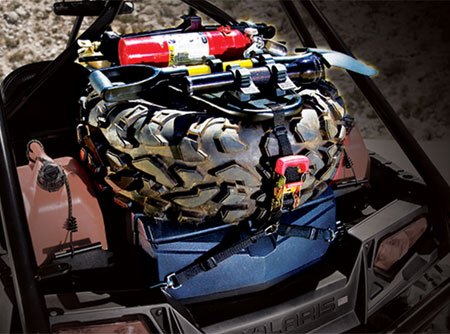 QuickShot Features:
* Integrated Jack and base
* 2 ton rated scissorJack collapses to 5" and lifts to a full 21"
* 1" tubular steel frame is sturdy yet lightweight
* Large 21" sturdy base/mounting platform
* Variety of mounting locations for all types of accessories
* 2 Quickfists are included with option to buy many more
* Strategically machined hole on base plate
* Able to mount horizontally, vertically or for use with the Polaris Lock and Ride system
* Sturdy ratchet strap system rated at more than 3,000 lbs to ensure secure mounting
* Can be used for trailer tires and accessories and can be mounted to tongue of trailer or to inside wall
Quickshot Benefits:
* Sturdy yet lightweight base allows you to jack up your vehicle in most conditions
* Changing a tire while out riding could never be easier…
* Jack is able to be slid under vehicle with a flat and lift it high enough to change a tire and get you back on the trail/road
* Durable powder coat finish
* Large base is excellent for use in dirt, sand or muddy conditions without the fear of sinking or tipping
* Easily mounts tool bag, flashlight, fire extinguisher, first aid kit, fishing pole and rifle to name a few essentials
* Text Box: Vertical Mount w/Integrated JackQuickfist's mount to base plate and hold virtually anything with a variety of sizes
* Multiple jack and accessory mounting locations on base to hold virtually anything and allow for use on almost any spot under the vehicle
* Ratchet strap system is strong, durable and allows you to mount the QuickShot virtually anywhere
Published September 30th, 2010 12:21 PM
Top Brands
Popular Articles