13 Views
2019 Polaris RZR 570 EPS vs. CFMoto ZForce 500 Trail: By the Numbers
November 9th, 2018 3:14 PM
Share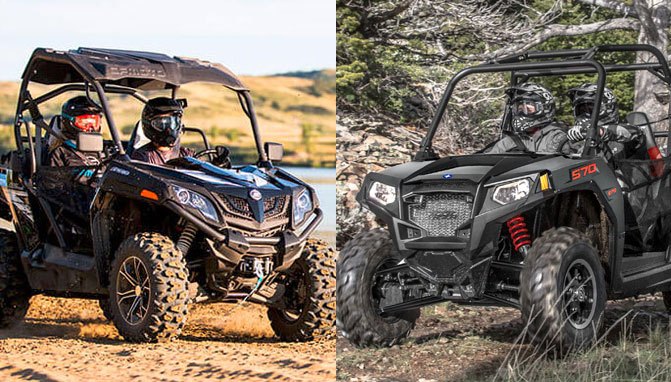 Both the 2019 Polaris RZR 570 EPS and CFMOTO ZForce 500 Trail are 50 inches wide and provide 500-class fun. Let's see how these two cruiser weights match up in this entry-level sport UTV battle. Who wins? Tell us what you think after taking a look at the numbers.
A few years ago, I did some trail time in a Polaris RZR 570 in Texas. It was a fun machine, but I never really thought about wanting one myself. Recently, I got to thinking about it, though, when a local guy put his up for sale cheap after he claimed to have blown the motor. I went and looked at it because he had it listed so cheap, it was one of those things where it'd be dumb to pass it up. When I got there, I could see he had spent some money on it when he bought it, thanks to the accessories. He was an older guy and said he and his wife bought it for cruising the trails. I asked about what happened to the motor, and he said that they had been out riding and got into some mud. He tried driving out, and the motor started making some weird noises. He was certain he had blown it up. Long story short, he didn't blow the motor, he fried a belt. I talked him through changing it and he kept it. His wife was so happy, she baked me a pie and now I can deer hunt at their place. Kind of bummed. I was kind of wanting a RZR 570.
The reasons I or anyone would want a 500-class, trail machine are mostly for the same thing he and his wife used their machine for – they are fun, trail cruising machines and they are priced great for an entry-level sport UTV. Besides the RZR 570, another machine in the category is the CFMOTO ZForce 500 Trail. Each has some very interesting properties that should you be in the market for one, might sway your purchase decision.
Motoring
The RZR is powered by a motor we're all familiar with – the 567cc ProStar single-cylinder, liquid-cooled, four-stroke Polaris uses in several machines. This 45-horsepower powerplant is their most common engine, being used across the entire lineup from the RZR, to the Ranger, ACE and Sportsman. I honestly wouldn't be shocked to someday see a 570 General, although they might have to call it the Lieutenant or something. (And by the way, Polaris if you do that, I expect a check.) The RZR has fuel injection and Polaris' On Demand all-wheel drive. It runs through Polaris' version of a CVT transmission and this model has EPS, although you can save a few bucks and get a non-EPS unit.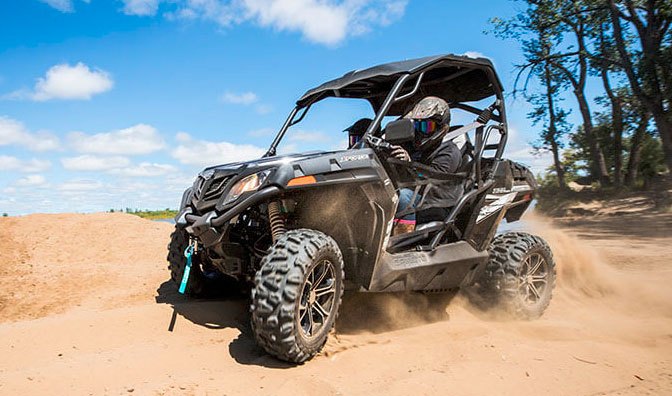 The CFMOTO ZForce 500 Trail runs on a 495cc SOHC single-cylinder, liquid-cooled, four-stroke engine that produces around 38 horsepower. CFMOTO uses a Bosch electronic fuel injection system, which is proven to be dependable and quite efficient. For a transmission, the ZFORCE uses a CVTech CVT tranny and the driver can select from two- and four-wheel drive, with a selectable diff lock. While CFMOTO doesn't have the broad lineup Polaris does, it does offer a decent amount of differing vehicles, and this engine plays a role in its utility and ATV lines. It also has motorcycles and scooters, mostly sold in other parts of the world that also use this platform.
Capabilities
With these machines being 50-inch trail units, there isn't a ton of space in the cabs, but that's ok. These are meant to be used for scooting down any legal trail, and will go places other machines can't fit. The 50-inch market is heating back up with new additions from other manufacturers, and with new trails opening across North America all the time, these are legit players in the space.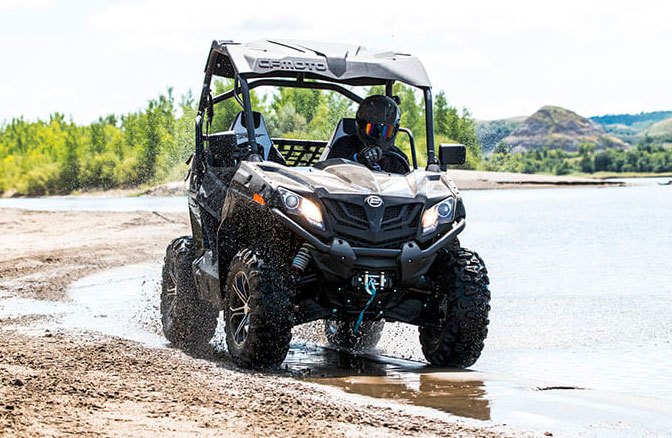 Both machines use fully independent suspension systems with dual A-arms front and back. The Polaris RZR 570 EPS runs sway bars in front and back, while the CFMOTO ZForce 500 Trail relies on piggyback gas shocks to aid in handling. Both have aluminum wheels, with the Polaris running 12-inch and the ZForce rolling on 14s. CFMOTO builds its machines on a world platform, and because of this, you get some extras in the standard package that would cost extra on the Polaris or other machine. There is a 3,000-pound winch, as well as a plastic roof, side mirrors and stainless-steel bumpers.
Opinions Vary
These are two polarizing brands among the off-road community. CFMOTO has been around for years, but doesn't have the dealer network or presence in the U.S. that it has in Canada and the rest of the world. That is something it is working at fixing, with dealers popping up quickly these days. This lack of presence has made some question the machines, mostly because those people have never seen one, or heard enough about it. You can pick up a CFMOTO ZForce 500 Trail in Orange or Nebula Black with an MSRP of just $8,999.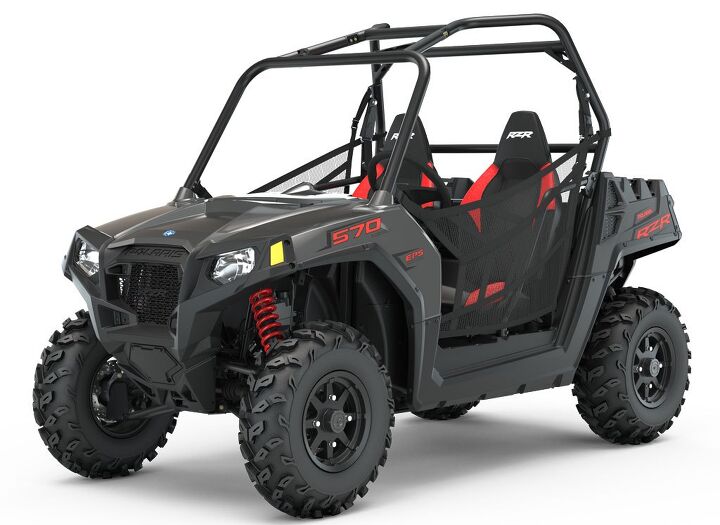 Polaris also attracts varied opinions with its machines. Some love them, a few hate them, but you don't get to be the dominant player in the game by not being a quality product. Polaris has the strongest dealer network in North America and the RZR 570 is a great machine. You can get the 570 EPS in Titanium Metallic for $12,299. If you want to cut some cost and don't need EPS, you can get a white one for $10, 299.
Published November 9th, 2018 3:14 PM
Top Brands
Popular Articles