1 View
2015 SHOT Show Goes Off-Road
June 17th, 2015 11:16 AM
Share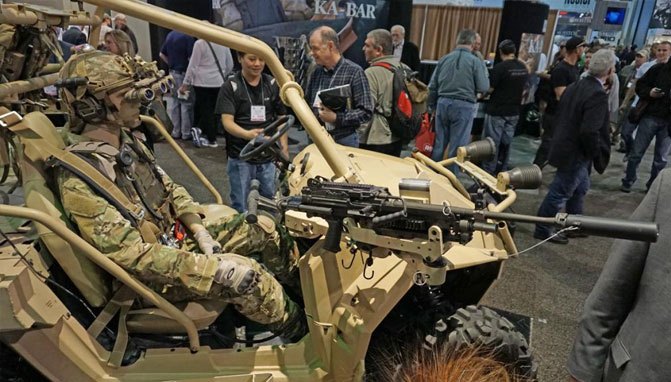 ATVs and UTVs make their mark at SHOT Show
If you have any love for the outdoors and hunting or simply like to get out to the local range and plink away your Saturday evenings, you would love walking the halls of SHOT Show. This annual show, unfortunately, is not open to the general public as it is an industry trade and dealer event. Have no fear, though, as we have an insider (that's me) who sacrificed his week to find out what is new in the world of shooting sports that would interest ATV and UTV riders. This year we noticed even more than last that SHOT Show is going off-road as well.
SHOT stands for Shooting, Hunting and Outdoor Trade. According to the NSSF (National Shooting Sports Foundation), which is the supporting sponsor, "The SHOT Show is the once-a-year gathering place for the shooting, hunting and outdoors industry, manufacturers, wholesalers, retailers, publishers and wildlife conservation organizations. It's where a passion for firearms, ammunition and outdoors equipment, plus the industry's unified support for the Second Amendment, are on display."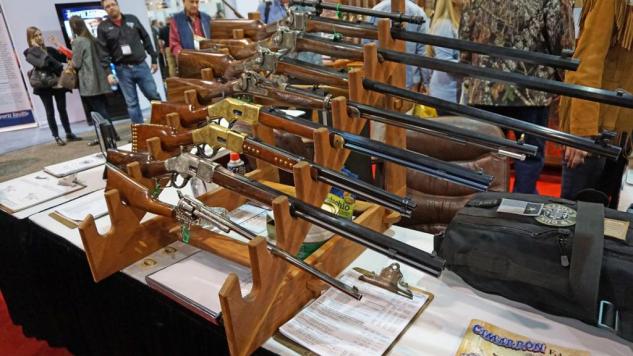 If you have any interest in guns, SHOT Show will leave you with your jaw on the floor.
This annual trip has quickly become a favorite to see the latest in shooting and outdoor sports equipment, but this year we noticed a large number of off-road-friendly products gracing the over 12.5 miles of aisles. Yamaha is one of several off-road companies to showcase its innovation to this show in order to have its latest products in front of the trade it markets them for. It was at this year's show that the very first Yamaha Wolverine was unveiled. The Wolverine has all of the makings for a great adventure machine and one that will be blazing trails for years to come, according to Yamaha. Yamaha has a huge presence in the outdoor and hunting community, so it was no surprise that during the Open Country awards at this year's show it gave away a nice Yamaha Generator to one lucky attendee. Check out YamahaMotorSports.com for more information.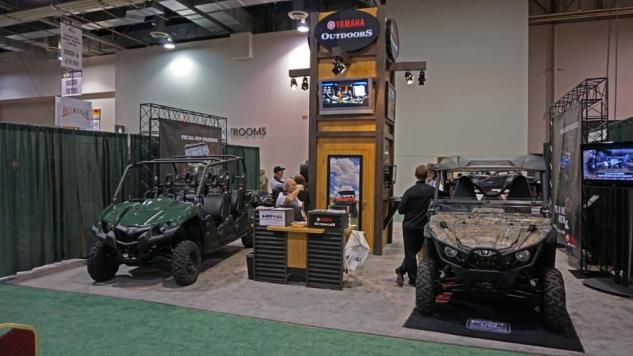 No off-road manufacturer embraces the off-road world like Yamaha, who used the event to unveil its new Wolverine R-Spec Side-by-Side.
Yamaha Wolverine R-Spec Preview
Yamaha was not the only off-road rig at the show, though, as a new relationship between Mossy Oak Camo and Can-Am was on display. Mossy Oak's new "Break Up Country" Camo is super realistic and gets spread across select Can-Am machines. The folks at Can-Am have had a camo pattern for its Utility ATVs and some UTVs, but for the Canadian manufacturer this is quite a step in a new direction. If you know Can-Am you know that this is much more than just a camouflaged decal. To get involved in the hunting world and shooting sports in general is brand new and should help loyal customers find a new look for the off road vehicle they love. Visit CanAmOffroad.com for more information on the new partnership with Mossy Oak.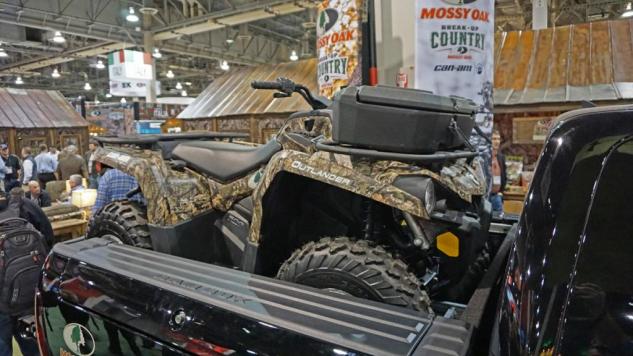 Can-Am dressed up an Outlander in Mossy Oak's new Break Up Country camo for SHOT Show.
So what else could did we see at the SHOT show that would interest ATV and UTV owners? How about lighting for off-road rigs? Lightforce was out in force and had a full booth of its off road lights. From the very popular LED light bars to the huge (and secretly my favorite) HID super beams, Lightforce can get your rig ready for the darkness of night. From the ROK40 spot or flood beam to the incredible LED180 driving lights, no matter what size ATV or Side-by-Side you have, Lightforce can brighten the trail. Lightforce even has a huge selection of handheld lighting for finding your way in a pinch. Learn more about Lightforce here.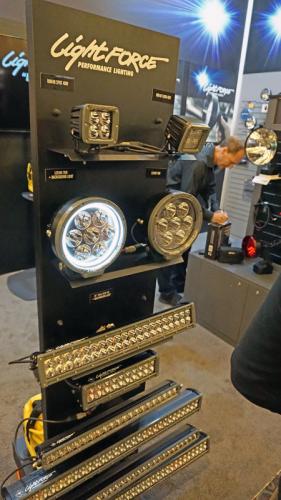 Need a lighting solution for your ATV or UTV? Lightforce has a lineup worth checking out.
If you are a hunter, we spotted probably the most ingenious, yet simple product for getting that big game trophy out of the woods behind your ATV or UTV. The GameXtractor simply fits in the two-inch receiver hitch. The large game's head is positioned in the V-shaped device and the rack of your next big buck is well protected from harm as you make your way out of the forest. This company is headquartered in Ontario, Canada and if you want protect the rack and save your back look these guys up at GameXtractor.net.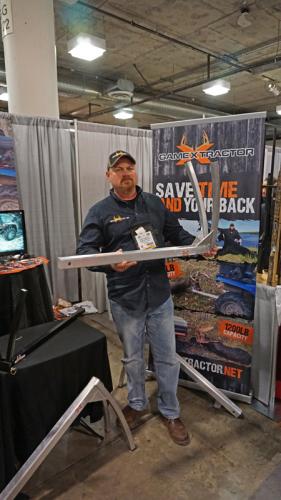 The GameXtractor allows a hunter to easily drag a big buck out of the wood alone.
My First Hunting Experience + Video
Camp Chef, an outdoor camp cooking company, had a huge display of gear at SHOT this year. These guys rock the hungry world in providing very user-friendly camp stoves, skillets and even a pizza oven for the guy who just has to have that breakfast pizza. Camp Chef produces a wide range of cooking utensils, as well as a propane burning fire pit to set the groove in the wild. The talk of the booth this year were the Stryker stove line of back packing stoves and 36-inch pellet grill. Making a kitchen small enough but still usable in many conditions the hallmark of Camp Chef. We've enjoyed many meals cooked on Camp Chef products and think you should check them out at CampChef.com.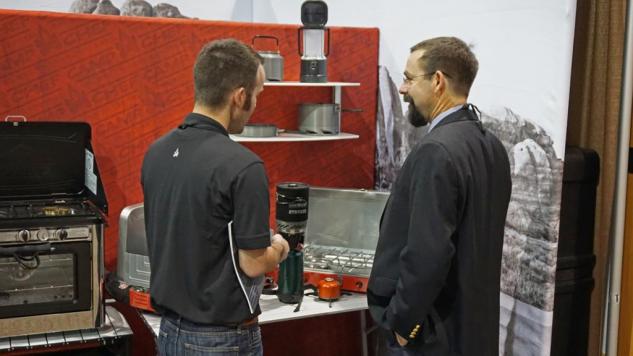 Anybody who plans on doing overnight camping would be wise to check out what Camp Chef has to offer.
If you get out in your UTV or ATV in the wide open, you may want to consider carrying a new knife from Coast Products with an LED light molded in on the side. The LK375 is made with a textured surface for grip and has a very sharp, partially serrated blade to cut through anything you may need it to. The light puts out 110 lumens and uses three AAA batteries for ease of replacement. This is a must have for our glove box or backpack. Visit CoastPortland.com to learn more.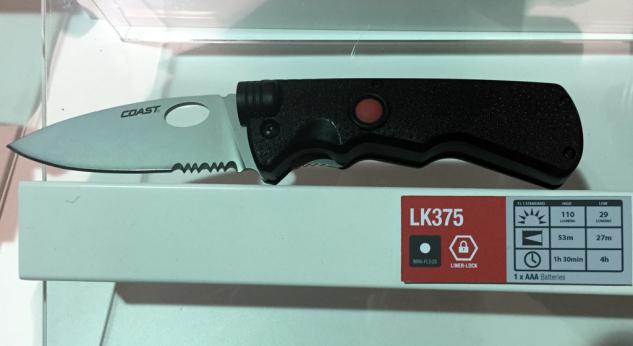 With this knife from Coast Products, you can see what you are cutting even in the dark.
Do you avoid bringing your cell phone along for an all-day ride because you are worried about damage or the battery lasting? Snow Lizard has a solution for both of those issues. The SLXtreme line of smart phone cases gives the user not only great protection from harsh conditions, but it also has a 2550mAh battery that is charged by a solar panel on the rear of the case. Talk about a lifesaver. Learn more at SnowLizard.com.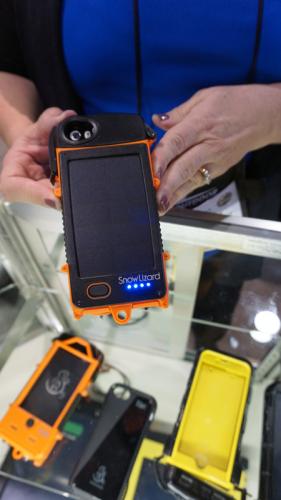 You can protect and charge your phone on the trail with Snow Lizard's SLXtreme.
We found other off-road machines on the floor of the SHOT show and most had been dressed for either off-road extreme tactical or hunting and exploring. The SureFire booth displayed an insane Polaris RZR 900 dressed in military gear from head to toe. The rugged RZR 900 not only had a set of seemingly bright lights on every section of roll structure, but a small arms weapon for the passenger to use if needed. This battle-fortified machine had many eyes peaking into the cab and framework and we're sure we'll find something on it we can fab up on our own machines in the future.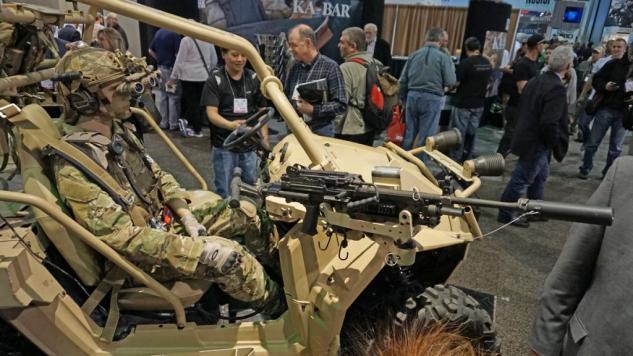 Now this is a RZR that will get some stares on the trail.
Argo was on hand as well with one of its 6×6 machines. This was actually a rig that was to be given away at some point this year. The amphibious ride can take you down the trail or even across the lake and that makes the cool factor rise just a bit more. We might just have to see if we can get a ride in one of these real soon!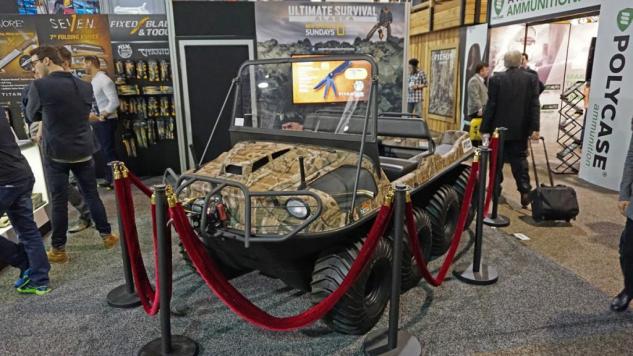 With an Argo, you can drive around the lake or across it.
Another off-road product that caught our eye was the Wood N' Stream Maniac line of over-the-ankle boots. We love to wear a comfortable waterproof boot when riding on the ATV or in a Side-by-Side and getting something light as well as breathable is important. The Mossy Oak Break-Up Infinity camo on this boot also makes it good for the fall hunts. Check them out at WoodNStream.com.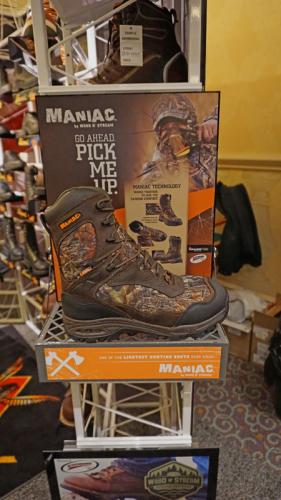 Wood N' Stream's Maniac boots look perfect for off-road riding when the trails are wet and Mother Nature is angry.
What is a SHOT show article without guns? We saw plenty and of any variety that you could imagine. We cannot begin to remember all of the names, but just as a courtesy we included a collection of photos in our gallery of the firearms that stopped us in our tracks! Click here to see the full gallery.
Published January 28th, 2015 11:51 AM