1 View
10 Most Popular Reviews of 2017
December 22nd, 2017 2:15 PM
Share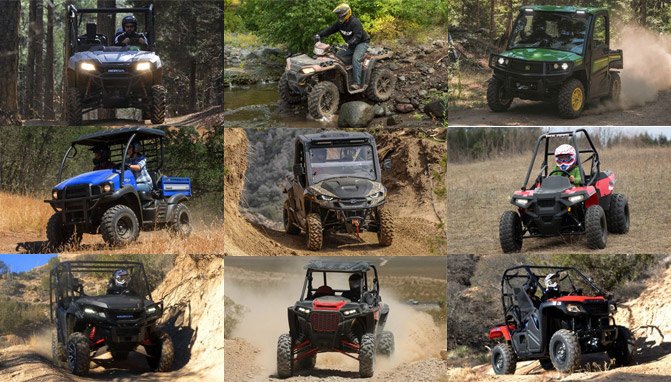 Now that 2017 has come and gone, we wanted to show you what review articles ATV.com's readers looked at the most.
In putting this list of most popular review articles together, the most interesting part for us was that there was just a single ATV review that made the top 10. It looks like 2017 was all about the UTVs. We were also a little surprised to see which manufacturer ended up in the No. 1 position. Now to the list.
10 – Polaris ACE 150 EFI Review
The Polaris ACE is a bit of an odd duck. It's not really and ATV or a UTV, but this hybrid has proved popular with our readers. The youth-oriented Polaris ACE 150, which retails for $3,799, ended up as the 10th most popular review article on ATV.com in 2017.
9 – John Deere Gator XUV835 and XUV865 Review
John Deere doesn't come out with a lot of new machines, but when they do the ATV.com readers take notice. We had a chance to be among the first to review the new Gator XUV 835 and XUV865 in September and even though it's only been on the site for the past two months or so, it was the ninth most popular review article on ATV.com in 2017.
8 – Polaris Ranger XP 1000 Review
Another late addition, we published the 2018 Polaris Ranger XP 1000 review in October. Polaris' flagship Utility UTV received a few key upgrades for 2018, including the addition of six prewired connections designed to fit a variety of Polaris accessories.
7 – Polaris RZR XP Turbo EPS Dynamix Edition Review
Perhaps the coolest bits of new technology we saw in 2017 is the Dynamix Active Suspension found in the 2018 Polaris RZR XP Turbo EPS Dynamix Edition, which we had a chance to review in August. This article was the seventh most popular review of the year, thanks in large part to the groundbreaking suspension technology unveiled on this machine.
6 – Polaris Sportsman XP 1000 Review
The only ATV review to make our list, Polaris Sportsman XP 1000 review was actually published back in December of 2016 and has been a consistent traffic generator all year. This happens to be the flagship Utility ATV in Polaris' lineup, offering up 91 horsepower and what Polaris calls its Rider Active Design. This review was shared 4,400 times on Facebook, helping it become the sixth most popular review article on ATV.com in 2017.
5 – Honda Pioneer 1000-5 Limited Edition Review
Almost exactly a year ago, we published an article about our first experience with the Honda Pioneer 1000-5 Limited Edition. This UTV featured a very cool bit of technology from – Honda's I-4WD system – that results in brake traction control, Hill-Start Assist, and electronic brake force distribution. Our readers liked the new tech as much as we did, helping this become the fifth most popular review article on ATV.com in 2017.
We were a bit surprised to see this review end up in our top 10, as we posted it back in June of 2016. But the Kawasaki Mule SX was a hit with our readers. With prices starting at just $7,299, this is easily the most affordable Mule in the Kawasaki stable while still being a capable worker. It ended up being the fourth most popular review article on ATV.com in 2017.
Speaking of affordable, the Honda Pioneer 500 is the most wallet-friendly UTV available from Honda with price starting at $8,999. Our readers seemed to appreciate this compact Side-by-Side, which at 50 inches wide is trail legal on width-restricted trails and fits comfortable in the back of a full-size pickup truck. All this helped it finish as the third most popular review article on ATV.com in 2017.
2 – Honda Pioneer 700-4 Review
The hits from Honda keep on coming, as the Honda Pioneer 700-4 review finished up as the second most popular review article on ATV.com in 2017. That makes three of the top five reviews for the Honda Pioneer family. The Pioneer 700-4 is the middle child in the Pioneer family and this machine was our long-term tester for the year.
1 – Cub Cadet Challenger 750 Review
When most of us think of ATVs and UTVs, Cub Cadet is not usually the first name that comes to mind – or so we thought. The Cub Cadet Challenger 750, which retails for $10,999, is a sharp looking Utility Side-by-Side that comes absolutely loaded with standard features. Our readers were intrigued with this offering from a noted tractor and lawn mower manufacturer and it ended up being the most popular review article on ATV.com in 2017.
Published December 27th, 2017 9:58 AM