8 Views
2008 Year in Review - Sport Quads
June 16th, 2015 4:41 PM
Share
We're committed to finding, researching, and recommending the best products. We earn commissions from purchases you make using links in our articles. Learn more here
New and updated for 2009 sport ATVs
Seeing as we are just entering the new year, ATV.com has decided to take a look back at the last 12 months to see all the new sport ATVs that have been released. We've already tackled utility quads and we'll check out the latest side-by-sides in the near future.
Though the economy is struggling, ATV manufacturers did not shy away from introducing new innovations to the sport quad market in 2008. Yamaha and Suzuki made major renovations to some familiar machines, while KTM and Can-Am introduced some race-specific models. Polaris' Outlaw family has a new look and shed some weight, while Arctic Cat has gone in a different direction. Even Honda stepped up to the plate with something completely different…sort of.
2009 Yamaha YFZ450R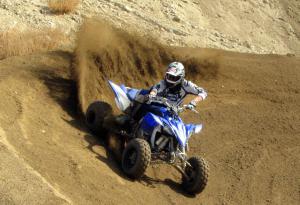 Yamaha gave one of the industry's marquee sports quads, the YFZ450, a major upgrade for 2009. While Yamaha tweaked just about every major component of the vehicle, the handling is what most caught our attention. Bump steer, which used to be a problem, was basically eliminated and it now feels like you are running a steering stabilizer. You could literally pin the throttle and the new YFZ450R would skim right over the off-camber whoops. The power is now much smoother and the top end is plentiful. First gear, however, feels a little tall but adding a tooth or two to the rear sprocket should help that. In stock form, the YFZ450R is set up perfectly for the weekend warrior, but with a few minor modifications it would be a very competitive race machine.
Base MSRP: $7,999
ATV.com Review
Specs
2009 Suzuki QuadSport Z400
It may not be the first choice for the hard-core racers anymore, but the Z400 still has a loyal following and Suzuki has given it a host of improvements. For 2009 the Z400 not only adopted its looks from Suzuki's race-inspired R450 but also inherited many of its traits. A fuel injection system, new chassis, as well as numerous suspension and engine upgrades were handed down. Thanks to the new fuel injection system, the power that the Z400 now has is much smoother. Handling has been improved thanks to new A-arms and new caster and camber settings. Also, the riding stance has been altered by moving the handlebars forward and the pegs down.
Base MSRP: $6,199
ATV.com Review
Specs
2009 Suzuki QuadRacer R450
Suzuki's QuadRacer R450 just had a major redesign in 2008, so for 2009 the only structural change Suzuki made was adding a new aluminum seat rail to reduce weight. Never one to be outdone in the limited edition market, Suzuki added a black version of the R450 that sports black wheels and a slick looking gold frame. Also, a new red model features black wheels with a black frame.
Base MSRP: $7,699 ($7,799 for Limited Edition models)
Specs
2009 KTM 450 and 505 SX
KTM entered the ATV market in 2008 with its race-ready 450 and 525 XC models. For 2009 KTM stepped up with two motocross-specific models, the 450 and 505 SX. When KTM says its vehicles are race ready, it's not kidding. The 450 and 505 SX models come with very powerful engines, wide axle and A-arm placement, special WP suspension components, Magura brakes, DWT wheels with beadlock, Maxxis RAZR MX tires, nerf bars, tether cable kill switch and much more. Everything on these vehicles screams motocross, including the impressive low-end power and top-notch handling. You'll pay thousands more for a KTM compared to a stock 450 from anybody else, but these quads are ready to compete on a national level out of the box. Who else can say that?
Base MSRP: $11,398 (450), $11,698 (505)
ATV.com Review
Specs
2009 Polaris Outlaw Lineup
Polaris just added two new vehicles to the Outlaw lineup in 2008, adding the 525 S and 450 MXR to the existing 525 IRS, but the Minnesota-based manufacturer still made some significant changes for 2009. All three Outlaws were given a single headlight, lowered center of gravity and a six-pound weight reduction. Also new for 2009 are aluminum heel pockets and front bumper, adjustable front brake levers and a steering post that can accept thicker bar mounts to make customization simpler. Polaris also moved the foot peg one inch forward on the Outlaw 525 IRS and Outlaw 525 S for better weight balance and added 10-inch rear wheels on the Outlaw 525 IRS.
Base MSRP: $7,399 (450 MXR and 525 S) $7,699 (525 IRS)
ATV.com Preview
Specs (450 MXR)
Specs (525 S)
Specs (525 IRS)
2009 Can-Am DS 450 X mx
Can-Am is offering a pair of race-specific packages for its DS 450 for 2009. First we'll look at the new DS 450 x MX EFI, which is designed for motocross racing. At 50 inches the DS 450 X mx meets the recognized standard for motocross racing with its stock +2 A-arms. Can-Am says racers will not have to purchase expensive aftermarket A-arms to take the X mx to the track and be competitive. The front end is now caster and camber adjustable with shim-style adjustment – each shim represents one degree of adjustment. ITP QuadCross MX Pro tires and ITP T-9 wheels, tether engine shut-off switch, aluminum nerf bars and a ride-height of seven inches are other motocross-specific amenities that come standard on the DS 450 X mx.
Base MSRP: $8,999
ATV.com Review
2009 Can-Am DS 450 X xc
Can-Am's second race-specific package for the DS 450 in 2009 is the X xc. At 46 inches wide, the DS 450 X xc is meant for the tight woods, cross-country racing. With forged aluminum upper and lower A-arms, Can-Am says the X xc can pick its way through the trees. This model also features an anti-vibe steering stem and a caster-adjustable front end. Fully adjustable KYB HPG shocks (piggyback up front, remote resevoir in the back) offer high and low-speed compression damping and preload adjustment. ITP Holeshot GNCC tires and ITP T-9 wheels, aluminum nerf bars, adjustable-width axle, aluminum skid plates, tether engine shut-off switch and a ride height of 7.5 inches are also standard on the DS 450 X xc.
Base MSRP: $8,799
2009 Arctic Cat DVX 300
Sport riders get more power from Arctic Cat's new 300 DVX. Fitted with a 270cc, single overhead cam, 4-stroke, the 300 DVX features a wider track and adjustable five-position shocks with 6.1-inches of travel up front and 6.5-inches in the rear. The 300 DVX isn't your typical sport quad thanks to its Duramatic continuously variable transmission, but it is an attractive option for aggressive trail riders who are looking for a little sporty fun on a reliable, less expensive ATV. It's large 3.4-gallon fuel tank and lightweight aluminum wheels are also attractive options. The bottom line is this ATV is easy to ride and a lot less threatening that the larger sport quads with manual transmissions.
Base MSRP: $3,949
Specs
2009 Honda TRX700XX
This one's cheating a bit as the TRX700XX was actually introduced as a 2008 model, but it wasn't ready for the press or the general public until mid-March so it technically was introduced in the last 12 months. Though it came out to mixed reviews from ATV editors, we liked Honda's thinking here. The 686cc engine is full of top-end power, it's a blast to drive and the IRS is an interesting addition. Though it works fine as a desert racer (it won the Baja 1000 this year), we think this machine is best suited for the woods. This quad can't handle the same crazy terrain as a utility-specific ATV, but it's just fine for more moderate trails and it would be fantastic for fire roads and wide-open riding.
Base MSRP: $7,999
ATV.com Review
Specs
Related Reading
2008 Year in Review – Utility Quads
2008 Year in Review – Side-by-Sides Lucas Cooney
I have been working exclusively in digital media since 1997. I started out with TSN.ca, spending nearly nine years creating and editing content on Canada's leading sports website. I left to join VerticalScope, Inc., one of the world's largest online publishers, to start a number of powersports publications. While at VerticalScope, I've helped create and oversee content for a wide variety of different publications, including ATV.com, Off-Road.com, ArcheryTalk.com, Tractor.com, RVGuide.com, and many more.
More by Lucas Cooney
Published January 5th, 2009 3:55 PM
Top Brands
Popular Articles