1 View
Ontario a Playground for ATV Riders + Video
July 9th, 2015 5:15 PM
Share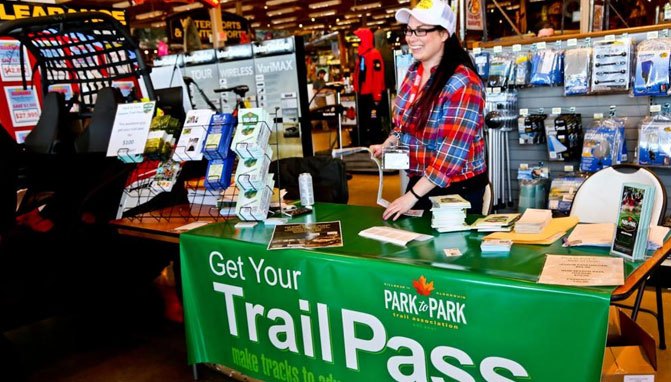 Bass Pro Shops Discover ATVing Event shows riders where to go in Ontario
I've got to admit, it took me by surprise when I learned that many people in Ontario, particularly those in the Greater Toronto Area, were hesitant to buy an ATV because they didn't think there was anywhere to legally and safely ride. While finding trails can be tough in many parts of the United States, Ontario has long been a welcome host to off-roaders with thousands of miles of mapped and well maintained trails a short drive away from just about anywhere in the province.
Jeremy Girard, the service manager for Bass Pro Shops in Vaughn, Ontario, made it his mission to educate his customers and anybody interested in ATVing that Ontario is the perfect place to be an ATV owner.
Get the Flash Player to see this player.
Don't know where to find ATV trails in Ontario? This guy will point you in the right direction.
"We started out with the conversation with our sales staff here," says Girard. "One of the objections we were getting was there's nowhere to ride in Ontario when a person was looking to purchase an ATV. We chose to bring forward and contact some of the clubs in order to show our customers that there [are] places to ride in Ontario."
After months of planning, Girard and Bass Pro Shops hosted the first (and potentially annual) Discover ATVing Event at Bass Pro Shops' Vaughn location, which took place April 11-12, 2014. For anybody thinking about an ATV purchase, it was the perfect place to learn how much Ontario has to offer ATV riders. In addition to Bass Pro Shops' sales team, the event hosted Arctic Cat factory representatives, local ATV clubs, ATV tour operators, and provincial ATV organizations. Everybody was eagerly handing out trail maps and offering advice on where to ride in Ontario. Arctic Cat also hosted demo rides of its new Wildcat Trail Side-by-Side.
Arctic Cat was on hand offering demos of its new Wildcat Trail Side-by-Side.
"[this show] is more or less showcasing the clubs," says Bruce Murphy, president of the Ontario Federation of ATV Clubs (OFATV)."The big thing about the Toronto area is that people don't know where to go."
Murphy's thoughts are echoed by Andrew Ryeland, president of ATV Ontario.
"Bass Pro has invited all the ATV clubs in Ontario and all the ATV destinations in Ontario…and show where people can ride their ATVs," says Ryeland. "This is a rather unique show, because normally it's part of a sportsman's show or something like that. This is just about how to ride and where to ride in the province, so we have all the groups here."
Bass Pro Shops is an Arctic Cat dealer, so show visitors could check out the entire Arctic Cat ATV and Side-by-Side lineup.
Ryeland was also on hand to promote his business, Bear Claw Tours, an ATV tour operator in Parry Sound, Ontario. An ATV tour is an ideal way to get out and ride for the first time and see if you want to eventually buy your own machine.
"We are unique in the province in that we offer ATVs for people to ride, so we'll provide all the equipment – the helmets, goggles, gloves and the ATVs," says Ryeland. "We've been doing this for 14 years, so we specialize in showing people how to ride ATVs on some of the toughest terrain in Canada. They should also come to see us this year, even if they've been here before, because now we have Side-by-Sides."
While checking out the booths at the Discover ATVing Event, I had the opportunity to talk to several local ATV clubs, who were eager to showcase their trails to prospective ATV owners.
"ATVers should come to our club because we have one of the largest trails in Grey Bruce area," says Vera Lloyd of the Dufferin Grey ATV Club, located less than an hour north of Toronto. "We have 400 kilometers (of trails) and we live next door to Central Ontario ATV Club and Baxter ATV Club. Our trails are family oriented. They're safe to ride. There's no hidden dangers on our trails. We make sure they're all always safe for people."
Representatives from local ATV clubs offered up maps and info about trails across the province.
The Haliburton ATV Association (HATVA) is just a couple hours northeast of Toronto and is also eager to welcome ATV riders. You can even join one of HATVA's many group rides to explore its vast trail system.
"We have 1,750 kilometers of trails that range from beginner to expert," says Bob Johnson, president of HATVA. "We take out at least 12 group rides a year – there's at least one or two a month. We do special poker runs that help the community. We have a mud bog that we do in June, which the money goes to a certain charity. One time we donated $14,000 to the Minden Hospital. We also have what we call our Deep Woods Safari, which is a two-day ride. Riding in Haliburton you get to see a lot of good scenery and a lot of wildlife."
Just a short drive west on Toronto is the family friendly Quad Niagara ATV Club – an ideal place to introduce young riders to ATVing.
"We do a lot of stuff with kids," says Quad Niagara's Lynn D'Antonio. "We do a safe ride program for children – teach them how to ride their bikes – make it very family oriented. We do some small rides out in Port Colburn way. We do mud bogs, which we have one coming up September 20 in Wainfleet. Not only for the big kids – we've got a mud pit for the little kids so they can have fun and enjoy what it's all about, too."
I also had a chance to talk to the folks from the Park to Park Trail Association, which has trails for just about any outdoor activity connecting two of Ontario's must-see locations for any fan of the great outdoors.
Published April 30th, 2014 12:26 PM
Top Brands
Popular Articles