16 Views
Super ATV Polaris Ranger RZR Project
December 15th, 2010 11:46 AM
Share
175-horsepower RZR offers unreal performance
If pure performance is what you are looking for in a side-by-side, chances are you will become a Polaris Ranger RZR owner. The original RZR, 60-inch wide RZR S and four-seater RZR 4 set the standard for today's sport side-by-side machines. Due to their enemies' popularity, these machines have a real following in the aftermarket performance world.
This summer we were contacted by Super ATV out of Madison, Ind., a company that specializes in building performance parts for UTVs and ATVs. Super ATV had recently completed an over-the-top R&D machine to test many of its new product designs on a Polaris RZR. The topper was that this beast was powered by a Suzuki GSX-R1000 engine! Even better, we were asked if we wanted to put the machine to the test. We packed up and hurried off to Madison before the offer was rescinded.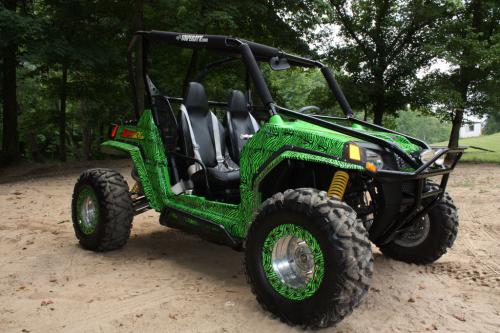 About Super ATV
Super ATV is owned by company founder Harold Hunt, who spent much of his life in the manufacturing business. Back in 2005 a local Polaris dealer contacted Hunt about developing some performance items for its ATVs and Super ATV was born.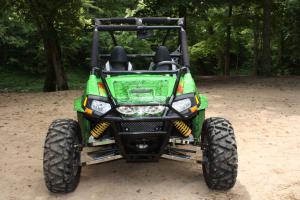 The business started out of Hunt's garage, but within a year Super ATV started to outgrow its surroundings. To accommodate his growing company Hunt built a 6,000 square foot shop. Over the past few years the business has continued to grow at a rapid pace and is now housed in a 232,000 square foot warehouse and manufacturing facility.
Today Super ATV sells over 700 items for various UTV and ATV models and more new products are added every month. CV axles, bumpers, brush guards, wheels, wheel spacers, tires, A-arms, roll cages are just the tip of the iceberg.
"We at Super ATV have a unique business plan," says Hunt. "All of the products we sell we design and either manufacture ourselves or have them manufactured to our specifications."
To keep prices as low as possible, Super ATV handles the vast majority of its sales directly over the Internet, which cuts out the middleman. At the rate that the company has grown during tough economic times it's apparently a business model that works.
About the GSXR 1000 RZR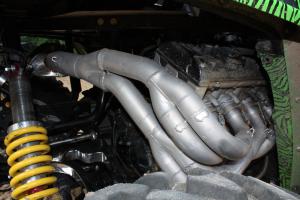 As for the GSX-R1000 RZR, it was constructed for R&D purposes and to show exactly what Super ATV is capable of. The vehicle is littered with prototype products as well as currently available items. After tearing the machine down, the frame was modified to accept the GSXR engine. The passenger seat was moved forward to make adequate space and custom headers were constructed to move the exhaust out.
Super ATV managed to tie in both the GSXR six-speed transmission along with the RZR's allowing for six forward gears plus low range, reverse and park. As crazy as it is, this machine spends most of its time being driven in the woods. For this reason the guys at Super ATV retained the option of operating in either two- or four-wheel drive, allowing the unit to be operated in all types of conditions.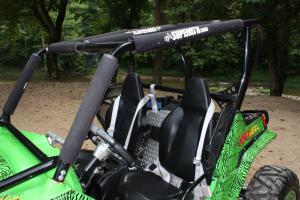 With this much power on tap, increasing the level of protection for the occupants was a must and should be one of your first steps in modifying a stock machine for serious sport usage. Super ATV's Heavy Duty Roll Cage, ($749.95) is constructed of heavy gage steel tubing. Its heavily reinforced design looks considerably more stout than the stock cage and Super ATV's staff flips its machines often enough to attest to its durability!
Swapping out the engine on the RZR boosted its horsepower level from around 60 stock to 175! With nearly three times the power, handling becomes a major concern. To keep the RZR stuck to the ground around turns Super ATV installed a set of its +6-inch billet aluminum long travel A-arms ($1,599.95), which are machined to reduce weight. They are then polished to a mirror-like finish and chromed for a show-quality appearance. The A-arms also come with axles or axle shafts and heavy duty heim joints for full adjustability. Super ATV will soon begin selling its own line of shocks, though this machine was outfitted with an aftermarket set. The long travel A-arms require six-inch stroke shocks up front and seven-inch stroke shocks in the rear, resulting in 12 inches of travel up front with 14 inches in the rear.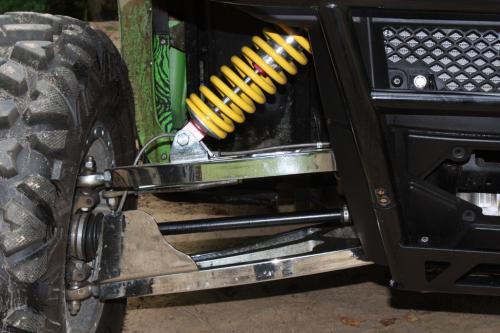 Style and protection were upgraded with the installation of Super ATV's Polaris RZR Extreme Fender Protection Package (starting at $599.95). This package includes front Pre Runner Bumper or Brush Guard, Rear Brush Guard, Rock Slider Nerf Bars and Extreme front and rear Fender Protectors. All of these products are constructed of heavy gage steel tubing and are available in either a sand black or high gloss powder coat finish. The GSXR RZR was outfitted with the aggressive Pre Runner Bumper although the Extreme front and rear Fender protectors were not installed at the time of our test. Super ATV did, however, install a set of its Fender Flares ($99.95), which help keep both the occupants and the sides of the machine protected from mud and other debris. Although they normally come in a textured black finish, the ones on the GSXR RZR were custom painted to match the rest of the vehicle.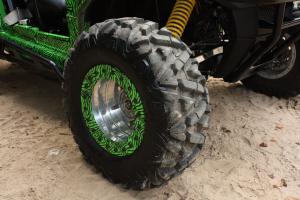 In an attempt to harness the RZR's huge power increase Super ATV installed a set of its Dominator Tires ($119.00 each). The Dominators are designed as an all-terrain tire. They feature a one-inch tread depth and dimpled sidewalls, allowing them to dig through the muck while putting lots of rubber on the ground for good performance and long wear on hard packed surfaces. Six-ply construction gives them a tough skin for navigating gnarly rock sections. With the engine putting out enough horsepower to spin the tires right off the wheels, Super ATV mounted the Dominator tires on a set of its 14-inch beadlock wheels ($187.49¬). These wheels come standard with a polished finish, however the ones found on this project machine were custom painted to match the rest of the vehicle.
Super ATV added a number of products to this machine to enhance driver safety and control starting with its UTV Seatbelts. None of the stock three-point restraints we've tried are very comfortable when you start hammering through rough sections, as the shoulder belt tends to dig into your collarbone. Not so with Super ATV's four-point seatbelts ($99.95 pair). These seatbelts are fully adjustable, feature padded shoulder belts and come with quick release buckles. To enhance driver control and dress the machine up even more, Super ATV installed its UTV steering wheel ($99.95), which is available in a variety of colors.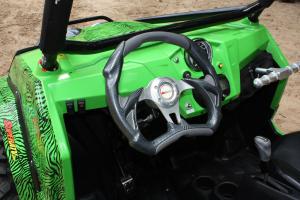 This machine was built to look as good as it performs so Super ATV outfitted the machine with its Billet Aluminum Dress up Kit ($229.95). The kit includes a billet shift knob, billet gas cap, billet bed rails, chrome bolt kit, billet speedometer bazel, passenger grab bar, and flag mount. Also installed was a Super ATV hood scoop ($169.95), which was custom painted to match the rest of the vehicle.
Besides the 175-horsepower engine, one thing that helped separate this machine from the other project RZRs we've seen is the fact that it's street legal. Super ATV installed turn signals, a rear license plate mount and one of its rearview mirrors ($19.95). We have often wondered what it would be like to drive a street legal side-by-side and we were about to find out!
Driving the Beast!
Super ATV loaded up the GSXR RZR and hauled it 20 minutes to its private test facility to give us the opportunity to put it through its paces. Before we even inserted the key for the first time we were blown away by the over the top appearance. Its green and black color scheme adorned with a number of trick billet components is truly eye catching.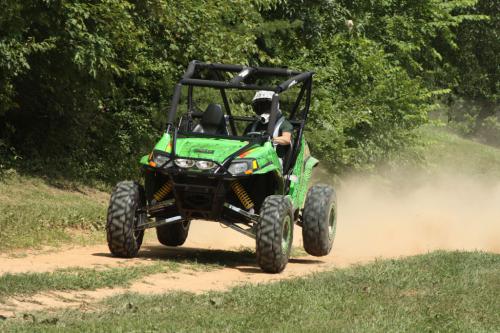 From the second the machine roars to life you know you are in for an entirely different experience then is available from a stock UTV. The GSXR engine sounds wicked and revs from idle to redline in a split second, revving much faster then the stock mill. Once we became accustomed to the shift lever and manual clutch, we were immediately ripping through the gears in the wide-open fields. Acceleration in the GSXR RZR is insane. With each push of the gas pedal the tires were lighting up and slinging dual rooster tails of grass and topsoil. Power is excessive at every point in the RPM range, although it was notably happiest running from the midrange through the top end.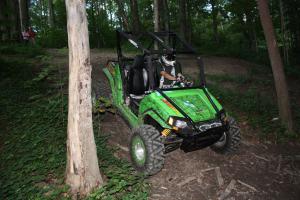 Driving the machine in tight woods takes a lot of concentration. One slip of the gas pedal and we could have easily spun out and sent ourselves and this hand-built machine careening into the trees. Running a gear high and carefully manipulating the gas and clutch was the best way to get through the trees. For super slow technical sections we were very happy to find out that the RZR'a transmission's low range was still available, allowing us to relax a bit on the clutch and better concentrate on choosing a good line.
We felt the machine's gearing was a bit too low, especially in wide-open sections, requiring us to constantly work up and down trough the gearbox. We estimate that this machine topped out around 80mph. taller gearing would have required less shifting and it felt as though the engine could comfortably propel the vehicle to 120mph!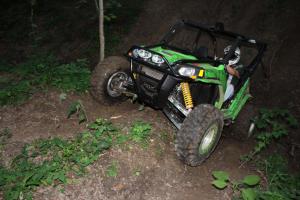 Handling on the machine was amazing! In spite of spinning it out more then a few times while getting used to the engine, we never had the sensation that we were close to two wheeling – something you can do on a stock RZR if you aren't careful. With Super ATV's long-travel A-arm kit installed it would be hard to tip this machine if we tried! It proved super stable on all surfaces, even asphalt. If Super ATV's A-arm kit makes a 175- horsepower machine this stable you could seemingly do no wrong with a stock engine powering it.
We tackled a variety of terrain and even launched a 50-foot double jump several times – all without being able to fault the suspension. The RZR floated along over small bumps and never felt harsh landing from big air. With 12 inches of travel up front and 14 inches in the rear, it becomes much easier to set your suspension up to deal with the smallest and largest of hits at the same time.
In spite of its top fuel dragster acceleration we were extremely comfortable in the machine. The Super ATV seatbelts made us feel more secure and didn't dig into our shoulders on rough terrain like the stockers do. While we didn't test the structural integrity of the roll cage, we are confident from its appearance that it will take a beating.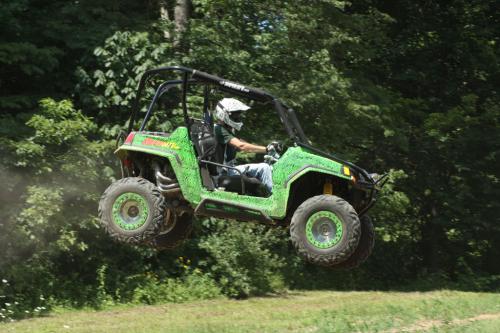 After finishing up at Super ATV's test facility we took the GSXR RZR out for a cruise on the mean streets of Madison. Driving the machine on the road we found ourselves having to suppress our desire to do some drag racing with the locals. We had a feeling we could smoke just about anything we saw on the road up to 60 mph but our fears of getting Super ATV's vehicle impounded was a huge deterrent.
Handling on the street was nearly as good as it was off-road. The Dominator tires were surprisingly smooth and quiet on the road considering how well they performed in the woods. Perhaps the best part of driving the machine on the road was the looks on the faces of the other drivers and the people working the drive through where we stopped to grab some chow before we hit the road and headed for home.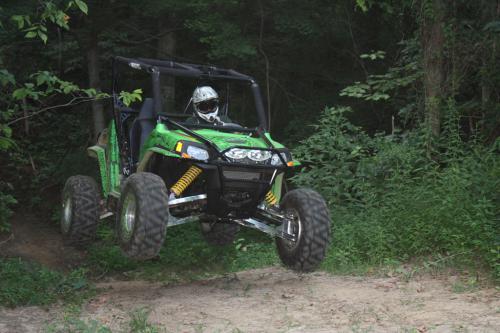 In Conclusion
Super ATV's 175hp RZR is as incredible to drive as it is to look at. We would love the chance to take this vehicle to the dunes or desert. While Super ATV isn't into doing street bike engine conversions as part of its business, it makes one heck of a testing platform and all of the products we experienced on the machine are a testament to the company's desire to build high-quality UTV products. Except for the engine Super ATV will sell you every other product featured on the vehicle. It is obvious to us that this company knows what it takes to get the most out of your UTV.
Check out SuperATV.com for more information and to see all of its ATV and UTV products.
Related Reading
2010 Polaris Ranger RZR Review
2011 Polaris RZR S 800 Review
2010 Polaris Ranger RZR 4 Review
Yamaha Rhino Project – Part 1
Yamaha Rhino Project – Part 2
Published December 15th, 2010 11:46 AM
Top Brands
Popular Articles